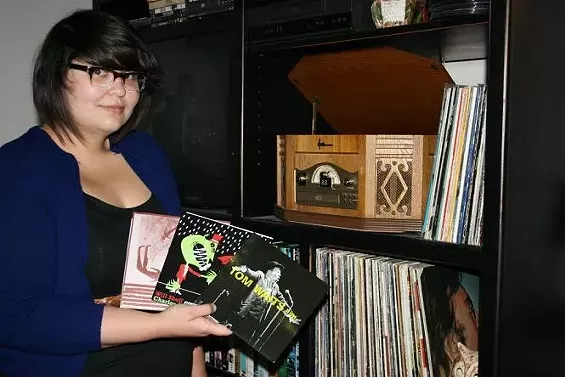 Jon Scorfina
Nicole Peterson, this week's Last Collector Standing
Nicole Peterson has worked in many facets of the music industry, including retail at Slackers CD's and Games and (currently) at Suite 100 at the Pageant handling merchandise and ticket sales. After looking through her modest record collection shelved in her living room and sharing a few beers, we discussed the role music plays in memories, touring bands selling vinyl and Demetri Martin.
Last Collector Standing: When did you start listening to music? Nicole Peterson: The first memory of music I have is driving in the car with my mother listening to Madonna, the Beatles and Huey Lewis and The News. [laughs] All the music my parents listened to.
The first music I can really claim to be into myself was, I was in the fourth grade and I listened to Bush, Sixteen Stone and Tragic Kingdom by No Doubt. They were probably my two favorite albums. The reason those two albums stick out in my mind is that I have family on the west coast, in Los Angeles and southern California. I remember being on a plane in the summer between fourth and fifth grade and having my personal Walkman and having two CDs with me: Sixteen Stone and Tragic Kingdom. Those two stick out to me because they were what I listened to on that trip.
Do you think that the way we listen to modern music now is more fragmented, in that it's harder to remember a certain time? You're remembering a specific album from a specific time because you listened to the whole thing on a plane ride. Do you think that the way we consume music now, people can have that same experience, or is it different? I think that people definitely experience music differently now, and I'm one of those people. There are albums on my iPod that I've only listened to once or twice. There's music on there that I don't even know about because it's so easy to put music on an iPod. They've made music really convenient, which is good for some reason, especially for artists who are trying to get their music out there, but I feel like people aren't as inclined to have those memories. I just flew to California in February. I can't tell you what I listened to because I had my iPod on. It was on shuffle. I don't think I'll ever have memories like those again.
Were Sixteen Stone and Tragic Kingdom ones that you bought yourself? I'm sure my mother actually bought them for me, but they were mine. Those were the first records that I owned, and they weren't even records, they were CDs at that point.
The first record I bought in the ninth grade. I had a Beatles phase. I bought Let It Be on vinyl at a garage sale for twenty-five cents. I doesn't play very well. It was real scratched up, but I still have it.
Was there a different experience listening to a CD versus vinyl? Not at that point, but later on, and how I still feel about vinyl versus digital music and compact discs, is that it's more personal to listen to it on vinyl. It's more of an event, because it actually takes effort to play a record versus hitting play or shuffle on your iPod. I feel if I'm going to sit down and listen to a record, then I'm really intending to listen to the music, and pay attention to the music, and appreciate the music versus background noise, which is what I use my iPod and CDs for.
How do you get music now? My main source of new music is definitely my friends. They check blogs everyday and load my iPod up with everything new that I get to experience for the first time. That's when I take it and decide if I want to buy it on vinyl or if I just want to have it on my iPod or my computer. It definitely takes an album that I'm really truly going to want to appreciate and want to listen to through and through to order it or go pick it up.
For example, Passion Pit, Manners, is an album I feel like I should own, and do own on vinyl. It's one of my favorite records, even though it's a new release. It's something I would appreciate start to finish. Also, the latest Grizzly Bear record, that's a good one through and through.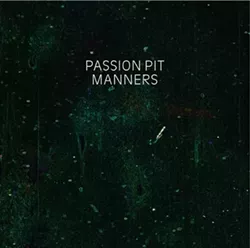 Do you see these records as albums you will continue to listen to a few years from now? That's a good question. I really don't, now that you say that. [laughs]. I think I'm buying these records now to listen to now. Then there are certain records in my collection, like everything I have by David Bowie and the Beatles, that are just timeless in my mind, and I can throw on and listen to at anytime. I think bands that I'm listening to currently, like Grizzly Bear or Passion Pit, are bands that I appreciate, but maybe not bands that are going to be relevant to me in a couple of years. I think that the Beatles and David Bowie will definitely still be relevant to me.
Why do you think that might be? I really feel like my taste in music changes. I feel like the type of music that the Beatles and David Bowie made is something that I can never get sick of. Bands like Grizzly Bear and Passion Pit have distinct sounds that over time I might not be in the mood for.
Another good example is Elliot Smith. He's been one of my favorite singer-songwriters, and I own his entire catalog on vinyl. That's something I definitely don't think I would be sick of in a year. I could listen to it today or I could listen to it two years from now, and it's still going to mean the same to me because I appreciate his music and writing so much. Is there anything about older artists and the way the music was presented and packaged that affects that mentality, or does the music just speak for itself? I definitely think the music speaks for itself, but I also believe that bands like the Beatles who recorded on vinyl... it almost just sounds better. It sounds more real to me. I appreciate listening to the Beatles on vinyl so much more than I do in the car or on CD. It feels different to me.
Do you think men and women collect music for different reasons? No, not necessarily. I don't think I collect music for any other reason than you or any other guy. I think some people, not gender specific, collect music as like trophies to show off their collection. I've never had that mentality. I like to listen to it. Like I said before, it's a personal thing for me. It's an event. I look forward to listening to something on vinyl. You really do have to put effort into it. I think some people don't really take it that far. They collect things to say that they have it, or they collect things to talk about it with their friends. I think there's more to it than that.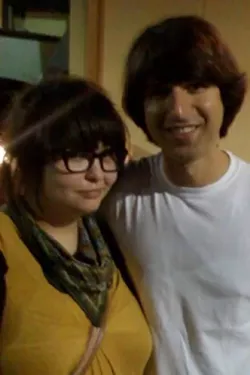 Peterson with Demetri Martin, a favorite person she's met while working at Suite 100
Working at the merchandise shop Suite 100 at the Pageant, do you see bands selling vinyl albums while they're touring, or for that matter, do you see bands selling CDs anymore? Both. We see CDs more common than vinyl. The last couple of bands that I specifically remember having vinyl records were Jenny Lewis and Magnetic Fields. You can tell the vinyl crowd, because it's older people who've been collectors for a long time and who truly still listen to it on a regular basis. Then there are the younger kids, the twentysomethings, who are trying to get into collecting and are really just starting their collections now. It's definitely the independent artists that have more records than anybody else.
What's the most interesting band or artist you've met while working at the Pageant? Demetri Martin was an interesting guy. He didn't have any merchandise whatsoever. That's interesting to me because I have Bill Cosby records. I have Steve Martin records. Now, I can't think of single comedian, and comedians play the Pageant all the time, I can't tell you that I've ever seen a comedian with a record on their merch table.
The most interesting [band] is probably Band of Skulls [who opened for Black Rebel Motorcycle Club].
I wasn't expecting to hear Band of Skulls! [Laughs] They were so down to earth and appreciated everything we had to offer them. They were just very nice people. Very humble. That was really a great experience for me because most of the bands that come through aren't like that. We encounter a lot of divas at Suite 100, especially on the merch end of it, because that's where most bands make their money
What merchandise sells the most for touring bands? Is it the actually music or apparel? Apparel. Soft goods.
Why do you think that is? Do people already have the music? Is it a fashion element? I think the fashion element is part of it. People like to make a statement with what they wear. With the digital age and iTunes, I think people have the music ahead of time on their iPod. CDs aren't really relevant anymore. I learned that even before my job at Suite 100, when I worked at Slackers. When I started working there, it was a music store. We sold movies, too. Over time, it transformed into a game store, and CDs were totally irrelevant. There was a point in time where we weren't ordering any new CDs whatsoever. We were just going with existing stock, because nobody was buying it. I think that the digital age, and how easy it is to download music for free and otherwise, definitely plays a role in that.
What's your favorite album of all time? I don't really do favorites, but probably my favorite album to listen to on vinyl is In The Aeroplane Over The Sea by Neutral Milk Hotel, because the only thing better than Jeff Mangum's voice is Jeff Mangum's voice on vinyl. [Laughs] If I'm indecisive on what I'm going to listen to, I'll throw that one on anytime.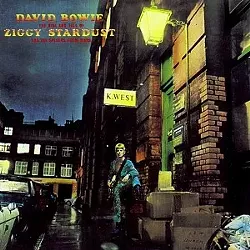 If there were one record that you weren't old enough to appreciate when it came out, but had a chance to go back and live through that area, what would it be? David Bowie's Ziggy Stardust and the Spiders From Mars, for sure.
Would you do a Ziggy Stardust haircut? Haircut. Face-paint. Everything. Posters on the wall.[ Laughs]
Do you see yourself buying records ten years from now? I do. I think that my collection is small, but is something that I work on piece by piece. Over time and ten years from now I will still be collecting and buying things that I love to listen to. It's comforting almost, to appreciate something and be able to go back to it any time you want because you own it. Computers crash. iPods die. Vinyl lasts.