Jason Stoff
Caribou at the Firebird, June 7, 2010. More photos here
There's an interesting dichotomy when it comes to music. Some bands make you wonder why they bother recording because they're incomparable live. But others make you wonder who told them they were allowed to perform in front of other human beings in the first place. Without the trappings of studio-produced sound, Gaga would not be Gaga, but Dan Snaith would still pwn everyone.
Last night's sold-out (!) Caribou and Toro Y Moi gig at the Firebird had the crowd contemplating this very dichotomy. Some thought Toro Y Moi's Chaz Bundick sucked because he didn't sound as dreamy and, dare I say, as "chill" as he does on record. Others thought Caribou was boring, overlong and tangential. I, however was installed in some etherworld of blissed-out experience. Caribou killed it. Toro killed it.
View a slideshow of photos from last night's Caribou/Toro y Moi show here
If you want to hear the album version, listen to the album. If you want to hear songs grow and come alive and turn into butterflies, go see a show. If Caribou's records weren't already manicured to irrefutable perfection, I'd suggest he play live exclusively, but he does both with such aplomb, it was easy to see which of the night's acts has been playing for a decade. (Toro Y Moi's Bundick would have been just thirteen when Snaith put out his first album.)
Chillwave, swillwave. Anyone who came to bob along absently to Chaz Bundick's set was disappointed by its inherent lack of low, slow chillwaviness. However, everyone's heads bobbed along anyway. Bundick and his newly formed backing band blitzed the confines of this buzzy non-genre, bringing an organic, torrential element to his blissful sound.
Toro Y Moi took the stage at 8:45 and played a concise set. Standouts were the opening song "Blessa" and "Minors" and a couple new tracks with '70s grooves and ELOish sound that defied the constraints of chillwave, and proved that Bundick isn't a one-note artist. "Fax Shadow" was a desolate psych jam, "Talamak" slayed the crowd with it's effervescent soaring, and "Low Shoulder" closed the set perfectly.
Now, had Bundick appeared onstage sans band, armed with only his laptop, he would have been trounced by Caribou's very maximal performance. While the live band detracted from the intricacies and nuances of Toro's sonic layers and loops, they also added a welcome raw and driving element that totally changed the feel of the songs. I almost wished they took it a step further. Snaith and Company came out in white, with the exception of the drummer, who wore yellow. Their pale garb acted as a living canvas for the brightly hued, kaleidoscopic images projected behind and on them. Every song was dense, every song meandered psychedelic -- in the best way possible. In our recent interview, he said that his goal for every show is to leave the crowd feeling overwhelmed. To that end, the show could have been louder. There's nothing like the feeling you get at a club or a show when the music is so encompassing, you feel like your very blood has been replaced by sound.
Caribou kicked off the set with a sparkling rendition of "Sundialing," punctuated by trilling synth, a swirling cacophony of clangs, and a near-seizure-inducing strobe light. The band launched right into a stellar new track, the echo-ridden "Leave House, which was rife with electronic vamping and best featured the healing quality of Snaith's delicate coo. "Melody Day" acted as aural Prozac and momentarily distracted the crowd from dabbing their dripping brows. During the unearthly stand out "Odessa," Snaith whipped out a freakin' recorder for a solo. No words, except one: awesome.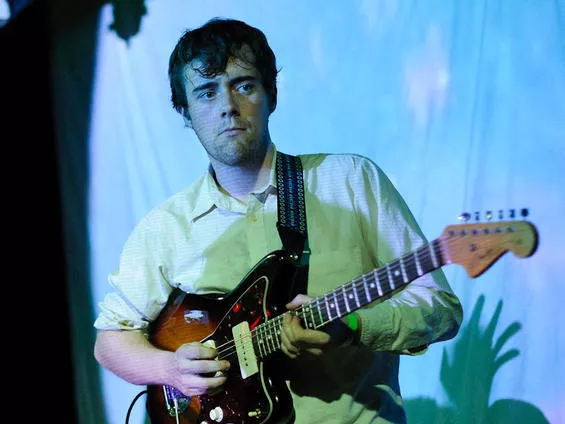 "Bowls" was a near ten-minute tornadic percussive catastrophe in which Snaith and his drummer faced off at their respective kits complete with electronic drum pads. The instrumental tour de force finally jump-started the crowd and got them dancing, which may or may not have been due to the heartbeat-altering drums. The boys toyed with us on "Hannibal," another track off the new Swim, bringing the song to a near boil and then throwing it back into its nadir. Caribou finished its set with the mind-bending house cut "Sun," wherein Snaith bobbed over the keys, and looped the word "sun" (the song's only lyric) a hundred or so times.
Critic's Notebook: To the guy who yelled "Can everyone please start dancing?!" after "Leave House," I have to say, "Amen!" This is St. Louis, home to one of the most pervasive inferiority complexes the nation has ever known. We're not Chicago, we're not New York, but shit guys, let's rock the fuck out anyway.
Dan Snaith hand-wrote us a Caribou setlist. Aww.