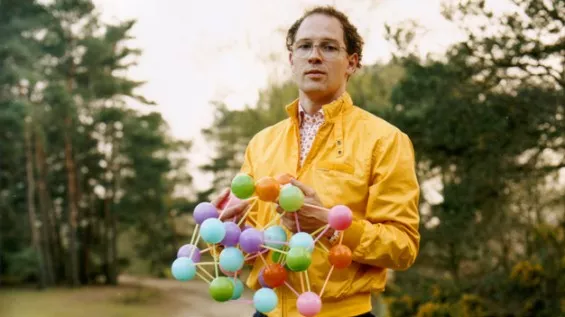 Electro whiz kid Dan Snaith is back with his critically lauded LP, Swim. Catch Snaith and co. tonight at the Firebird with Toro y Moi.
Dan Snaith is bored of bands. The 32-year-old musician better known as Caribou is back in St. Louis tonight at the Firebird in support of Swim, the club-inspired follow-up to Caribou's 2007 LP, Andorra. Chillwave demigods Toro y Moi are opening.
Although the Polaris-prize-winning Andorra is full of prismatic psych that calls to mind the sun-drenched '60s, Swim is diamond-cut and danceworthy. Snaith's capacity for genre-blending and bending is limitless, and his unfaltering fastidiousness has been his calling card of sorts throughout his decade-long career. In fact, Swim is nothing short of immaculate. I caught up with him recently to discuss Swim, the upcoming show, his Ph.D. in pure math, and why he's bored of everything but dance music.
After the show, don't forget to head to the Upstairs Lounge for the official Caribou/Toro Y Moi after-party, which benefits everyone's favorite community radio station, KDHX. Grace Woodard of Nomadic Reverie, Kate Estwing of Beep Beep Boop Boop, Josh Levi and Woody Krummenacher of the Upstairs night, Found Future will be DJing. There's no cover, but donations are encouraged.
Diana Benanti: So how is the tour going with Toro y Moi? Are you guys getting along? Dan Snaith: Oh yeah, they're sweethearts! Actually, they're complete assholes, I can't stand them. [Laughs] If I see them another day, I'll quit the tour. They're awesome live. I love their record, but I love seeing them live just as much, maybe more.
So tell me a little about your new album. It's markedly less retro and psychedelic than Andorra. Did the acid turn on you, or what? You know, I've just been more inspired by dance music lately. The most exciting music I've been hearing in recent years is dance music, so that motivated a more club-sounding dance record. I've also been going to more clubs and DJing more. It was just excitement about the music I was hearing. While I was making Andorra, I was already getting inspired by James Holden. From my perspective, it's been the most exciting music I've been hearing, moreso than bands or whatever.
Where do you DJ? Various places, nowhere regularly, various places in London or just around Europe that are easy to fly around to. I do gigs when they come up.
What are some dance music artists you're excited about right now? Um, lots of different people; sort of young, dub-steppy kind of people in London, James Blake, Ikonika, a guy in Germany called Motor City Drum Ensemble, kind of established dance music artists like Neil Parrish...people who are doing exciting interesting things.
Is that what you listened to while recordingSwim? I wanted this record to be the least beholden to its influences, so I was conscious of taking a concept and a certain way of thinking about a song, but not thinking, "Oh, I really like the sound of that synthesizer." I was searching for my own vocabulary of sounds to make the record with.
Do you have a favorite song off this album? It really varies all the time. I'm proud of all of them. I guess there are a few that are really fun to play live, "Bowls" which allows more freedom to improvise than some of the more concise pop songs, but also, "Jamelia" is really awesome to play live. John who sings on it has a really awesome voice, it really takes off.
What's the recording process like for you? You said once that you recorded in bed next to your sleeping girlfriend. Luckily that's not the case anymore, we now have one extra room in the place we live now, so I've got a little room in our apartment. I'm in there all day everyday when I'm not on tour, that's just what I want to do. It's very much trial and error. What do you do in your free time if you're holed up recording all day? Swimming has been a good counterpoint while I was making this record. I'd work all day and go for a swim around lunchtime and then come back and work for the rest of the day. My wife got me swimming lessons, I've always been a pretty terrible swimmer. It took me a while to warm up to the idea, learning how to swim properly, but the more I did it the more I got excited about it and the more enjoyable it became. Now I'm on tour, we end up a motels that have tiny little swimming pools that are like ten feet long so I'm out there in the morning doing lengths in essentially a large bathtub...It's not like I'm an anti-social person. In the evenings I go out and see friends or whatever. I just like doing it so much, I almost like doing it more than hanging out with my friends.
How is your live show going to be different this time around? It's going to look pretty much the same. It's two drum kits and there's four of us on stage, and it looks like it's the same collection of instruments, but we've really revamped the way the show works. Inevitably there's much more technology integrated into the show to play these songs that are a bit more electronic-sounding. It still leaves the freedom to improvise or change the song as we go along. I wonder, I think about what different people's perception is. It sounds very, very different from the Andorra tour. The things that are going on under the hood, so to speak, are totally different. It looks like you're watching a band playing, which I guess is essentially what's happening--four musicians interacting live and all that stuff. Now it's about having the songs develop in an interesting way.
I saw you with Fuck Buttons a couple years ago, and it was just phenomenal. Oh, thank you!
Do you have a favorite memory or story from that tour? There are so many, it's a complete blur. That was such a great tour. On that tour, we became really good friends with those guys. Andy [Andrew Hung] from Fuck Buttons was really a big part of making this record, he was one of the first guys who came over to hear the new tracks. What was a good memory from the Fuck Buttons tour? Anybody? Actually, I'm reminded now, we're driving to LA, driving through the desert right now, and this was on a previous tour with Junior Boys: We were driving through like, an area with sand dunes, and they thought it would be a really clever idea to drive their van off into the sand dunes, off the side of the highway, like, straight off into the sand. Predictably like, one minute later, they were stuck in the sand halfway up a sand dune and had to wait there for hours to get towed out. I don't know if that's my favorite tour memory, but we were thinking about that the other day and we had a chuckle.
You have a Ph.D. in pure math--do you find much occasion to use that these days? No, none at all. [Laughs] The point of doing it was that I enjoyed doing it, it was never really to use it in any way. I kind of assumed when I started it that I was going to end up using it to be a mathematician I suppose, but I had to do it over again I would have done it anyway, even if I had known I wasn't going to use it.
Did you ever think when you were pursuing that Ph.D. that this would be what you would be doing? When I started the Ph.D. was right when my first album had come out, it was in this kind of dreamlike state, it seemed like those kinds of things were possible, but it still seemed very unlikely. You know, one album coming out and doing a few shows; it was a long way from being ten years later and spending all my time doing music.[My music career] was just on the horizon as I was doing my Ph.D.
Do you guys have a favorite venue you like to play every tour? We seem to always play the Bowery Ballroom, another one of my favorites is in Montreal. Actually, on this tour, we played in kind of the world's premier techno club, a minimal techno club called Berghain in Berlin. It was this huge kind of crazy bunker, with the most incredible sound system I've ever heard in my life, and playing in there, it seemed like a really suitable environment to play this music in, and to hear it on that sound system was just amazing.
Do you have personal effects you always keep with you while on tour? There's two things that I've been traveling with this time. A tea infuser -- my wife is really into looseleaf teas -- but I lost that two days ago. I brought a travel chess set. I used to play chess when I was a kid, and I was trying to get back into that, keep my mind kicking over in the long hours staring out the window in the van. But that's seen very little use. That was too ambitious I think.
What can people expect from your show in St. Louis? The thing that I'm most excited about, we're playing like all the music off the new album, which is something we've never really done before. We're playing some old songs as well, but we're playing everything that's on the new record. It's exciting for me that it all works in the live context as well. I guess apart from that, just the things we always want the live show to be, physical, visceral and overwhelming and as multisenseory as possible. I guess we want people to go away feeling overwhelmed.
TONIGHT: Caribou and Toro y Moi Where: The Firebird Doors 7:30, show at 8:30 p.m. KDHX benefit/afterparty: Upstairs Lounge 11:30pm - 3am