JohnnieBeGoodTheMovie.com
Official Film Poster
BB's Jazz, Blues and Soups will be hosting a free event showcasing the progress of Art Holliday's forthcoming documentary, Johnnie Be Good.
The film tells the story of Rock and Roll Hall of Fame and Saint Louis Walk of Fame inductee Johnnie Johnson, who's best-known for his work as Chuck Berry's piano player.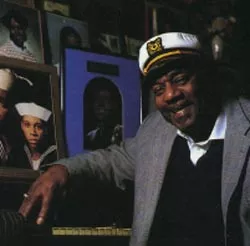 BluesMusicNow.com
Johnnie Johnson
The three-and-a-half hour free event begins at 5:30 p.m. with the Carnahan HS Jam, who will play a short, 15-minute introduction. At 6 p.m., Jeremiah Johnson Band with the Sliders Horn Section are performing. This set will be followed with a presentation from Holliday, the film's director and producer. The long-time KSDK anchor will be discussing the progress of the film, showing the trailer and sharing soundbites, clips and anecdotes he's gathered thus far. Afterward, Billy Barnett Band will close out the evening.
The event will be hosted by Play it Forward STL, a local organization that collects and distributes instruments for St. Louis children.
*The official trailer is below; also, check out the movie's Facebook page