Classic rock critics -- er, "haters" -- will take great pride and joy in letting you know how much your favorite rock band from the '70s or '80s sucks. Take a band like Foreigner, for instance, whose hit songs ("Juke Box Hero," "Cold As Ice," "I Want To Know What Love Is") should get a pass for their timeless nature, right? Unfortunately, they generally don't. But with over 70 million records sold, fourteen Top 20 hits -- and nine of those hits reaching the top ten -- it's safe to say that Foreigner is doing just fine.
Founding guitarist/songwriter Mick Jones gave the Foreigner machine a tune-up in 2004, by replacing longtime co-conspirator/vocalist Lou Gramm with veteran singer Kelly Hansen, who's best known for his work with the b-level '80s metal band Hurricane. Accessorized initially with former Dokken bassist Jeff Pilson and drummer Jason Bonham (who was later replaced by Brian Tichy and, eventually, current drummer Jason Sutter), this is not your dad's version of Foreigner. Despite a previous failed attempt to replace Gramm in 1990 with relatively unknown vocalist Johnny Edwards, Jones successfully reloaded, relaunched and (against the odds) has been kicking ass under the reconstituted Foreigner name with Hansen at the helm.
2009 marked the release of Can't Slow Down, the first album of all-new studio material from Foreigner in nearly fifteen years, and a collection that sounds like it could have been recorded in 1982. The band maintains a hectic touring schedule, which left only a slight amount of breathing room to record Down. After an area appearance at the Bottleneck Blues Bar at the Ameristar Casino in January, the band is back in town tonight at the Verizon Wireless Amphitheater as part of the United in Rock tour, which it's co-headlining with Styx and Kansas. In a phone chat, Kelly Hansen discussed Foreigner's hectic schedule, charity work and whether he has to check into hotels under an assumed name.
Matt Wardlaw: I just asked for Kelly Hansen, and the hotel switchboard operator asked me, "Is that a guest or an employee?" I think you'll be pleased to know that you're still flying a little bit incognito. Kelly Hansen: [laughs] Well, maybe I've taken on some part-time work!
How's the tour going so far? It's going really well. We're about a week in right now and doing really great. Surprisingly, you'd think it would be getting warm, but we did an incredibly cold show in Jackpot, Nevada, I think it was 38 degrees windchill outdoors. But that's rock & roll, and we're out there doing it. The guys in Styx and Kansas are so great, and we're having a really good time. If Foreigner goes on first before Styx, I'll come back and give them a weather report. If Styx goes on before we close, they'll come back and let us know how the crowd is, so it's good.
I know that Styx has had an end of the night jam with the bands on similar tours like this in the past. Are you doing anything like that this time around? No, we're not. They actually worked on a new tune together, and unfortunately our schedules are so different, and Foreigner is incredibly busy. Most bands tour during the summertime, and we actually tour all year-round. Especially these first few years when we had to reestablish the band all over the world. We've been to over 50 countries in the last five years, so we're really, really busy, and we barely had enough time to make our own new CD.
Jumping back a bit: When Mick was looking to fill the vocalist slot in Foreigner in 2004, how did you wind up on his radar?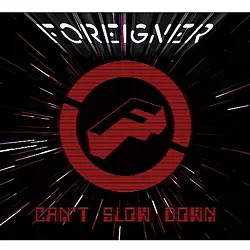 Wikipedia
Can't Slow Down, Foreigner's 2009 release
Actually, I was at a point in my career where I wasn't happy with where I was going and what I was accomplishing. I thought to myself, "I really need to try to be proactive about what I am doing." Because, most of my career, things have just landed in my lap out of luck, I guess. So I started looking actively for things to do. One of the first things I saw was an article on the Internet about a charity show that Mick had done with Jason Bonham, Jeff Pilson and some of the guys from Foreigner. I thought it was alluding to a Mick Jones solo project, but really, it was talking about a revamping of Foreigner.
Being in LA and being a singer for 30 years, I knew some people, I made some phone calls and I got in touch with the band. We went back and forth, and they sent me a karaoke CD of five original Foreigner hits, the actual real recordings without vocals, and said, "Put your voice on these." So I did. Those actual versions that I did, ended up being for a while some of the music that we would use to advertise shows on the radio. Mick got to hear the CD in New York, and they were coming out to do some rehearsals. So I sat in, we played for about an hour and a half, and it sounded really good. They called me an hour later and said, "Listen, we're booking shows for next weekend, can you start rehearsing tomorrow?" So, I had five days to learn the set, and from that point it was a juggernaut. Let's talk about the new album. I think that the band has surprised a lot of people by releasing a new album that, while the sound is certainly updated, sounds like a classic Foreigner record. We got a lot of comments that people thought this record sounds like the follow-up to Foreigner 4, which I think is a great compliment. What we were really interested in doing was just writing great songs. It was Mick, myself and our co-producer, Marti Fredriksen, who sat in a room on every day off that we could get in 2009 and the last quarter of 2008 and just worked on trying to make great songs. [We weren't] trying to prejudge or second-guess what people might want the new Foreigner record to sound like, because as soon as you try to do that, you're going to fail. First of all, there's a broad spectrum - a hundred people will say a hundred different things about what they want the new Foreigner record to be. Secondly, you won't be doing it from the heart as it comes out of you, and we felt that was important to do, and let the chips fall where they may.
When Foreigner was here in January, you visited the children here at the Shriner's Hospital, and over the past few years the band has been very generous, donating to various children's charities. How did the band get wrapped up in this kind of outreach? I think it's important, if you're fortunate enough to be doing what we're doing, to try to help give back. The Shriner's Hospital, I went down there personally and toured the facility and met with some of the kids, who were great. I know a lot of them didn't know who we were, but their parents were with them. I had an awesome time and got to see where they make prosthetics. I got a real insight on what's going on there and how valuable it is to get contributions, because it's very difficult for them to keep everything that they have rolling without money coming in. One of the current things that we're doing now is working with VH-1/Save The Music to help music programs in schools. Because that's one of the first things that money goes away from when there's budgetary constraints.
People don't understand that music and the arts are really important to kids in high school and junior high. You might come from a small town, but if you get a chance to experience the arts, it makes you a well-rounded person. It gets you outside of your realm and your world and into something larger than yourself. If you can read Shakespeare or sing an aria, you see another part of the world. The problem with the world today is that people don't know places, people and things outside of themselves. The most open-minded people that I know who understand what this world needs to make it a better place are the people who have traveled, seen and talked to other people and other cultures in their life. Unfortunately, that part of helping kids see that is going away.
We have this program that if a high school choir submits a video, they might win a chance to actually sing on stage with us during "I Want To Know What Love Is," and we contribute $1000 to their choir program. If anybody has any questions about that, they should go to www.foreigneronline.com for all things Foreigner, or VH-1. It's just important for us to do it, because we have the ability to do it. I was going to talk about that, because I was lucky enough to see the band play that song back in the '90s with a local gospel choir, and it's just a goosebump moment every time that you hear that song. Right. That song, though it may have originally been written about a singular relationship, it's really become a message about world love and about loving your neighbor and trying to figure out what it is that we can all do to make everybody love everybody else. It's really become something larger than the original idea, and helping with the schools and choirs is part of that.