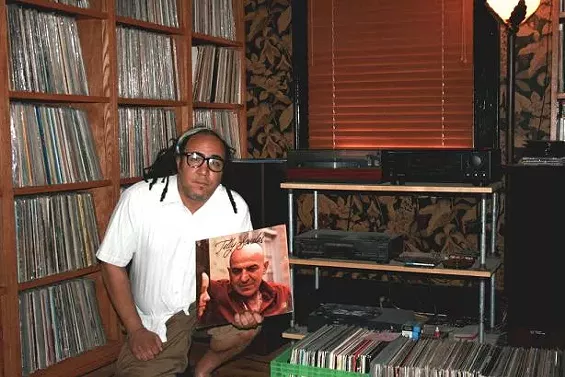 Jon Scorfina
Doug Morgan's record collection, which includes this Telly Savalas gem
DJ Doug Morgan is the host of The Record Sto' (formerly the Underworld) every Thursday at 2 p.m. on KDHX. Morgan stores his mammoth personal collection -- the largest profiled in this column yet -- in his University City house, which he bought from Vintage Vinyl owner Tom "Papa" Ray. Between dealing with a minor flood in his basement (thankfully, no records were badly damaged) we conversed over "Rapper's Delight," the late Dr. Jockenstein's Roll Call radio show and digging for vinyl with Gang Starr's DJ Premier.
Last Collector Standing: What's the craziest experience you've ever had collecting records? Doug Morgan: First of all, I don't actually consider myself a collector in the technical sense. I just like music a lot, all different genres. I'm always digging, hunting and picking up stuff.
I've actively been buying records since I was four. My stepdad, he was a big music buff, would let me pick out a 45 every Friday on payday. The bug bit me, and I've never stopped.
Do you remember the first record you bought when you were four? Absolutely. It was The Jackson 5, "ABC."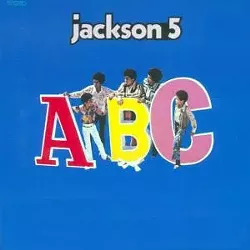 Do you still have it? No, I don't have it anymore.
Do you remember what might have happened to it? No, I was four. [Laughs. ] Probably broke it, scratch it, lost it.
Could you elaborate on what your first experience of collecting music was like? My first grass-cutting jobs, my first snow-shoveling jobs, my first real jobs were actually just to buy records. I didn't want to work, but I needed the money to get the records. I had more records than the average kid by the time I was in my early teens.
One of my cooler experiences collecting was [when] I was in New Orleans on a trip. Probably the largest portion of my collection, at least in volume, is hip-hop twelve-inches. I've been buying forever, and I used to be a lot more active of a collector because I was DJing a lot more. This is pre-Internet, when you just couldn't go online and download anything you wanted at any time. You couldn't go on eBay and buy it. You had to get out there and go find it. You had to be in the trenches, so to speak.
I was doing some digging and found this cool old record store. There was no organization in the place whatsoever. There was this 90-year old guy sitting behind the counter and I'd go, "Where's your 'blah blah blah' section?" He just kind of pointed at the entire record store.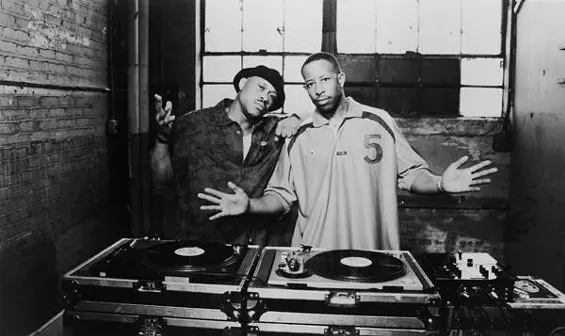 Gang Starr, featuring DJ Premier and the late Guru
I was on the hunt for rare twelve-inches, and I thought I had found a patch. This place was completely dust covered. Mold out the butt. I'm sneezing the whole time and I'm crawling on my hands and knees going through these dirty piles of records on the floor. I literally almost bump head to head into one of my DJ idols, which was DJ Premier from Gang Starr.
He's got a world-renowned collection, and he's an avid digger himself. That's pretty cool.
I said, "Oh my God, DJ Premier." He basically smiled at me and did the shh motion.
Back in the day, if you found a good digging spot you didn't talk about it. You didn't want anyone to find out about it. You wanted to take your time and pillage at your own pace.
That's really awesome! Do you remember anything you came home with? I didn't find tons. The clerk was really crotchety. He had no idea what he had but he just assumed that I had money. I guess DJ Premier had been going there, and he definitely had money because he was famous at the time. So he was trying to charge these exorbitant amounts for these mediocre, b-grade catches. Nothing I was completely frothing over. I walked away from that trip pretty empty-handed.
RFT file photo
Dr. Jockenstein
From the eccentric sets you play on KDHX, would it be fair to say you have a pretty diverse taste in music? Your show is not just a rock show or a soul show. It's pretty much across the board. What were the influences in shaping your musical taste? Yeah, I purposely set the show up like that. When I first started... wow, twenty years ago this year, I was on late nights like everyone else at KDHX [when they] started off. It was pretty much a rock show, but I've always listened to different kinds of music. I think I had a little bit of foresight in that I wanted to do this for a long time and I don't want to get burnt out. Sure, I love reggae, but I don't want to do a reggae show for twenty years. I think I'd get bored.
Honestly [my influences] really went haywire when I started working at Vintage Vinyl. Having all that access and all the new stuff hitting me everyday, it was pretty much out of control for the six or seven years that I worked there. It was '90 to '97. They were the absolute best years ever for a collector because the early '90s was the introduction of the CD. I became a buyer for used product. There was a good solid two years where every single day people where dumping all of their vinyl. They didn't want it anymore. They wanted all CDs. Keep in mind again that this is pre-Internet, pre-eBay, pre-all the collectors globally hooked up. Lew and Tom, owners of Vintage Vinyl, were pretty generous in terms of what they let us buy and take home, usually at the price that they paid for it.
Listening to old episodes of The Underworld, hip hop seems to have a particular significance to you. The KDHX website even advertises your show as 'St. Louis radio's longest running hip-hop mix." What role has hip-hop played in your collecting habits? It's pretty massive. It's the one music [genre] that I've consistently listened to. It's my bread and butter, or cheese, if you will. I bought "Rapper's Delight" when it came out in 1979. The music has continually stayed exciting and fresh for me. The collector's bug comes into it because so much of it for so many years came out on independent labels and was very localized, regionally. It didn't travel as well like a lot of rock records. For years, so many of these records were only sold in [one particular] city.
The biggest hip-hop influence for me growing up was the Roll Call show. It was on WESL on AM. I think it moved over to FM on MAGIC 108. This was the early '80s, and the legendary Dr. Jockenstein held this daily call-in show that you just called in on the phone and rapped. I don't know if you remember Fat Albert and the Brown Hornet. Fat Albert and the kids would be out doing whatever, and somebody would go, "What time is it?" Their show was the Brown Hornet, so they all go running to watch the Brown Hornet. That's what it was like in my neighborhood with Roll Call. It was like, "It's three o'clock, get to the nearest radio!"
It didn't produce a whole lot of records, but it did have its stars. There were these guys who would call up consistently, and you knew who they were. What was really cool about it was it was the same song every show, which was "Genius of Love" by Tom Tom Club. It started off the exact same way every single time, "What's your name? What's your sign? Why don't you give me that number one school? Favorite teacher with the golden rule?" Then you launched into your rap. These guys got really famous around town. It would be like, "Did you hear who called in today? It was Colonel Lee vs. Kid Capri. They went back and forth, and it went on for like a half hour." It was spectacular.
MP3: Dr. Jockenstein, "Roll Call Show Episode"
You changed the name of your radio show from "The Underworld" to "The Record Sto'," which just so happens to be a great coincidence for this column. Does a name change affect the way you approach your show? No, it's the exact same show. I got the show at KDHX and they asked what the name of the show was and I got lazy. It stuck. I never really liked it and it didn't pertain to anything. I'd been wanting to change it.
Actually, a couple of years ago I found myself out of work for a little bit, and I didn't have any money. I went on a self-imposed, one year of not buying records. I could still access new stuff because the station gets new stuff. I also realized I had so many records in little pockets in the house and I would go through stacks and say, "I didn't even know I had that!"
I started joking that I went shopping. I told my girlfriend that I got new records.
She said, "I thought you weren't buying any records."
"Well, I didn't. I went to the Record Sto'"
"How'd you get free records at the record store?"
"The Record Sto' is my house!"
That's how I got the name of the show The Record Sto', because for a year I was exclusively shopping at my own house. Finding stuff I didn't know I had or stuff I never listened to before.
What are your thoughts on the current state of music and the way people collecting it? The record industry is in big trouble. I don't like the way people are collecting music now. I like the fact that there is stuff out there for free and access is really easy. But it's almost too easy, which disconnects people from the whole process of collecting music. People just don't have the reverence for the music.
Hip-hop is completely dead. Everything is just an MP3 download. The labels will give you all the free music you want, but all you get is that MP3. That's fine. I'll take it. I still like the music, but I like to hold something.
There used to be powerful, independent music labels, before all the major labels bought them all up. You had Rap-A-Lot and Jive. They're all gone. Everything is on the internet. The only way you can get anything out there is through the internet. At the end of the day, especially the smaller labels, it's not cost effective for them to actually produce product anymore. That's not even vinyl -- I'm talking CDs.
Do you ever see it going back to vinyl? I have hope for that. Oddly enough, I think it was just this past year that for the first time in over ten years sales for LP records went up. Now granted, it was like .8 percent. Still, that's significant. Most of that were younger kids into [the] indie-rock scene. They're getting it. They have something they can hold, and look at. Something that will last forever.
I still can't believe how fragile music is. I had a problem with my computer. The tech people I was talking to told me to do something and I ended up wiping everything off my computer. Poof! Twenty-thousand songs gone. We're not talking about a natural disaster, a fire or a flood. Just in an instant, everything's gone. That's one of the benefits of actually being able to hold it. If there is fire or water coming I can grab it and run with it. [Laughs]