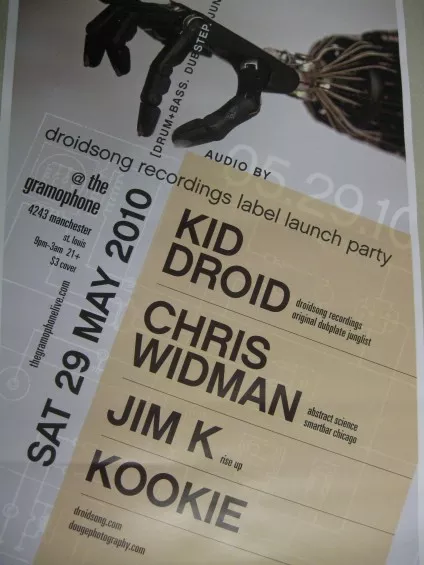 A pair of drum 'n bass record labels, Droidsong Recordings and UnitOvOne Recordings, have coalesced in recent months. Droidsong Recordings, which has its official launch party on Saturday, May 29, at the Gramophone, is an entirely new project fronted by Britton Clapp of St. Louis, who spins under the moniker Kid Droid.
Of the show, Clapp says: "People can expect to hear lots of new music, with plenty of unreleased stuff in one of the best venues in the city. Really, we just wanted to celebrate this new venture with a big party though."
Clapp, along with other the other three DJs spinning at the launch--Jim K, KLM and Chris Widman of Chicago's Quadratic--were all instrumental in the evolution of Missouri's drum 'n bass and rave scenes in the early- to mid-'90s.
"St. Louis has tons of great drum and bass producers and DJs, [and] we want to make this music accessible to the world," Clapp says. "St. Louis underground music deserves more attention and we plan to make sure that happens. When a city is known for supporting local music, it becomes attractive to touring musicians and DJs. We've all had a performer we wanted to see skip St. Louis to do a show in Lawrence, Kansas. That shouldn't happen."
Clapp says the label has plans to expand beyond drum 'n bass and into other genres of electronica. Droidsong has two EPs lined up for release this summer, Toxin by Kid Droid and Rhythmic MU-6 by MU-6.
UnitOvOne was started in 2003 by Dan Robitaille as an event production group Soon after, DJs and promoters such as Dustin Epperson and Dylan Thomas, among others, joined up. After a producing over 150 electronic events, the group consolidated and shifted gears in late 2009 -- and made the switch to become a label. UnitOvOne Recordings strives to combat the quantity vs. quality mentality that's become so prevalent.
"Anyone who can understand how to use most simple of sequencers, trackers or DJing hardware/software can easily produce a simple tune and make it available online for the world to hear," Robitaille says. "This has left the market flooded with a lower standard of quality over all, which often leaves an online shopper at a loss."
"We have been extremely fortunate to have as much artist support as we currently are experiencing. With a plethora of national and international artists on the slate for future releases, there are some really exciting projects currently in the works this year."
UnitOvOne is split up into three sub-labels: Red (techno, headed up by Robitaille), Grey (straight up drum 'n bass, headed by Dustin Epperson) and Clear (IDM). They've been active since January 2010, and they'll be releasing albums for artists in and around St. Louis including Fastcode and Kvist Records owner John Tamm-Buckle, as well as artists from Finland, Kazakhstan and Oakland.
The Deets: Droidsong Launch Party The Gramophone Doors: 8pm Show: 10pm Cover: $3