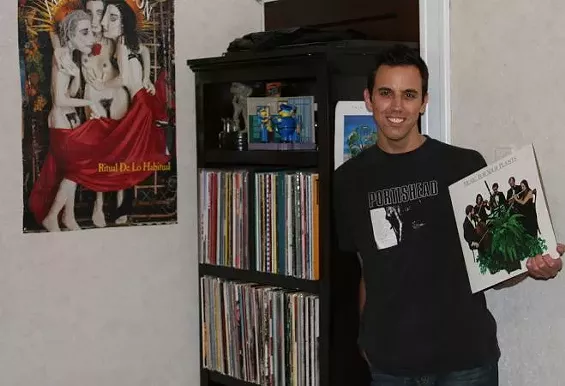 The cultural sea change of downloading has not stopped Michael Allen's quest for vinyl LPs. A collector since childhood, Allen showed an early interest in this column and emailed us to be profiled. Though he is a self-proclaimed vinyl "junkie," it hasn't stopped him from taking advantage of the myriad of modern ways to collect music. He recently showed off his diverse collection while hobbling through his apartment nursing a sprained ankle. We discussed his OK Computer license plate, a chance encounter with Samwell, and his cat, Gibby Haynes.
Last Collector Standing: When did you first start collecting music? Michael Allen: I was a beneficiary of the fabled "cool older sisters." I had two - my sisters Susan and Kathy. [They] are 10 and 8 years older than me. Susan was the first alternative kid in our neighborhood that I knew. She had black hair and combat boots before anybody. She listened to a lot of Ramones and Siouxsie and the Banshees. That's what I grew up listening to through her. Kathy was much more of a teenybopper. She listened to a lot of Prince, which was cool. She also got me into hip-hop. My dad listened to a lot of classic rock and my mom listened to oldies. So I had those combined influences.
My first record-buying excursion was Susan took me to the record exchange when I was 8. I had just received a stereo for my birthday. She asked me to pick out something to bring home. The first album that I bought was In 3-D by "Weird Al" Yankovic, which I've still got. [laughs] I started amassing records from there. Susan's influence on me growing up was incalculable, because I don't know where my taste would be without it. She had this very punk-rock style and attitude that I wanted to emulate, obviously because she was my big sister.
After that, the most formative moment growing up for me was two things that happen pretty much concurrently. I transferred to Bishop DuBourg in the middle of '99 to go to high school, and it was right down the street from the Record Exchange. I started spending literally almost two hours a day everyday after school going through the stacks [at Record Exchange]. That's where I got very, very deep into music. Then [in] August of '99, Spin released an issue called the 90 Greatest Albums of the '90s, and my worldview just sort of exploded. It was my bible for a number of years. I still have not listened to every record in there because every one that I found would introduce me to ten other bands that I was interested in. Those two things happening at the same time really fed into each other because I knew what to look for at Record Exchange.
When did you first start downloading music? When I graduated high school my dad gave me an iMac for a graduation present. That was the first computer that I owned at home. I started downloading a lot of music then from iTunes.
Is there a cultural or generational divide between collecting records vs. downloading music, or are they one and the same thing? I think there definitely is [a difference]. iTunes has made it a lot easier to disseminate music. People seem to collect singles now as opposed to albums. It's kind of a throwback to the '60s, when the single ruled [before] the album came to prominence. It's a very different listening experience.
I would say that the greatest asset for me is that iTunes makes it ridiculously easy to put together mixes. It's just completely transmutable. There is not as much effort involved as making a mix tape from vinyl. That requires a lot of time, dedication and creativity. Recently, I've discovered a little group in St. Louis that is devoted to cassette-only mix-tapes. It's a lot of fun and a great creative outlet. One of my main passions is making music mixes, and I primarily use iTunes to compose them because it's so easy to drag and drop everything. I'm obsessed with getting good segues. It's very simply to do on iTunes but very difficult on a mix tape. In terms of those two in comparison with one another, that is the best contrast I can think of.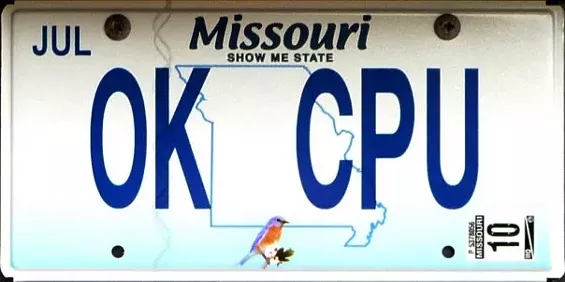 Michael Allen's license plate.
Is there a classic album that you've listened to on two different formats, such as vinyl vs. MP3, and were surprised at the difference in sound or experience? Very much so. The first album I ever bought by myself was 1984 by Van Halen. I went through a long Van Halen kick through high school. The opening of side-b is the song "Hot For Teacher," which has one of the greatest drum solos every recorded. If you're playing it through speakers on vinyl, it would just blow your head off. It's fantastic. Then I listened to it years later on headphones on my Dad's CD and there was just nothing there. It was weak. It sounded flimsy, like you could tell the drums had been processed. It wasn't real. Listening to it on record, that's the difference. It's an actually physical object that the needle is picking up vibrations from. It feels like the drums exist in the stereo speakers.
I first moved into this apartment in August of 2006. I think I was unemployed for a time and for a few weeks I just didn't have a job. My routine everyday was to walk around the neighborhood, then come home and listen to side-b of Hi, How Are You? by Daniel Johnston. I got really into that record because it just perfectly described what I was feeling and going through. That's something [that explains] how you get really emotional attached to certain records. I never listened to side-a until maybe years after I owned it. Those 4 or 5 songs on side-b summed everything up for me. I could leave the needle there and pick it back up and listen to it over and over again.
What's your favorite record of all time? For a long time, it was Radiohead's OK Computer, which I got into in '99 and completely immersed myself in. My license plate actually reads OK CPU. I think the best thing that I've heard lately is this album called Shall Noise Upon by a band called Apollo Sunshine, which came out in 2008. I found a song of theirs on the WFMU blog. I went on YouTube and they had a few more of their songs. I completely fell for the band. I would say it's the best album I've heard in the last five years. I cannot imagine why that band is not as big as the Arcade Fire.
Do you have a favorite decade of music? I would say everything came to fruition in the '90s. I realized a few years ago that mentally I'm still in 1999. For whatever reason, that was like the peak [for me]. [Though] a lot of the big bands you hear about I'm just not into. Pavement being a perfect example. They just don't do it for me. I'm not sure why. I think [Stephen] Malkmus just strikes me as being really conceited.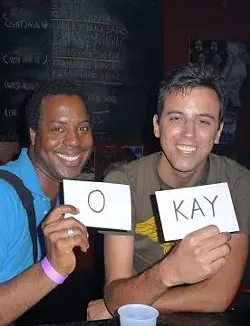 Malkmus was in town a couple of years ago, and I was working at Mesuggah. I was off that day, but he came in because they were right down the street at the Pageant. My friend Liam was working, and he just about shit, because he was a huge Pavement fan. I probably wouldn't have cared less. That's not to say I'm "too cool" for Stephen Malkmus, I'm just not a Pavement fan.
I was there one day when Samwell of "What What, In the Butt" fame came in. I just happened to recognize him. He was astonished that anyone in the store knew who he was. He offered to get me on the list to go see him for free. He was playing at 2 Cents Plain, which only lasted a year. It was the only show I ever saw there. I got to hang out with him a little bit after the show and got my picture taken with him.
Okay, Pavement to Samwell what a transition! What's the one record you want but can't find? It would be cool to have a vinyl pressing of Philosophy of the World by The Shaggs. That's the most immediate example that comes to mind.
Has there ever been a record you've almost bought and really regret not buying it? I was just at Vintage a few weeks ago when I was just flat broke. I knew it was against my better judgment to buy anything. I found a copy of McLemore Avenue by Booker T. & the M.G.s, which is this R&B cover of Abbey Road. Except that Steve Cropper, guitarist of the M.G.s, had never listened to Abbey Road. They went into it totally blind and it's a very unique take on it. It's really cool. I'd been searching for the album for years. I finally found it and it was like ten bucks, but I couldn't afford it. I put it on hold but wasn't able to pick it up. I haven't found it since.
Do you have a guilty pleasure record in your collection? Not especially because I typically go for the really offbeat stuff. I've got a few Care Bears records. I've got a Cabbage Patch Kids record. Honestly, the Cabbage Patch Kids record is really good. It's really catchy because they were gearing it to a six-year old audience.
In terms of guilty pleasures, like the kind of corporate stuff that you're not suppose to like, I'm a big Meatloaf fan, and unabashedly so. I love Bat out of Hell. I love The Stranger by Billy Joel. I think it's the best pop album of the '70s. I don't have any shame about that type of stuff. I'll leave it sitting out in my car where anyone can see it. I don't care. [ Laughs]
I've bought a number of records just because I like the cover of them. There's one that I bought at Vintage by a guy named Rev. W. J. Lumpkin called Satan Is Using His Sifter. My friend Ray and I use to go to Vintage several times a week back in college. We would pass up this record every time [and] have a good laugh over it. Then one day we were like, "You know this is going to be gone one of the times we come in, and we're not ever going to be able to find it again." So I bought it, took it home and there was a Glenn Miller record inside. Someone most of swapped out the record. It turns out he was this preacher here in St. Louis back in the '40s or '50s. I've never tracked down the actual vinyl, but I would love to hear it.
You named your cat Gibby Haynes after the singer in the Butthole Surfers. How did that come about? My favorite book is Our Band Could Be Your Life by Michael Azerrad. I was completely enamored with Butthole Surfers after reading that book. I went out and bought as many records of theirs as I could find. Gibby Haynes is just the most ridiculous persona you can imagine. For years I had thought of bestowing the name Gibby upon a cat. This one lives up to his namesake very well. He's a daredevil.
And an honorary Butthole Surfer? Exactly. [Laughs]
It's funny that you named him Gibby Haynes because in the Butthole Surfers they had a dog that they named... Mark Farner of Grand Funk Railroad! [long laugh] I never thought about that. That's cool!
Do you think vinyl will survive the digital age? I think it will, because it has qualities that you can't get digitally. It is a tangible item that you can hold and examine. To quote from High Fidelity, "it's a fetish property." People get something out of it more than just music. It's an actual item that you grew up to love and hold on to.
I've learned about the loss of audio quality over the subsequent generations of CDs, where they're basically compressing the hell out of them and just ruining the dynamic range. You're not going to find that with records, unless they are digitally remastered and pressed on vinyl. All the old stuff is still going to sound good, even if it's got those layers of dust and grim and wear and tear on it. It's still going to have that quality that you can't get from digital.
When CDs first came out they ran an advertising campaign promising "perfect sound forever," which is an okay ideal, but something I'm not really striving for. I really like having a record that's been around for a while.
I'll tell you a story. When I was probably around 14, I found at the library a copy of the soundtrack from the movie Mondo Cane for twenty-five cents. I grab it, brought it home and it's just fantastic. It's this ethereal, dark, atmospheric music. This copy had obviously been around forever and it was dusty and grimy as hell, but you put it on and it's got this think coating of fuzz to it. So it sounds like the music is just bellowing out of your speakers. It sounded as if it was alive, which you can't achieve with the digital format. It doesn't transfer the same way. You're never going to get that from digital.