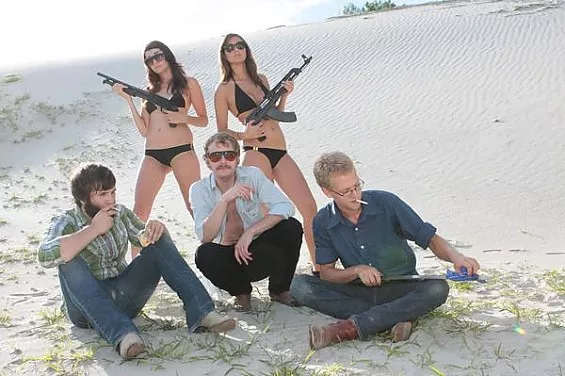 Kendall Pavan
Deer Tick has been sneaking in and out of town without much warning, but the Tick isn't up to any tricks this time around: It's playing a legit show August 5 at Off Broadway.
Antarctica *Forest World, May 28
Blueberry Hill *Stevie Stone, June 18
Chaifetz Arena *Kid 'N Play, Montell Jordan, July 2
Cicero's *Band Called Catch, June 5 *Hypernova, June 28 *Nico Vega, June 7
Family Arena *The Del McCoury Band, October 23
The Firebird *Boris, August 14 *Kinch, July 5 *Minus the Bear, July 12 *Strung Out, September 24 *Veara, August 15
Fubar *Armada, May 31 *BobaFlex, June 1 *Fang, June 9 *Lion of Judah, June 1 *There For Tomorrow, June 15
The Gramophone *The Last Waltz Ensemble, June 3 *Rev. KM Williams and The Amazing Trainwreck, June 10 *Waterstreet, July 9 *Whisper Pines, June 15
Couldn't resist a gratuitous Kid 'N Play photo. The Kid 'N Play's 20th anniversary with MC Lyte and Montell Jordan is July 2 at Chaifetz Arena.
Lemp Neighbhorhood Arts Center *A Name For Ourselves, June 7
Off Broadway *Deas Vail, June 30 *Deer Tick, August 5 *Elizabeth Cooke, August 12 *Ellis Paul, December 10 *Fishtank Ensemble, July 12 *The Great Crusades, June 19 *Joe Pug, July 4 *Nathaniel Rateliff, July 20 *Sarah Borges and The Broken Singles, July 8 *Susan Cowsill, July 1
Old Rock House *Chris Schutz and The Tourists, July 21 *Gift of Gab (Blackalicious), July 10 *The Wooden Birds/Dan Mangan August 22 *Will Hoge/American Bang, June 9