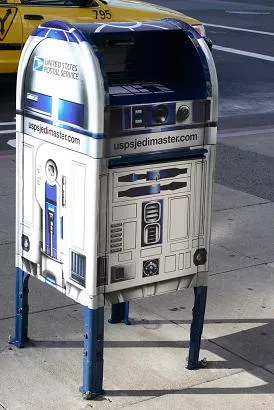 In this week's RFT Summer Guide, we highlighted some of many outdoor concert series taking place around town in the next few months. One of the more intriguing events is the Post Performances, a monthly marriage of art and music to be held at the Old Post Office Plaza (North Ninth and Locust Streets).
The series is curated by James and Brea McAnally, the directors of the Luminary Center for the Arts near Tower Grove Park. James was kind enough to answer a few questions about the Post Performances, the first of which takes place this Saturday, May 22, at 7 p.m. with local bands Theodore and Spelling Bee and visual artist BJ Vogt.
What is the thought behind the Post Performances? The Post Performances are free, outdoor concerts at the Old Post Office Plaza pairing local musicians and artists to create a series of one-off collaborative events. The goal of the series is to create a platform for experimentation between the art and music cultures locally, as well as give audiences an opportunity to view the work in a different light. We think it will bring about new projects and different ways to look at being an artist or musician and the possibilities one has to do something unique. The concept began as soon as I saw the Old Post Office Plaza, which is a rare instance of incredible contemporary design dropped into Downtown St. Louis. It is such a stunning location architecturally that I felt like we had to do something there.
How is this different from the Elevator Music Series that you put on at the Luminary? It is an extension of the Elevator Music Series, in that we are attempting to raise the concept of a concert to a more artful event capable of bringing about new interactions, expectations and experiences. In a practical sense, the Post Performances are different in that they focus solely on local artists and musicians, whereas the EMS is more about bringing in bands or styles we feel are under-represented locally. So [these shows] necessarily features bands from outside the area. We were fortunate to receive support from Downtown NOW! and Commerce Bank to be able to actually pay bands and artists to create something unique, while allowing it to be free, all-ages and open to the public. Unfortunately, we can't do free events very often, so this feels like a gift we're able to offer.
What does having the visual art component add to the live music aspect? Anytime you combine two dissimilar things, you are going to arrive at something new. This kind of cross-pollination is necessary to the creative process if you want to continue to innovate. As an audience member, the artwork may give more insight into the music, or the music may open up an interest in contemporary art, but regardless of your opinion of it, the interaction between the two will create something new. Obviously, we are more interested in presenting music as an art form than as entertainment, so think that there should be a natural interaction between the art and music worlds.
How did you decide to pair the musicians with the visual artists? Is there necessarily a shared aesthetic in these line-ups? We selected the musicians first, then sought out visual artists that we thought had a similar aesthetic or could collaborate well with the bands. The only shared logic over the whole series is that the bands and artists represent some of the most promising emerging acts in the area and have a willingness to experiment and try something different. We wanted it to be different every month, so there is a pretty broad range over the four months from Theodore and Jon Hardy to Phaseone and Black Spade.
There is a range in how it will work, however. For the Theodore + BJ Vogt collaboration, the work was already created. BJ had this work entitled "A Human Geology" that magnified sections of the human brain into thirteen-foot-tall sculptures that look like the stone formations of the American West. I thought it would be a perfect backdrop for the band's lyrics and general sound, so asked them to work together. On the other hand, for Black Spade and Alex Petrowsky's performance in July, they are actually going to a residency in New Mexico and collaborating daily for a month straight to create something truly new. That's exciting for me, because we have no idea what will come out of that process and neither do they.
Do you envision having more Luminary-curated concerts and events taking place outside of your venue? That was something we intentionally pursued this year. The Luminary is an "artist resourcing organization," which has nothing to do with a particular building or location, but is more about providing opportunities and experiences that would not otherwise exist. We are definitely interested in doing more public projects that can involve people who may never come to our gallery otherwise, but deserve to experience quality art and music. The Luminary is always open to collaborate on events or programs that fit with our vision and aesthetic, but there are no definite plans after the last Post Performance in August. I would actually love to see bands and artists take our model and begin to organize their own collaborations and push themselves to do something they would have never done before. If anything, we want to be a catalyst that helps start something interesting, not just an institution that curates cool concerts and exhibits but doesn't change the creative culture here in any meaningful way.