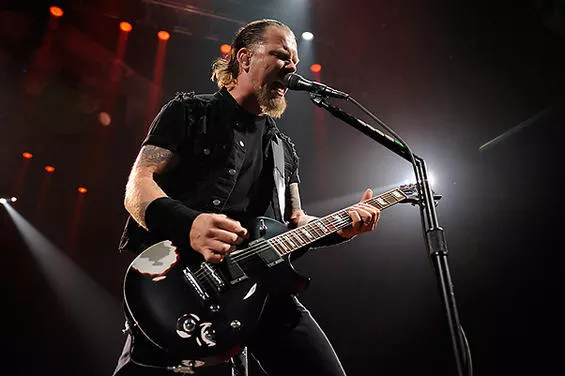 Todd Owyoung
James Hetfield in St. Louis in 2008. More photos here.
Tickets are on sale now for what's being dubbed The Big Four Live -- a.k.a. the June 22 movie-theater simulcast of the Sonisphere Festival appearances of thrash legends Metallica, Slayer, Megadeth and Anthrax. (Now I can't stop picturing an entire packed theater headbanging in unison.) The film is screening here at the AMC Chesterfield 14 and St. Louis Mills 18 (Hazelwood). More details below from a press release.
The "Big Four," Metallica, Slayer, Megadeth and Anthrax are bringing their historic European tour to the global stage by beaming the event via satellite to movie theaters around the world in a special HD cinematic event. These four legendary acts broke out of the underground thrash movement in the 1980's to dominate the metal world, selling millions of records and packing arenas across the globe. Despite huge demand, these musical giants have never shared the same stage until now.
The legendary June 22nd concert from the tour's stop of the Sonisphere Festival in Sofia, Bulgaria will air the same day in over 450 theaters in more than 140 markets in the U.S., as well as beamed into theaters in Europe, Canada and Latin America. Delayed screenings are planned in Australia, South Africa and New Zealand.
Tickets are on sale today at participating theater box offices and at www.thebigfourlive.com. Here's a trailer.