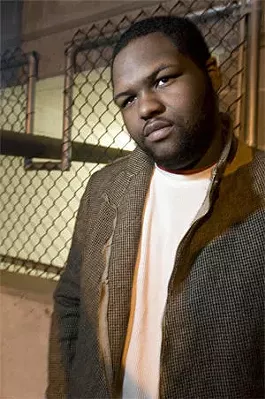 photo by Jennifer Silverberg
Gotta Be Karim looks damn good in tweed.
Last time we checked in on Gotta Be Karim, the U-City native had just swapped his Cardinals fitted cap for a Braves lid in
his music video for "When You See Me,"
causing us to joke that it looked like he finally cut ties with his hometown since moving from STL to ATL at the end of 2008.
Of course, we were only kidding. Dude
loves St. Louis
more than the Mayor.
Gotta Be returns to town tonight to perform at the Gramophone with his old comrades in the Force (see show flyer after the jump), in honor of the release of his latest album,
Bullets and Books
.
We caught up with him earlier this week and discussed everything from his craving for some old fashioned St. Louis chop suey to "Do For Self," his strategy for making a name for himself in the Atlanta hip-hop scene.
What's the first thing you're going to do when you get back in St. Louis?
Get a box of rice and a plain
St. Paul sandwich
with no pickle.
When and why did you leave STL?


I decided to leave about two weeks prior to me leaving. It was November 2008, and I would say the day after my birthday, which is October 26. I proposed it to my woman, we made the decision in about three days. It was a perfect opportunity. The opportunity presented itself right on time, you know what I mean? It was a couple decisions that needed to be made, financial decisions, I started thinking about it, I could bust this move and this move out of town and just keep it moving. I started making phone calls and lined up some earning potential and we just burnt up, it was about a two- or three-day process.
What you miss most about the city?
My family, just the family. I miss the love. But definitely my family. I'm not talkin' just my nuclear family and my blood line, my musical family too, the hip-hop scene, all of that. I miss the love and the attention. At the same time, it's beyond a St. Louis world. There's a whole six billion people I got to touch. That's what going to Atlanta did, well it started it anyway.
How is the hip-hop scene different down there in Atlanta?
It depends on what aspect you look at. If you comin' at it from an artist that's born and bred down here, they looking to get out of Atlanta like artists from St. Louis is looking to get out and spread their demographics. I'd say St. Louis has a better, more talented scene. Not to be arrogant but The Force you know, damn. Atlanta, man, it's not any different. It's just more people and more scene and more demographics. There's still only three or four venues for hip-hoppers to perform at and a handful of promoters controlling it. We got the same problems down here; it's just a different demographic.
Are you taking the Force movement and mentality down there?
I'm doing both. I'm a self-contained unit. However, I rep the Force, that's the energy and as far as like-minded people coming out of my city, my crew, my producers that's the new thing after I was gone but it's still the same energy so I rep it. The whole idea is to expand The Force, it's a force of nature. It's a creative movement, the ideas, in that regard I am reppin' it. I rep it 100 percent but it's just as far as throwing it around every chance I get, no. I'm not living off it.
Explain "Do For Self." How'd you get the idea, what's the goal?
I was down here in Atlanta, and I had to figure out a way to gather some attention, I wanted to come out and not look like just a regular amateur guy wantin' to go open mics and show people I could rap. I wanted to display multiple talents at one time, to the demographics in Atlanta and let people see here where I was at business-wise, and then show triple that talent-wise.
Do For Self arrived from me wanting to do it myself instead of submitting mixtapes to promoters and get attention that way. Anybody can walk up and hand over a CD and tell you you could do something, but it wanted show it. I ended up losing about $2,000 doing that, but it was worth it. I got the connect, I got artists on the underground scene saying 'Can you promote my joint? Help me throw a release party.' It worked.
What's the story with Bullets and Books. What inspired it and how is it different than what you've done before?
Man, that must be a standard journalism question. My environment inspired it. It's different from other material in that I'm still grindin', it's got quality excellent production, I put a lot of energy into it man. As far as the crafting, the concept of it, It's a body of work that a parent could put into their CD player and teach their son how to be a man. As far as it being different from everything else, it's continuously progressing as far as the quality of my music and the depth of it. What it represented to, the balance that I feel like a man should have. You should be able to go to Harvard or Wash U and stand on the corner of Waverly and co-exist, you feel me?
What's next for you?
I might be moving to LA come June. There's about a 90 percent chance of that happening. I came to Atlanta saying that it's not going to stop, it's just a stepping stone. It's not going to stop in California either. Ultimately I want to move out the country, I haven't decided where. Wherever I gravitate to.