Michael Schafermeyer, a prominent DJ on the St. Louis underground rap scene, died early yesterday morning in Baltimore, of an apparent alcohol and drug overdose. He was 31.
Schafermeyer grew up in Jefferson City, taking his DJ moniker Helias from his eponymously named high school, where he went before attending Wentworth Military Academy in Lexington, Missouri. He lived in Columbia, Missouri, before coming to St. Louis, where he attended St. Louis Community College for a time. He moved to Baltimore early last year to be with his wife, Michelle Reichling.
Known for producing and scratching on tracks with his underground hip hop collective, the Frozen Food Section, he also DJed for hip-hop/rock group Lojic before they departed for Los Angeles in the mid-'00s.
"He was the best turntablist I've ever known, and a truly undiscovered talent," says Nate Womack, a friend and St. Louis producer known as Splitface.
"He was like a combination of Pete Rock and RJD2. He was really good with drums and flipping funk samples. He always had that 'it' factor. There was something that really drew you to his music." Schafermeyer's work appears on Splitface and June 16th's Raydeeohh, as well albums from rappers including Jonathan Toth from Hoth, Tucker Booth and Serengeti.
I met him while reporting a piece on the Frozen Food Section for RFT in 2004, and over the years we became good friends. Like others in his orbit, I was amazed by his creative and technical abilities. His beats were almost universally compelling, and he put them together quickly and cleanly; members in his clique fought to rap over some of them. Perhaps the biggest surprise, though, came when he abruptly decided to become an MC himself, which he did to great effect.
Yet despite Schafermeyer's talents, there was always a sense of chaos about him; Pro Tools files swallowed by hard-drive crashes, lost phones, nonsensical ramblings. His disorganized streak might explain why he never put out a CD of his own. "I really think he was kind of genius, and that brings along a strange psychosis," says his wife, Michelle Reichling, adding that his death has prompted her to begin culling his substantial unreleased catalogue for potential release.
Schafermeyer and Reichling were married on January 8, 2009, though Schafermeyer managed to disrupt their nuptials.
The couple had planned to take their vows a few days earlier, but while en route from St. Louis to Baltimore, Schafermeyer mouthed off to a flight attendant when she admonished him to close his laptop, inquiring whether she was "the lady who checks for shoe bombs." The remark earned him an arrest and a four-month stretch in St. Louis County jail. The story made national news.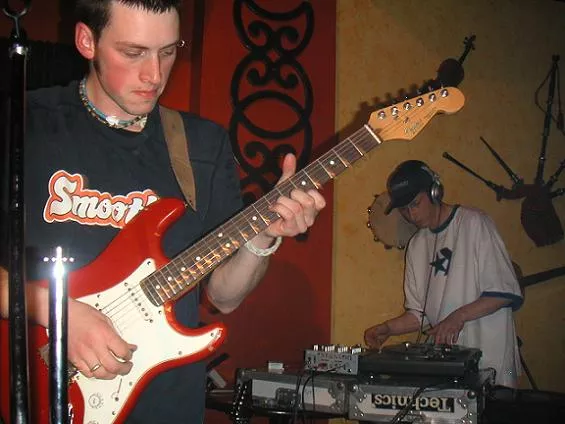 Schafermeyer performing with Lojic
While he was in jail, I discovered that Schafermeyer was a talented comic artist; he mailed me hilarious, devastating portraits of his fellow inmates.
"He was just so damn good at so many things," says his friend Peter "Calc2" Seay.
Reichling says her husband had been drinking on Tuesday night, despite the fact that he was wearing a narcotic patch to combat chronic pain brought on by a car accident when he was a teenager and a broken shoulder he suffered last year. She says Schafermeyer had a prescription for Fentanyl, a potent narcotic used to treat pain, which doctors warn should not be mixed with alcohol. Though the results of toxicology tests are pending, Reichling believes the dangerous combination killed him.
"I don't consider him a suicidal person, but I don't doubt that his mind was disturbed in some way," she says.
While tremendously encouraging of his friends' artistic talents, Schafermeyer never seemed completely convinced of his own. Still, those lucky enough to hear his music were enlightened just a little bit. Here's hoping he's found his own special place in the cosmos. R.I.P., Helias.
In addition to his wife, Schafermeyer is survived by his parents, Ken Schafermeyer and Michelle LePage.
A wake is scheduled on Monday, May 24, from 4 p.m. to 7 p.m. at Houser Millard Chapel, 2613 West Main Street, Jefferson City. The funeral will be held on Tuesday, May 25, at 10 a.m. at Immaculate Conception Church, 1206 East McCarty Street. Jefferson City.