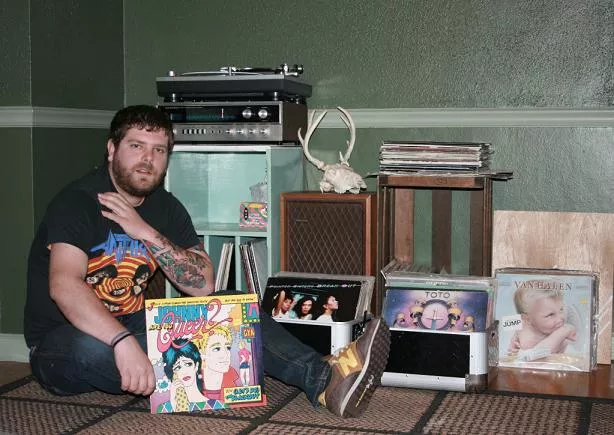 DJing under the pseudonym COR(E)YOGRAPHY, Corey McCarthy has become a vital part of the city's vibrant club scene - as a DJ and as someone helping to bring national acts to St. Louis. A former retail manager at Urban Outfitters, McCarthy now focuses his full attention on his Propaganda sets at Sol Lounge and at other cities across the Midwest. With a building excitement for the upcoming CLASSIXX set on May 28, we caught up with McCarthy at his house in South city and discussed DJ culture, Fisher-Price record players and his long-forgotten first Hall & Oates LP.
Last Collector Standing: What was the first song that you played at your first DJ set? Corey McCarthy: The first time I actually played live was at the Royale on Kingshighway. The first record that I played was Morris Day and the Time's "Jungle Love," reason being that a group of people that the owner had known... had just gotten back from a trip to Africa. He wanted me to play to their likings. Keep it kinda funky. Keep it kinda fresh. He knew that I started out with an '80s set. So yeah, Morris Day and the Time, "Jungle Love," was the first song that I put down.
Not trying to please somebody like a club owner or a crowd, what was the first song that you wanted to sneak into a set just for yourself? I would say that first song that I ever wanted to play in a set was "In a Big Country" by Big Country. It's probably my top song from my '80s collection. The one I have is not an original LP, but actually from Japan. It's the extended version, which was supposed to be on the original LP. It's a really rare one. That was the one that I was waiting and waiting to throw down, because I love that song and a lot of my friends love it too, so when they hear it, they know it's me. That was the best part because when I played that I was so happy, smiling all over the place. Everyone was singing with it. That was the one I was definitely building up to.
How do you collect music now? I use a lot of blogs nowadays. I go to Hype Machine a lot. Beatport. That's pretty much how I download music.
Working in retail, which is what I have been doing for the past "forever" years, the stores I worked at had people come in with promotional CDs from Sony and other companies just to get new bands out there. That's also where I got into bands like Phoenix and the XX and Mew. When they were given out as promotional CDs, that was how I was picking up on that type of stuff. Now I'm on my computer nonstop - blogging, hitting blogs, downloading songs, tracks, MP3s. Things like that.
Most of my records are anything from hip-hop, some jazz, some funk, to a lot of '80s pop, [and] metal bands from the '80s. That was basically what I started out doing when I started collecting records. I was trying to be a '80s DJ.
What was the first record you ever bought? Boy... (Long pause) I'm trying to think. Can we come back to that one?
Sure. Do current DJs still spin vinyl or do they use more laptops and iPods? It's more laptops. I don't see a lot of iPods, really. I know there are people out there who do use iPods in their sets to go back and forth between records. I also used iPods, but it was more to bring in case someone came up with a request that I didn't have on vinyl. Most DJs nowadays that I deal with all use their laptops.
As far as vinyl is concerned, some of them use Serato. The Serato program you can use internally through your computer or you can run it through vinyl as well. You can set up two plain records that put the track through the lining on the vinyl. You can still mix and still scratch, or you can run it internally through your computer where you don't actually have to use turntables.
I use Virtual DJ. It's kind of an older program. A lot of people don't like to use it, but I use the music videos with it. You actually can download videos and project them on a screen while you're playing a song. How often do you spin vinyl? The last vinyl set I did was for Record Store Day. Vintage Vinyl asked me to come down and play. I was really excited to get to bring my records out, because the last time I did a vinyl set was probably at either the Upstairs Lounge or the Stable. That had to have been almost a year ago.
Once I got turned on to computers, that was a lot easier instead of carrying around crates of records to different places.
Is there anything missing in DJ culture now that it's changed from vinyl to laptops? For instance, DJ stands for "disc jockey", is it hard to claim that same title now? What I think that is missing is records. Putting your thoughts and your heart, and obviously more work into it. Some people say that using your computer is a lot easier. It doesn't necessarily mean that it's easier to do; it just means that it's convenient. It doesn't take as much time. I do think that the sound and the quality from records is what's missing. When you use computers and download music, sometimes you have different volumes on those downloads. If you play one track and then you come in with a new track on your computer it could be louder. The highs could be different. The lows could be different. On vinyl it was always that... beautiful sound. It sounds so much clearer because that's the way it was made to be. So yeah, I think that the main thing that is missing is the traditional aspect of a disc jockey, like you said, a person playing records. That's where it all came from.
I've noticed, and curious if you feel the same way, that there is a DJ scene and culture that has developed in St. Louis recently. Who are the major players? The one thing in St. Louis is there are a lot of bands, a lot of local shows, but as far as DJs were concerned, I thought that it wasn't something that was as big. Now, being involved in the scene and seeing people and meeting people there's all kinds of different DJs. There's people like Al Swacker doing Greaser's Lunchbox. He's doing more your punk, rockabilly music. Then you have your hip-hop DJs from DJ Mahf to DJ Uptown and DJ Who. To people like Doug Curtis, who also does London Calling, and myself. We're into more of the indie electronic scene, so we're playing a different style of music, but we're all awesome DJs and doing it our own way.
Also, people like Superconductor, Matt Leach, Billy Brown and Kenny Schmied; [the latter two] were Broasis for a while. I do think that's definitely something that has come together. There are definitely a lot of people who are more into the music, and it feels good. When I DJ, I have people come up to me and say, "Listen, I'm starting to use this program." Some people might be turned off by that and say, "I don't want anyone else doing this," but I think it's great that other people are out there playing music and getting into the music, because it's beneficial for everybody.
What's the size of an audience for DJs in St. Louis right now? At one point, there were certain DJs and certain clubs that were hitting anywhere from 250 to 350 people in a club. Now I think that it's an even medium where it's about 150 people on average. London Calling was the one that was really big. It was the one that was up to 350 people. One of the biggest nights I've seen was Dollar Bin on Wednesday nights at Atomic Cowboy. DeadAsDisco does that every Wednesday night. It's a huge place and has a really, really huge capacity. Now, what I'm doing -- which was originally called 2-Legit, now called Propaganda -- has started to get to the point where we have grown a lot bigger. It's at Sol Lounge in the Central West End. When we bring national acts down we DJ in the main room, which holds up to 400 to 500 people. One of our biggest shows there was Le Castle Vania. We had 350-plus people there.
Upcoming shows that we have that we know are going to be huge are CLASSIXX for the Studio 54 disco party. That's May 28. Then June 4, we're going to have LA Riots come back again. LA Riots was one of the bigger shows we've had at Sol. Around 400 people were there, and it was awesome. To get that many people in a place and watch people have that much fun and so much great energy makes you love it more. It makes you realize that's why you're doing it. You're doing it for the people. At the end of their workweek, they want to do something to not think of what they did all week long. [This is] what they get to do. They get to go out on a Friday or Saturday night, have fun, relax and hang out with their friends. What format were you buying when you first started collecting music? I had a Fisher-Price record player. I still have it. It's at my parent's house. One of the first records my mom got me was Tears For Fears. It was a small 7". It was flimsy, like a piece of plastic; it wasn't like a hard record. That was the first record that I actually had. I'm still trying to think of the first record I actually bought myself...
We'll do that one all the way at the end of the interview. [both laugh] It's a slow night and people aren't as active, what's your go-to song that always brings people out to the dance floor? I would say Devo "Whip It." That's something a lot of people get into. Obviously, Michael Jackson. "P.Y.T (Pretty Young Thing)" is a favorite of mine, or "Off The Wall." Those are ones that you don't hear a lot. You normally hear something like "Thriller." Those are the songs that I like that I feel people don't hear as much, but want to hear. If they go to a place and hear the same songs all the time, that's when they don't want to get active. But when they hear something different, that's what grabs their attention.
You had me at Devo! [Laughs] Yeah, you can't go wrong with Devo.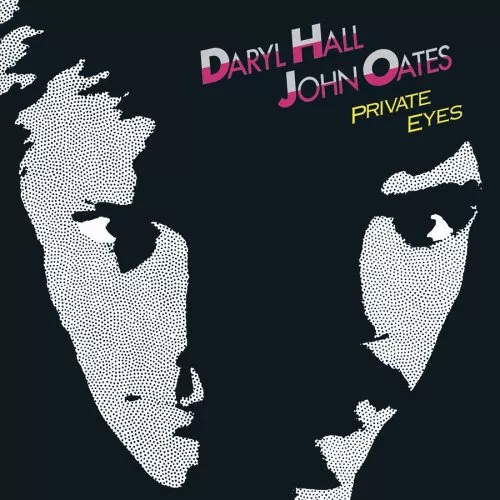 What's the craziest request or experience you've had DJing? Shit. [Laughs] The craziest request or experience... I DJed for a while at [That] 80s Club down at Rue 13. Some of the craziest things that would happen was I would get a lot of bachelorette parties. I wouldn't necessarily say they had any off the wall requests, but the things they would do for request was probably some of the craziest things. Having bridesmaids or maids of honor saying, "I'll do this, if you play this song." It was most likely a song that just wasn't in the category, or something we just didn't have. So that's why they would try to get it as much as possible.
They were wanting something like Ludacris on '80s night? Yeah, something that wouldn't be played at 80s Club. Or it would be in the middle of a crazy dance floor at around 1:30 in the morning someone would walk up and say, "Will you play Journey?" [I'd be] playing something like Michael Jackson or Madonna and everyone's dancing, and they would want me to turn it all the way down and then bring it all the way back and play a slower song that you would [normally] play at the beginning of the night.
This past weekend I was DJing. There was this group of foreign people at the club and this girl from Sweden kept coming back behind the DJ both. She kept trying to get me to dance. I'm not the type of person that likes to dance. I normally like to play the music to make the people dance. She kept getting really upset with me because I wouldn't come out and dance with her. What she kept doing was flipping me off and saying, "Fooock yoou," thinking that it wasn't really offensive. The part that I didn't realize was that I was wearing a T-shirt that I had bought from Urban Outfitters that has the middle finger on it. I come to find out that she was flipping me off the whole time because I was wearing that T-shirt. That was very entertaining, and a lot of people thought it was hilarious. On top of her flipping me off the whole time, she did end up spilling her drink on some of my DJ equipment, which now doesn't actually work. Oops. Next question. Having worked at Urban Outfitters, did you see a lot of younger kids buying vinyl LPs from the mall? Were they buying it to listen to, or was it more of a houseware accessory? The thing [at Urban Outfitters] was they didn't sell records when I first started. They were just selling record frames, which was basically to hang [records] up on the wall for art purposes. I was one of the people that was trying to pull for the records. I would go online and look at our online store and see that we sold records online, but we never had any in the store. We would get requests every once in awhile; someone would ask if we sold records. We sold record players; therefore I was pushing to have a music section. They looked into it a little more and tried it out. They started bring some records in, adding some new stuff with some old stuff.
I wouldn't say a lot of younger kids bought the records. It was more or less your middle-aged person who was looking for something they couldn't find. Obviously, a lot of these records were reproduced. They had anything from the Smiths to Belle & Sebastian, the XX, Beastie Boys, Nirvana's Bleach, the new Jay-Z album, Wu Tang's Greatest Hits. It was all across the board. They didn't have a certain genre they were trying to hit at. It made people that were interested in music, and were interested in maybe looking for music in a mall, stop and look. Places like Hot Topic have been selling records for a while. I've definitely bought some records from Urban Outfitters.
What's the future of DJ culture? That's a good question. Honestly, with any music culture things come and go through every decade. I remember towards the end of the '90s I was listening to DJs that were doing electronic music and techno music. It was a really cool thing, going to different parties every weekend and seeing different DJs come to town. Then the electronic scene just kind of faded away. Nowadays, I feel like it's starting to pick back up years and years later. We don't know where it's going to go. I could be DJing indie electronic music now and in the next few years it could fall off the face of the earth.
I've noticed a lot of newer bands that are coming out will send their hit track to a DJ to have them produce a remix -- not only to be put out on blogs, but to be played in clubs to hear that song and say, "Where do that song come from? Oh, it's an indie song. It's a band that actually started it."
Bands that have done this are the XX, who did a remix of Florence & the Machine. Passion Pit, they have a lot of remixes of the song "Sleepyhead." Bands are remixing other bands too. Not only will you see Passion Pit's songs remixed, but you will see a Passion Pit remix of another person's song. A lot of bands now are not only playing live shows but also doing DJ sets. For instance the XX, not only do the do a live show but two of the people in the band actually do a dubstep set, which they've done up in Chicago. The Rapture, you can book them to play as a band or you can book them as a DJ set.
If you ask me where music is going, I think people are trying to broaden themselves in many different things involved in music. Whether it be playing in a band and producing, or DJing and producing, or just playing more instruments. I think people are trying to be more versatile.
So what was the first record you bought? [Laughs] I'm torn. I feel like it was Hall & Oates. I'm trying to think which one it was, because I have like four or five. Oh man, I'm still trying to think of the name. I might have to email you the name. It was either Hall & Oates or... No, it would have to be Hall & Oates? I'm going to go with Hall & Oates on that one!
[It was later revealed by email that McCarthy's first Hall & Oates record was Private Eyes.]