(Editor's note: D.X. Ferris is a frequent RFT contributor and the author of the 33 1/3 book on Slayer's Reign in Blood. He was kind enough to write this obituary yesterday.)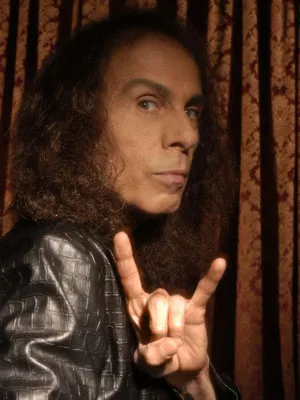 His band mates didn't invite him to the induction, but let's face it: Ronnie James Dio might be the reason Black Sabbath is in the Rock and Roll Hall of Fame. With Dio's mighty contributions, Sabbath proved it wasn't just some forgotten cult band that made four hot albums in the '70s. After Dio stepped in and saved the group from a slow demise, Sabbath was recognized as an enduring cultural institution that was longer existed strictly in the shadow of its first singer, Ozzy Osbourne.
Not an hour before news of Dio's demise broke on the black Sabbath of Sunday, May 16, Chimaira singer Mark Hunter tweeted a comment about the new Ozzy tune: "Wow. The new Ozzy single. Please retire for real this time. #throwsupinmouth." Dio's fortunes rose, fell and rose again over four decades in the spotlight, but nobody ever said anything like that about him. As hundreds of testimonies from peers and fans prove, he was one of the most respected talents and figures in the game. And nobody played the game as well as Dio did -- for as long.
Dio was 67 at the time of his death, which occurred after a short struggle with stomach cancer. He'd been a recording artist for 52 years. Fifty-two.
The singer was born Ronald James Padavona. True to his time, as an Italian, he was raised Catholic and taught to play the trumpet before he became a singer. In 2002, I interviewed him for Alternative Press, for a feature about vocalists. Here's how he answered a question about the worst rookie mistake he'd made to hurt his throat as a young singer.
"I don't mean to sound like a big head or anything like that, but I've never made any mistakes that way, and I'll tell you why," Dio said. "It's not because I'm Mr. Brilliant or anything, but it does help to be smart when you're doing things. I started as a trumpet player when I was five years old, and I played mainly classical music, played in orchestras a lot as I was growing up. And I just applied exactly what I did as horn player to singing.
"It was just so easy for me, because I was pretty good as a horn player," he continued. "And all I had to do now was sing words to what I just played, breath-wise and lip-wise, as a trumpet player. And I just never had a problem. I was blessed with a good, strong voice and the trumpet training and the mind to deal with it -- because that's the other part of it: You've got to be strong when you do this kind of stuff."
Strong he was. And a natural. Seriously, how does an American football fan who grew up in upstate New York step into Ozzy Osbourne's shoes and elevate every aspect of the British band? Sabbath's lyrics became darker, the song subjects rougher and deeper. Suddenly, the group was competitive with a wave of rising bands like Iron Maiden. With Dio out front, Sabbath was blacker. No wonder. He was no rookie. When he joined Sabbath, he had more than two decades under his belt.
Dio's first record was a 1958 single with rock band Ronnie and the Red Caps. Early in the '60s, he changed his name to "Ronnie Dio" in a nod to a mobster that used the Dio handle. And in Italian, "Dio" means God. He'd move beyond his Catholic roots, but stay close to other customs. His grandmother taught him to both give and ward off the evil eye by using the two-finger hand gesture known as the Malocchio traditionally -- though now it's widely known as "the devil horns." In the '80s, the gesture became the universal symbol for heavy metal and is now synonymous with the rock & roll attitude, as displayed by heshers and cheerleaders. The goat horns were the focal point of Dio's distinct magickal aesthetic. When you think of singers whose mere name evokes an entire body of work, Dio ranks up there with Johnny Cash, Glenn Danzig and Bob Marley. The Dio thing really began taking shape in the late '60s, when his band morphed into Elf. In 1975, Deep Purple guitarist Ritchie Blackmore recruited them to be his backing band, and Rainbow was born. Dio's apprenticeship was over, and he was now a growing rock deity. Classic rock radio listeners have listened to "Man on the Silver Mountain," the band's first big single, at least once a day since 1975. And it sounds as good as ever.
Rainbow, "Man on the Silver Mountain":
"Man on the Silver Mountain" is quite a curious tune. It's totally badass, but it's spiritual. Dio sings like a medieval knight who's ready to slay dragons, but hungry for sustenance for his soul. "Come down with fire / Life my spirit higher / Someone screaming my name / Come and make me holy again," he sings in slow, rich, sustaining lines. It's partially pagan, but it's also reverent - and it's transcendent. Dio's sword-and-sorcery lyrics fit right in with Blackmore's ye-olde-world obsessions, and they had a good run.
When Blackmore and Dio began butting heads, Sabbath came calling. The first Black Sabbath record with Dio was 1980's Heaven and Hell. A year later, they delivered Mob Rules, which had one of the nastiest covers in the history of metal, and music to match. To begin the title track, Dio belts out, "Close the city and tell the people that something's coming to call / Death and darkness are rushing forward to take a bite from the wall" - without overselling it. It's masterful.
Black Sabbath, "Mob Rules"
Everybody knows - and respects, don't get us wrong - Sabbath's Ozzy material. But among metal dudes, Dio is widely acknowledged as the definitive Sabbath singer. Even Black Flag, the acme of hardcore punk rock, worshipped Dio Sabbath. As Henry Rollins once put it, mk. II of the band was "Black Sabbath with a real singer." Rollins also lovingly goofed on Dio in a spoken-word bit, acknowledging that when you really want to feel the pain of the long, dark night of the soul, Dio has been further into the blackness than you, so who better to give it voice? And plus, noted Rollins, Dio had one of the best recurring catch phrases in metal: "Loookoooouuut!!" -- as memorably deployed in "Rainbow in the Dark," "Children of the Sea," and others.
After the Sabbath situation went south, Dio kept refining his vision in a helluva solo career. His self-titled band released its debut album, Holy Diver, in 1982. The band's visuals matched his swords-and-sorcery lyrics, and while Dio sang about Demons, he added Murray, the horned mascot that graces his the first two Dio album covers.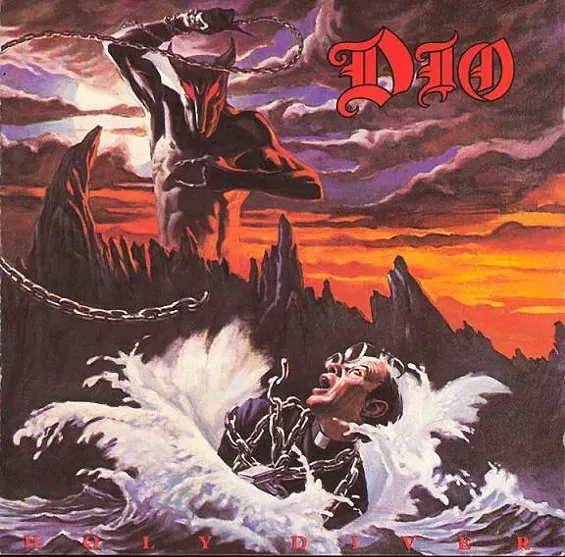 The cover of Holy Diver, starring Murray
Murray was definitely a top-three figure in a decade that was lousy with metal mascots. On that record and those that followed, Dio spun some of the most wicked imagery on the books, but - like Sabbath, who also had religious roots -- never wrote anything blatantly evil or blasphemous. (Okay, Murray chain-lashes a priest on the cover of Holy Diver.) But generally, Dio was positive and introspective guy, onstage and off.
(The album's riff-o-licious title track also, quite improbably, became a hit single when Killswitch Engage covered it in 2006.)
Dio's solo catalog is an intriguing contrast to the '80s bands he competed with, as he headlined arenas and slugged it out for longhairs' ticket dollars. "Invisible," from side two of Diver, starts off with a classic-rock serenade to the mystic power of virginity. Next up on the track list is "Rainbow in the Dark," a sharp-toothed radio staple that somehow makes a rainbow sound every bit as gnarly as a Slayer lyric like "blood red."
With all respect to the Dio band's long career, it really peaked with 1984's The Last in Line. That record's opening track, "We Rock," interweaves rock and religion, declaring that all faiths dedicated to the same thing. For a guy throwing up devil horns, it was heady stuff. And it went over a lot of heads.
The Last in Line's goosebump-inducing title track probably wasn't the first tender acoustic intro to a hard-hammering song -- but it was definitely the seminal one, and the soft start would soon become a convention, then cliché. As Obituary guitarist Ralph Santolla said in a statement Sunday, "There's not a person in metal today that doesn't owe something to Dio."
The video doesn't exactly seem gripping today, but in 1984, it was the most cinematic metal clip to date - and definitely an improvement over the previous album's "Holy Diver," which looked like demo for Conan the Destroyer. (Years later, Star Trek: The Next Generation bad guys The Borg looked familiar to viewers who'd grown up as headbangers.)
Dio, "The Last in Line"
Dio's most recent band, Heaven and Hell
Metal came and went over the '80s. Dio's band fractured, but he kept plugging away. He always regretted the keyboard-driven, radio-ready track "Mystery" from The Last in Line, and he never let a record company twist his arm again. The band's ninth album, 2000's Killing the Dragon, cut a wide swath, with songs like a title track, another called "Rock & Roll," and some urban social commentary in "Throw Away Children." He kept doing what he did, whether the big crowds were there or not.
While Dio flew solo, Sabbath reunited with Ozzy for many a tour. But Ozzy and Sabbath could never hold it together long enough to complete an album, even with renowned producer Rick Rubin supervising sessions. Eventually, they realized who could get the job done: Dio.
In 2007, the Dio-era Sabbath lineup reunited as Heaven and Hell, taking the title from the first Dio-era album and freeing themselves from Ozzy-years material. They got off to a rough start: The three new songs recorded for the Black Sabbath: The Dio Years comp weren't stellar, and "The Devil Cried" might be Dio's worst work as a writer. But the tours were well-received, and the group rebounded with the Live from Radio City Music Hall DVD and 2009's The Devil You Know studio LP. The band was going strong last year, when Dio announced he had stomach cancer. As he sang on the first Dio Sabbath Song, "Neon Knights": "Good things never last / Nothing's in the past / It always seems to come again."
SkullsNBones.com's Carlos Moreno penned one of the many touching tributes that flooded the net Sunday. Moreno nailed one of the reasons I hold Dio in even higher regard now than I did in '84. Wrote Moreno, "Most of us can look back and remember the day our greatest hero betrayed us. Ozzy went mainstream. Guns N' Roses went on hiatus for the better part of a decade, then proceeded to put out the worst album of their careers. Kiss went disco for a period.... Dio was never in a soft drink ad. He never had a reality TV show. He never lent his namesake or image to anything that would have let his fans down. He stayed true to his vision of what metal should be."
And despite his status as metal god, he remained humble, a friend and mentor to fellow rock stars and rank-and-file fans. During our Alternative Press interview, I couldn't help but call him "Mr. Dio." And he immediately asked me not to. "Call me Ronnie," he said. "I work for you."
Rest in peace, Ronnie James Dio. You were the employee of the century.