Dana Plonka
Jesse Chandler and Tim Smith of Midlake
The weather was Midlakian, if ever weather was. Mist and cloud vapors, a drizzle that came and went, all left the streets around the Old Rock House shining. Midlake, a Denton, Texas rock band, hadn't performed in St. Louis in years, likely not since before its first album Bamnam and Silvercork in 2004. The show this evening wouldn't come close to capacity. Absence, obscurity and self-imposed studio ostracism doesn't always pay off.
But sometimes it does, as the septet's hour and a half long set proved that esoteric, '70s British folk rock, played by a motley band of young jazz dudes, can be as bracing and thrilling as any sound in semi-popular music. Timeless is the word that comes to mind when immersing oneself in Midlake, but only if time begins in 1647 and ends in 1974.
Arrayed six across the front, with only drummer McKenzie Smith and a trio of vintage Vox amps behind (this is British rock, remember), the band churned out an opening mic check jam, with relative newcomer Jesse Chandler testing his flute alongside singer and songwriter Tim Smith, who looked like he'd just wandered in from mountain-top exile, a sunburst Guild guitar glowing around him. The jam segued into "Winter Dies," perhaps the most brooding and strange of all the neo-fatalistic pastoral tone poems found on The Courage of Others, Midlake's 2010 raid on Fairport Convention and Pentangle. The sound was awesome, a rolling thunder of four guitars woven together and tuned meticulously, Paul Alexander's bass locked to the kick drum, and Eric Pulido, standing far apart from Smith, but still doubling and harmonizing evenhandedly with the lead singer.
It was only the first song, but something became instantly clear. This is a serious band, serious about its musicianship, arrangements, tones and overtones and undertones, harmonics and rhythms, no matter that nearly every song hovers over a minor key, that least-fun of all keys. The seriousness is somehow never a bummer, never a put-on, never aloof. (Pulido even got in a self-deprecating story of risking his life while jogging past Busch Stadium with a "forever in last place" Houston Astros baseball cap on.)
Dana Plonka
Tim Smith, Eric Nichelson and Paul Alexander of Midlake
The seven musicians listen to each other, as jazz dudes will, and improvise in their own way, but in the service of Smith's elegiac, contemplative songs. Carried by Chandler's flute, "Winter Dies" flowed into "The Courage of Others," with Smith picking up the flute as well, and the quietness of the recorded version of the song swept up in McKenzie Smith's stormy drumming. He's remarkable, metronomic but expressive and brilliantly fast on his fills, never showboating, but a virtuoso, and as original and effective a rock drummer as you're likely to hear, at least until Dave Mattacks comes back to town. Third song "Children of the Ground" gave guitarist Eric Nichelson room to explore his Gibson SG, and then lead into "Van Occupanther" the first song from The Trials of Van Occupanther, the album the crowd knew best (they'd been living with it for four years), and received most warmly, with Chandler switching between piano and flute, and the soft glow of the melody and the lyrics -- "Let me not be too consumed with this world / Sometimes I want to go home / and stay out of sight for a long time" -- a tonic for the evening's ascetic evocations of Pre-Industrial, hell, Pre-Enclosure English communalism.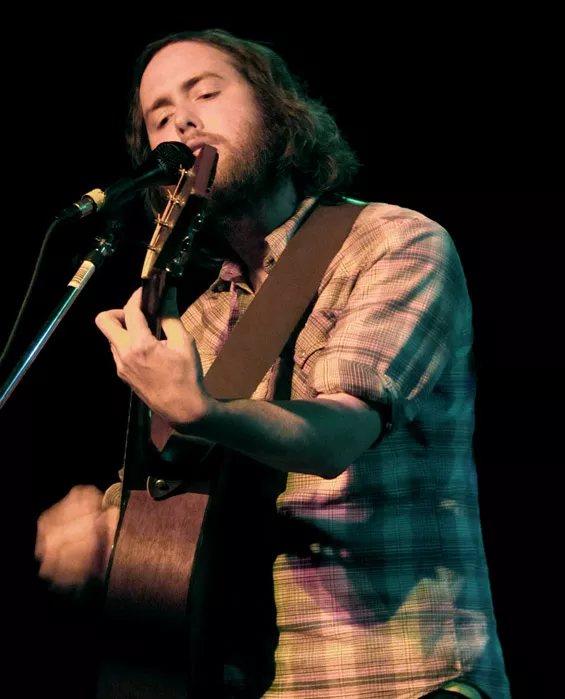 Dana Plonka
Tim Smith of Midlake
The primary set closed out with "Core of Nature," a song that fades out too quickly on The Courage of Others, but which, this evening, the band transformed into something extraordinary, a towering, tightly wound spring of guitars, coiled-up by young guitarist Max Townsley's stunning triplets and angles, echoing the spirit of George Harrison and Richard Thompson, but never quoting either. Tim Smith, retreated to the back of the stage, and McKenzie Smith pushed the band with relentless build and build and build on the drums, almost excruciatingly, but no, simply ecstatically.
With nowhere to go, the band just thanked the audience and announced its encore, two more songs from Van Occupanther, "Head Home" and then, after a response from the packed floor that finally matched the band's own fully committed outpouring, "Branches," with funereal piano chords that gave way to exhilaration and grace.
To sum up: All those years reading Keats weren't wasted. Beauty is rock, and rock is beauty. That is all you know or need to know.
Set list:

Winter Dies
The Courage of Others
Children of the Grounds
Van Occupanther
Young Bride
Bring Down
Fortune
The Horn
Small Mountain
Bandits
Roscoe
Acts of Man
Rulers, Ruling All Things
Core of Nature


Encore:
Head Home
Branches