Show Flyer: The Third Annual Anti-Wrecking Ball, Saturday, May 22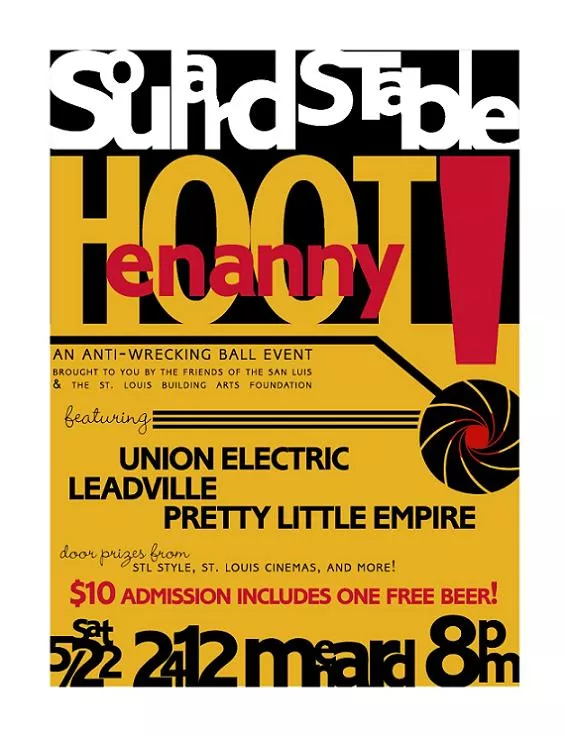 The third annual official Anti-Wrecking Ball fundraiser is taking place on Saturday, May 22, at 8 p.m. at the Historic Stahl Stables (2412 Menard) in Soulard. $10 gets you a free keg beer (singular) and performances from the Union Electric, Leadville and Pretty Little Empire. The show's proceeds go toward "supporting Friends of the San Luis' ongoing appeal of last year's ruling by St. Louis Circuit Court Judge Robert Dierker, which severely limits your ability to challenge the demolition of historic buildings in St. Louis City." The San Luis Apartments on Lindell in the Central West End were razed last year by the Archdiocese of St. Louis.
Related Content: "Legal Appeal of San Luis Apartments to Have Court Hearing, Kegger"
Support Local Journalism.
Join the Riverfront Times Press Club

Local journalism is information. Information is power. And we believe everyone deserves access to accurate independent coverage of their community and state. Our readers helped us continue this coverage in 2020, and we are so grateful for the support.

Help us keep this coverage going in 2021. Whether it's a one-time acknowledgement of this article or an ongoing membership pledge, your support goes to local-based reporting from our small but mighty team.

Join the Riverfront Times Club for as little as $5 a month.
Euclid Media Group, LLC
Read Our Sister Publications