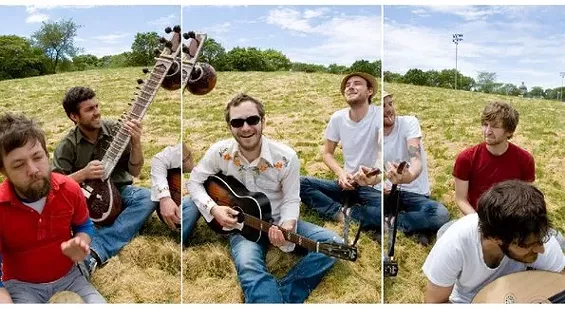 The Milwaukee based psychedelic-folk sextet Decibully, which is usually known for its solemn and melodic album tracks, shook the Firebird's foundation this Thursday with a sound that was both disproportionate and disappointing.
The small crowd came expecting contemporary rock-psychedelia driven by assorted instrumentals and harmonies, air-lifted by William J. Seidel's (album-present) boyish lead vocals. Unfortunately, their expectations went unfulfilled. Instead, lopsided sound pummeled show goers, and overpowering bass and percussion extinguished all style-defining synth and organ. And Seidel's vocals: charmless. Potent lyrics became indecipherable due to wannabe-Neil Young whines.
In the few quiet(ish) moments the set allowed, the crowd disconnection was obvious. Side conversations overwhelmed the sound. Still, not all moments were anticlimactic. The one recognizable psychedelic trend: Decibully instigated many jam sessions, which were hazily laced with echoing chord progressions. And the band's military drum beat closer, "Maggie & Magill," was appreciatively loud. But with slurred lyrics, few song breaks and little style variation, Decibully proved itself to be great providers of professionally recorded background tunes, not live purveyors of music.
The second opener, Kansas City's Antennas Up, one-upped Decibully. With a synchronized LED light show, suits and ties and kitschy props, AU enlivened audience members with its British invasion-inspired contempo-funk. The band's influences were easily traceable, but its talent was undeniable. Well-balanced sound combined with experienced musicians and vocals made the set soar.
Show Notes: *Decibully's setlist included: "Penny, Look Down," "Somewhere in the World," "Let's Not Fight," "Broken Glass," "Megan & Magill" and "Sing Out! Sing Out! Sing Out!" The set consisted of what seemed to be a dozen songs, but many were unrecognizable for reasons stated above. *Decibully is out supporting the album World Travels Fast, which was released in February 2010.