Foam Coffee & Beer is a venue, bar, coffee shop, lounge and community joint that's by the neighborhood and for the neighborhood. This newish Benton Park West establishment has only been open six months, but it's already established itself as a favorite in and around Cherokee Street. It's become a community hub: On any given night, you can find hip kids working on their laptops, members of various neighborhood associations chatting over beer and wine or crafty types knitting and socializing.
Diana Benanti
Foam-y beer, frothy lattes and live local music--Foam might just be what you've been looking for.
"One thing I try to do is create a place that's customized for that specific location," says Foam owner Mike Glodeck. "People have joked with me about franchising, but this was created for the Cherokee neighborhood, it's got a look and feel of a lot of other places on the street,"
The interior is bright and sunny, with exposed brick, vintage accoutrements and an awesome blue velvet couch that one day I'm going to carry out in my purse. (If only I can find a magic wand big enough, or a purse the size of a full-size couch.) The staff is unfailingly polite and sociable, the coffee is excellent, and it's cute as hell. It's a place where you can feel good about dropping your dimes and dollars.
There's no sibling rivalry between Foam and the other coffee shops in the 'hood, however; Glodeck is good friends with Mudhouse owners Casey and Jeremy Miller, in fact, last weekend, they all went down to Columbia to see a show together at the Blue Note. So, if you're a regular at the Mudhouse, you're pre-approved at Foam.
"We do very different things," Glodeck says, "and I think they have some of the best food in the city, I go there for lunch all the time."
Foam is one of the only places on the Cherokee strip that stays open past 5 p.m. on weekdays, which is generally right around when the street becomes a near-ghost town. Double bonus: Foam's open until 1 a.m. on Fridays and Saturdays, and it's also one of the few places lucky enough to have a liquor license in a nearly-dry ward. They carry a few beers on tap, and they make a mean cup of St. Louis's own beanery, Northwest Coffee.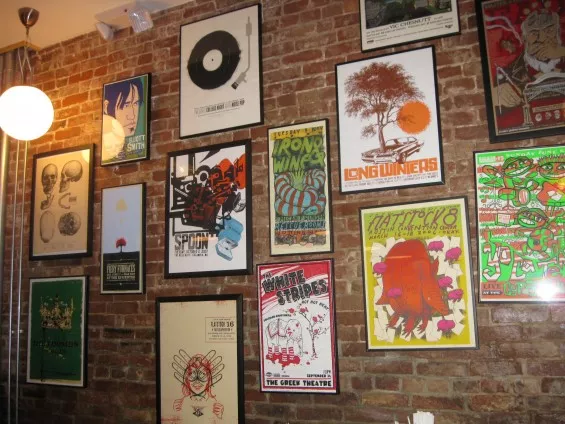 If you order a drink to stay, don't expect it in a paper cup, however; Foam insists on using real cups. A large coffee comes in a pint glass with a cardboard sleeve to protect your mitts.
"I think it's a more pleasing way to drink a beverage," Glodeck says. "To put it in a paper cup, it's almost an insult to the work that went into it."
You can catch local musicians performing most weekends; for instance, you can check out Bob Reuter this Friday night at 9 p.m.. And if there's any band you'd like to see at Foam, Glodeck is open to your suggestions. "I'm lucky, I have a lot of employees who are in bands, know people in bands or are on the scene, so I get a lot of recommendations that way," he says.
Murfreesboro, Tennessee's garage-country group Those Darlins recently did a special set at Foam for a fundraiser. Glodeck said they didn't find out until afterward that the band hadn't played an acoustic show in over two years, but did a special favor for them.
Mutual respect and hospitality also sums up Foam's relationship with their patrons. They recently solicited feedback from their Facebook page, as a result have added candy, will be adding sangria and summery cocktails to the menu, and -- ta-da! -- are considering longer hours and DJ sets on Thursdays.
"The great thing is, we don't have to check in with the corporate office to do this, we just don't lock the door. We can do whatever we want," said Glodeck.
The best time to come to Foam, according to Glodeck? "If it's sunny or if it's rainy. It depends on what you're looking for, a quiet place to sit and read during the week, or a place to do crafts, you never know who you're going to run into."
Do yourself a favor, give up the Starbucks habit and buy local. Your wallet will thank you -- and maybe, so will your neighbors.