There was nothing flashy about Mark Knopfler's show last night at the Fabulous Fox Theatre. The fanciest thing about the two-hour set was the occasional unveiling of a "guitar-cam": a camera on the end of his guitar that magnified his hands as he performed classics such as "Sultans of Swing."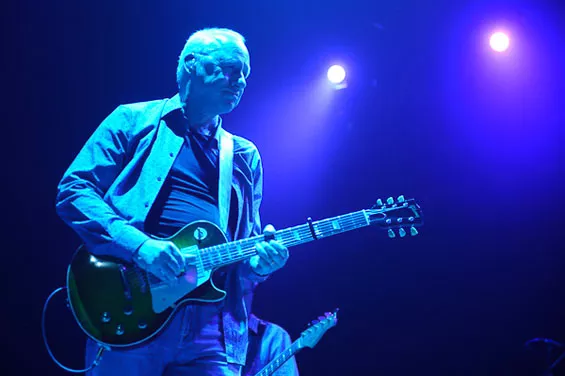 But the show's small, graceful moments elevated it to greatness - appropriate, since Knopfler's strength is his subtlety. Other guitar gods emphasize their talents with exaggerated movements and swaggering solos. But the ex-Dire Straits front man prefers the minimalist approach: He leans back only slightly at the mic stand -- pulling power from a solid, square-shouldered position while he tosses off fluid, bluesy guitar licks that tell a story in just a few notes.
The night started with the Irish-tinged "Border Reiver," a rollicking, flute-and-fiddle-driven track from his latest album, Get Lucky. "Why Aye Man" - a burnished song that resembles a Western film soundtrack cut - followed, and was the only real misstep of the night; the performance dragged.
"What It Is," one of four songs Knopfler played from his beloved 2000 solo album, Sailing to Philadelphia, picked the pace right back up. Perhaps the most Dire Straits-sounding solo song in his catalog, "What It Is" exemplifies the "Knopfler sound": pensive, oceanic guitars awash in melancholy and romance, which in turn cushion smart lyrics-cum-classical poetry. That momentum continued with Philadelphia's gentle title track and Lucky's "Cleaning my Gun," a loud, raucous rock tune that found Knopfler pumping his fist in triumph as it ended.
The way he interacted with (and imperceptibly directed) his seven-piece backing band was a treat to see. Anchored by long-time collaborators Guy Fletcher (keyboards) and Danny Cummings (drummer), the band switched instruments - a sampling: accordion, piano, keyboards, flute, penny whistle, banjo, upright bass - with ease. During "Marbletown," the way the disparate parts fell into place felt like an orchestral performance coalescing. Knopfler's extended, gracious intros of them added to the genial atmosphere.
His speak-sing delivery, a muttering drawl that sometimes resembled Dylan with proper enunciation, sounded a bit craggier than it did in his younger days. But that grit garnered more emotional impact: "Romeo and Juliet" had the resigned air of someone in life's twilight looking back with regret. And Philadelphia's "Prairie Wedding" induced chills - the song's haunted, windswept folk full of ghostly whispering and feathery chords.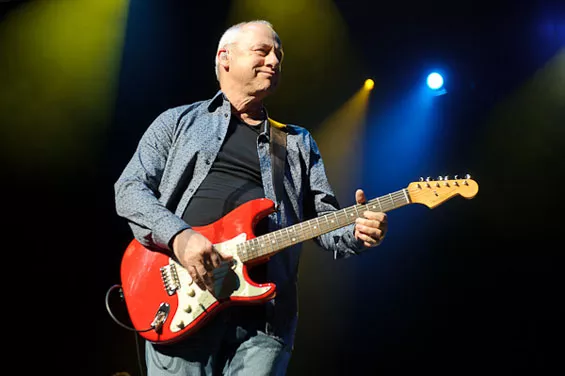 Despite occasional somber moments, the concert was an entirely joyful affair. During "Sultans of Swing," a song Knopfler's likely played hundreds (if not thousands) of times before, he grinned at his band mates and playfully faced them, as if to challenge them to a battle. He looked ecstatic to be onstage playing music. The performance spurred on a standing ovation (one of many he received) and cries of "We love you, Mark!" from the crowd. Afterward, he even commented from the stage: "It's fun for us, too, believe me!"
Of course, the Dire Straits songs he played drew the most response. 1982's "Telegraph Road" - a thirteen-minute portent of his future film-score work, no doubt - unfurled itself over a bed of manicured piano, blues licks and shadowy vocals. The song built upon itself like a tall tale, one that grows more impressive and outlandish each time it's shared. Encore performances of the haunted "Brothers in Arms" and the calming, almost-new-romantic "So Far Away" also thrilled.
Knopfler isn't cool. He's not cited as an influence by any hip modern bands. (Although Death Cab for Cutie probably owes him a tip of the cap, especially on later albums.) He's a professional poet and unassuming musician who's gifted at translating affairs of the heart. The affecting, timeless music is just icing on the cake.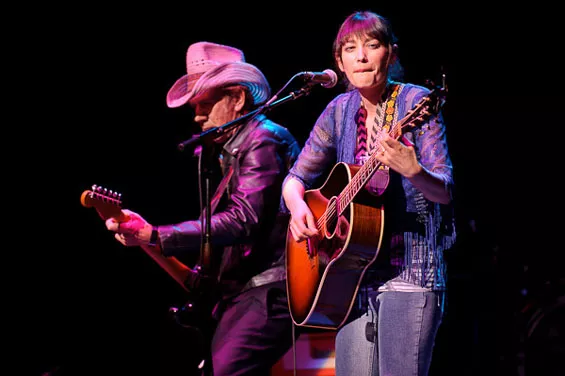 Pieta Brown's brief opening set was also a quiet thrill. With Bo Ramsey - a guitarist who's worked with Lucinda Williams and Ani DiFranco -- onstage with her, the Iowa native and frequent local performer strummed her way through a half-hour of pleasant, homegrown songs indebted to blues, folk and country. Like a Midwest-born Kathleen Edwards - or a twangier Suzanne Vega - Brown's music is simple, but not simplistic. A new song she recently wrote, inspired by Knopfler and his band, stood out.
Setlist: Border Reiver Why Aye Man What It Is Sailing to Philadelphia Cleaning My Gun Prairie Wedding Hill Farmer's Blues Romeo & Juliet (Dire Straits) Sultans of Swing (Dire Straits) Donegan's Gone Get Lucky
band intros
Marbletown Speedway at Nazareth Telegraph Road (Dire Straits)
Encore: Brothers in Arms (Dire Straits) So Far Away (Dire Straits) Piper To The End