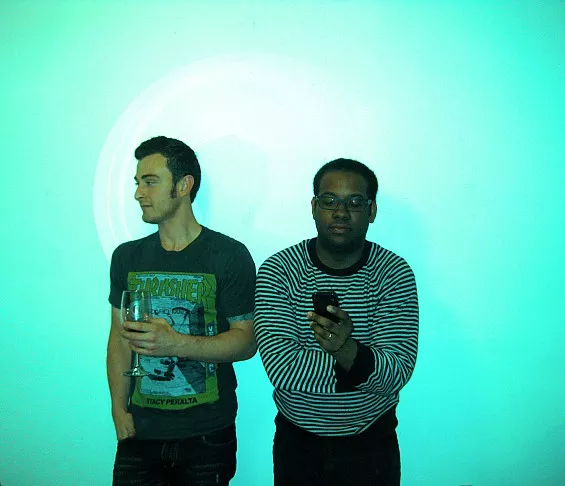 Berrek Thompson and Justin Price, the founders of Music of The Hour. Their new website launches today.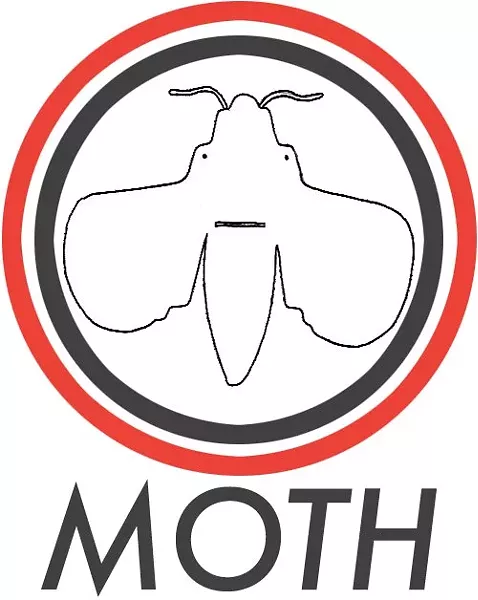 There's a new blog on the block launching today in St. Louis. Meet Music of the Hour, a brand-spankin' new music website founded by Berrek Thompson and Justin Price. MOTH aims to be a fully interactive site to which anyone can contribute. They plan to cover music on the local, regional and national levels, and already boast contributors in California, Texas and the Northeast, as well as here in St. Louis.
"Our goal was never really to be limited to local coverage," says Price. "What we're doing trying to do is use Saint Louis as an example of what's possible with MOTH in our ability to cover what's happening. We hope that other people will follow us in doing that with their local scene and contribute it to our site. We want to be fully user-interactive, in that anyone who wants to contribute essays, interviews or album recommendations are welcome."
Both Thompson and Price are married and have day jobs -- Price is a chemist in radiochemisty, and Thompson works in web design -- so to say MOTH is a labor of love would be an understatement.
"We've been working on it for the past eight months, which has pretty much moved at snail's pace since we both are married and have to buy out time from our busy schedules to get it together," Price says. "A lot of the work that Berrek and I will do together is at fine food establishments in the St. Louis Metro area," he adds. "So, if you see two guys with a laptop and a yellow legal pad arguing about what 'dubstep' is exactly over a few beers, it's probably us."
So how did the concept for MOTH emerge?
"MOTH originated as an e-mail sent between our friend Fernando and I, we would talk about what we were listening to at work, being that we both had the possibility to listen to music on the job," Price says. "As time went on, that e-mail eventually included over ten people. Berrek and I thought that it was a vital idea that we could expound on: getting album/band recommendations directly from peers, which was something that we weren't really seeing in social media directly. We both also agreed that some of the best music recommendations that we've ever received were from friends, so we thought that expanding that idea could be pretty powerful."
Five Questions: 1. What was the impetus behind starting Music of the Hour? JP: "Berrek and I both have playing/writing music as passion that we've both put aside over the last couple of years. It seems like as a young person, if you want to do something in music you almost have to invest in that when you're like eighteen or nineteen years old, and we didn't take that route. When you hear the term "settle down" it can almost seem to carry the idea that you have to cut some of your passions, but in our case we are more into music than we've ever been.
Some of the people who were included initially on that original e-mail were people who were a bit older, married and sometimes with kids. They used to have more time to devote to music, and even though there was no love lost, that time has just escaped them. The Internet, and that communication with their peers, became a lifeline for them to find out what has happening in music. When you think about it, there are millions of people who are on Facebook (or the Internet in general) all day, but they aren't spending their time digging into music like Berrek and I. I've always been that friend who is always talking about what bands I've found lately, and what records they need to check out. So we created a forum for people to talk strictly about music with their friends in that fashion, but also find a way to contribute to the coverage of local, independent music in various communities. 2. What do you plan to cover musically? Have either of you done music coverage prior to starting the website? BT: We strictly want to focus on the positive aspects of what's going on with music. That's what separates us from any other website. JP: That's so important! There's so much danger [with] websites that can be so critical, in that some people may read one review from a website and that's the only impression they'll get of a band, and if it's negative that can be such a blow to them. I've seen that happen, and we don't want to contribute to that at all. BT: We also try to highlight local and, and in some cases, unsigned talent. That line can be a bit blurry, so we aren't going to make a lot of rules about the limits of what we can and cannot do. That being said, media outlets like yourselves (RFT) do a fantastic job of covering what's happening as whole in music, local and otherwise. That's a job that you do extremely well, and we don't want to infringe on that in any way.
We aren't journalists. Our target is reaching those who don't really have the time to do the research. One advantage that MOTH presents is intrinsic to that fact that we aren't exclusively local, even though we are covering extensively what's happening here: It gives bands that we feature the chance to reach people who may have overlooked them otherwise (or may not be from here), and hopefully that inspires others to do that in their local and area and contribute that as well."
JP: The extent of my coverage prior to this website was writing music reviews for my school newspaper in high school! That's about it, but I pretty much consume music journalism. I still subscribe to music magazines, read music blogs, and I love books like Our Band Could Be Your Life: Scenes from the American Indie Underground, 1981-1991. I know there are a lot of people like me, so hopefully MOTH helps them to see that there's still a lot they can do to help out bands that surely need it.
Just in the short period of time that we've been talking to bands here, it seems that all of them feel that there is a feeling of change in the air. They also feel that Saint Louis could be as good as it could get as far as creating a sustainable environment for them to create music.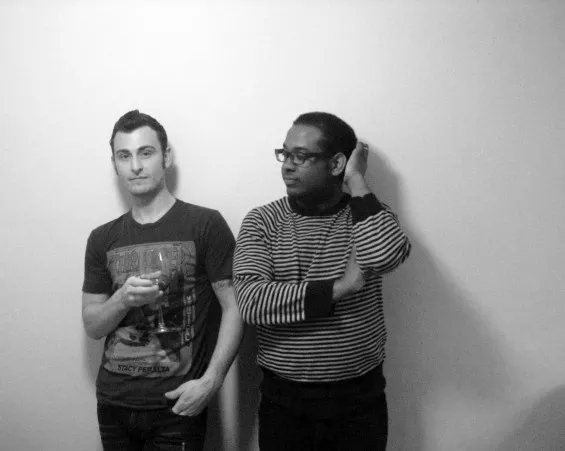 3. So, uh, what are you listening to right now? JP: I knew that question would turn on us. Frightened Rabbit have made a few of my hands-down favorite records of the past few years, including their latest, The Winter of Mixed Drinks. I listen to Ramona Falls' Intuit about once a week, and there are new records by Happy Birthday, Mi Ami, Zola Jesus and Theodore that I love. I got into a singer who goes by Bell while I was in Brooklyn, and her EP is something that I listen on a regular basis. I absolutely adore the Soundway Records compilations like Ghana Special: Modern Highlife, Afro Sounds, Ghanian Blues 1968-1981, and I'm always listening to the Band, Townes Van Zandt, Nick Cave, Tom Waits, Mark Kozelek, Jason Molina, Will Johnson and anything Jeff Tweedy is involved with. I get a chance to listen to a lot of music at work."
BT: Justin and I tend to share similar taste in music, so he already mentioned a lot of what I am listening to right now. To add to that I have also been digging on Zola Jesus Stridulum EP, Joanna Newsom's Have One on Me, Carolina Chocolate Drops' Geniune Negro Jig. I am really loving Madlib's Medicine Show No. 3: Beat Konducta in Africa. I always look foward to anything that [LA label] Goaty Tapes puts out, like Slicing Grandpa's Big Monster Canadian Coat c48, Vincent Over the Sink's Bible Bashers, Caethua/Ancestral Diet, Bird, Hoy En Día, Banana Head, In the Tubs. I am also loving Theodore's Hold You Like a Lover. And I just got a CD from .e when I saw her perform at Apop on Record Store Day and so far I have not taken it out of my stereo.
4. What do you see on the horizon for the St. Louis music scene? J: I left Missouri for New York for almost five years, and right about the time I left there were a lot of awesome bands making music at that time whose records I still listen to, like So Many Dynamos or The Floating City. I kept trying to keep tabs on them through sources like the RFT and STLPunk, but a lot of them evaporated or morphed into something entirely different. I feel that right now we are witnessing a ground swell, and we are on the verge of something very exciting happening. My first year back in Missouri I went to the RFT Music Showcase, and there were more than a few bands that blew me away."
B: Just in the short period of time that we've been talking to bands here, it seems that all of them feel that there is a feeling of change in the air. They also feel that Saint Louis could be as good as it could get as far as creating a sustainable environment for them to create music. There is so much potential for bands who are at home right to come into a community that's restructuring itself to make it a more conducive environment for them to thrive. I've always loved the Elephant 6 Collective, where it wasn't just a bunch of bands who aware of each other, but collaborated openly, played shows together or worked on each other releases. St. Louis would be a perfect environment for that to flourish, and we all just need to get out and support those band so that can happen. 5. If you could send one message to St. Louis, Music of the Hour would say... J: Do anything you can to support local, independent music. Buy. Their. Records. Go to their shows, put $20 in their hand before they go on tour. Do whatever you can to help these bands survive. That's our goal with MOTH.
The Deets: Read 'em Follow 'em Friend 'em