This weekend's especially good for having fun on a budget: You can find proudly weird $5 art auctions, the free opening of Grant's Farm's season, local hip-hop shows and more. Here are our ten suggestions for weekend fun that will cost you less than $10. Looking for live music? Here's the weekend concert calendar.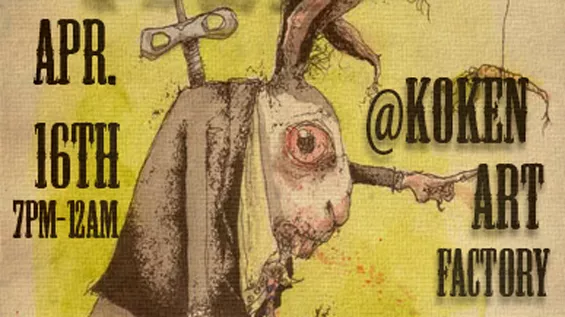 Alice at Koken Art Factory (Friday) If Tim Burton's interpretation of Charles Lutwidge Dodgson's masterpiece, Alice's Adventures in Wonderland, left you unsatisfied, perhaps the Koken Art Factory (2500 Ohio Avenue) can give you the fix for which you were looking. More than 50 local and regional artists contributed to the Koken's new exhibition, simply titled Alice.Tickets are $5. Click here to read the rest of Nicole Beckert's preview.
​Tef Poe & The Force Album Release Party at The Gramophone (Friday) Hip-hop fans should head to the Gramophone (4243 Manchester Avenue) this Friday for Tef Poe's Money Never $leep$ album release party. The cover is $5 and doors open at 8 p.m., with the show expected to kick off around 10 p.m. Click here to read Keegan Hamilton's preview of the event and a link to download the album.
Atlatl Competition at Cahokia Mounds State Historic Site (Friday & Saturday) This weekend you can head to the Cahokia Mounds State Historic Site (30 Ramey Street, Collinsville, Illinois) to get your hands on an atlatl, a spear-thrower used by Native Americans to hunt big game before the invention of the bow and arrow. To learn more, to see some atlatlers in action and to try out/develop your own atlatl technique, head over to Cahokia anytime from 10 a.m. to 4 p.m. Friday or Saturday. Admission to the event is free, but donations to the site are always appreciated. Click here to read the rest of Alison Sieloff's preview.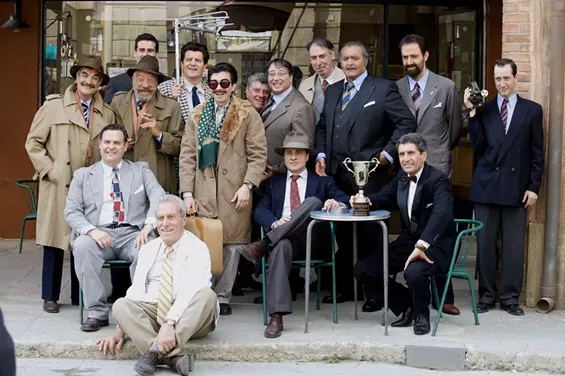 Italian Film Festival at Washington University (Friday & Saturday) Sure, we know fashion is a big deal in Italy, and we're familiar enough with the work of the Renaissance painters, but we could certainly stand to know a bit more. The Italian Film Festival provides an entertaining opportunity to fill in some of our missing information. Though not necessarily produced to be ambassadors of culture, the films in the fest were chosen to shed light on what being Italian means today. Films screen at 8 p.m. on Fridays and at 5 and 8 p.m. on Saturdays. Appropriately, Brown Hall (room 100) on Washington University's campus (Forsyth and Skinker boulevards) offers an academic setting for our studies. Click here to read the rest of Alison Sieloff's preview.
Opening Day at Grant's Farm (Saturday) Animal lovers rejoice. No longer are you limited to the Saint Louis Zoo as your only place to go for a mini-safari. Grant's Farm (10501 Gravois Road) opens Saturday at 9 a.m. and will remain open until October 31. At Grant's Farm you can check out the Clydesdale stables, feed goats and their ilk at the Tier Garten and grab a cold beer at the Bauernhof. Admission is free. Click here for the Grant's Farm website.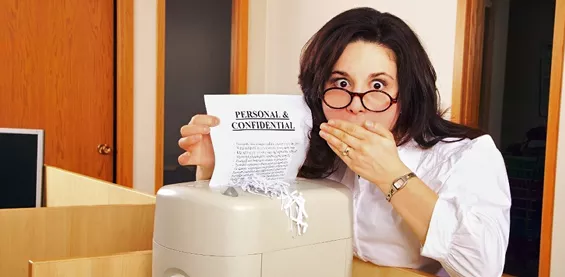 Shred Day at Galleria (Saturday) This is probably unlike any other event we put on 10 for $10. Nobody wants to spend their weekend dealing with paperwork. And if you've got too much paperwork piling up at home, Missouri Attorney General Chris Koster invites you to come out and shred it for free. The event is meant to raise awareness of identity theft and is sponsored by the Better Business Bureau, the Federal Trade Commission and the U.S. Postal Inspection Service. A mobile shred truck will be at the St. Louis Galleria between 8 a.m. and noon at the southeast corner of the parking lot. Happy Shredding!
Artropy at Sqwires Annex (Saturday) ShowMe Etsy, a St. Louis-based club of crafters who sell their creations on DIY-commerce website Etsy.com, are inviting some of the area's foremost indie crafters to Artropy, a sales and community event at the Sqwires Annex (1415 South 18th Street) in Lafayette Square. The event runs from 10 a.m. to 3:30 p.m. and admission is free. If you're looking for handmade, one-of-a-kind works (jewelry design, painting, textile arts, photography, mixed-media, glass work, eco-fashion and illustration among them) that often have a clever twist, you should probably be there.
Sharon Lockhart's Double Tide at the Mildred Lan Kemper Art Museum (Saturday) Lockhart's latest film screens for free at 4:30 p.m. Saturday. This 93-minute piece, titled Double Tide, bears witness to the work of a solitary clam-digger on the coast of Maine. In the film, the clam-digger reaps nature's rewards of a rare double low tide -- and our day off will be enriched for Lockhart having worked alongside her. A free talk relating film and photography in reference to the exhibition precedes the screening of Double Tide; the lecture begins at 3 p.m. at Washington University's Mildred Lane Kemper Art Museum (Forsyth and Skinker boulevards). Click here for Alison Sieloff's full preview.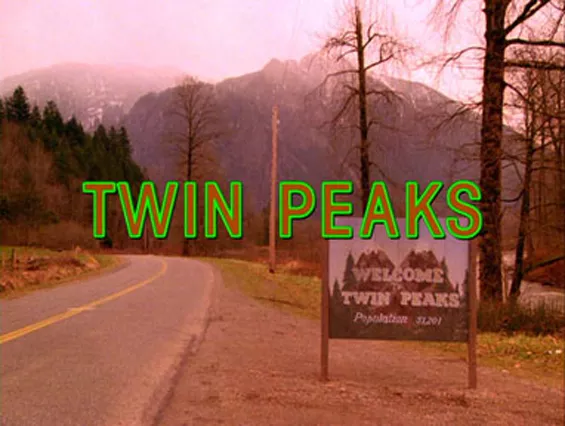 Twin Peaks Marathon at White Flag Projects (Saturday) All 30 episodes of the David Lynch/Mark Frost surreal detective noir-cum-soap-opera cult TV show Twin Peaks will be screened back-to-back. Bring everything you need to be comfortable for 24 hours, within reason; sleeping bags and food are acceptable needs, but machetes and pump organs are out of bounds. It begins 8 p.m. Saturday and is free. It shows at White Flag Projects, 4568 Manchester Avenue, St. Louis, 314-531-3442.
Udi and His Fellow Villagers at The Gramophone (Saturday) The stage at The Gramophone is sure to get crowded with this fourteen-piece funk band. Udi and His Fellow Villagers perform at 10 p.m. Saturday. Doors open at 8 p.m. and the cover is $5. Click here for more info about the show.