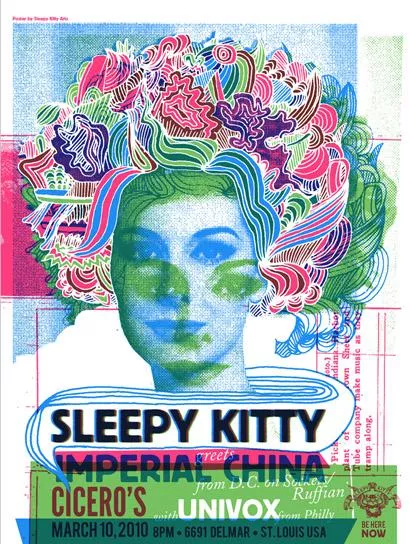 In this week's paper, Christian Schaeffer interviewed local duo Sleepy Kitty. He says the band "write[s] effervescent rock songs that touch on layered girl-group harmonies, sound collages, noir country and power pop." Of its debut EP, What I Learned This Summer, Schaeffer says it "features two songs and three snippets, sketches and roots of other tunes. [Although] the disc is less than nine minutes long, but it offers a tantalizing, varied view of the band's abilities." Sleepy Kitty's next show is Wednesday, April 28, at Off Broadway with Portland's A Weather and Columbia mainstays Foundry Field Recordings.
MP3: Sleepy Kitty, "Gimme a Chantz!"
The pair will also have a table at Cherokee Street's Cinco de Mayo event on May 8; vocalist/pianist/guitarist Evan Sult says they'll have posters and "other cool printed stuff...and possibly some new music" for sale." Indeed, besides music, Sult and his bandmate Paige Brubeck are accomplished artists -- who, among other projects, have started making bright, eye-catching concert posters. Examples of their work are above and below.
David Bazan: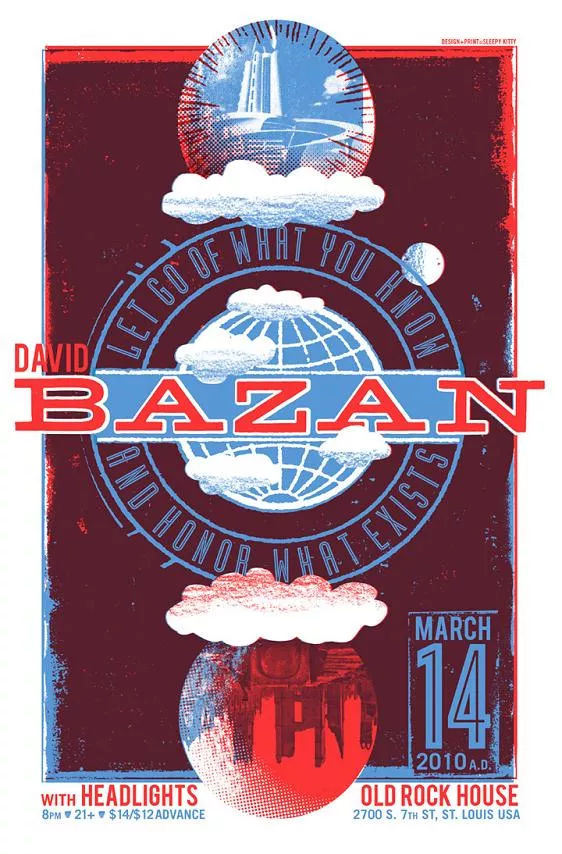 Company of Thieves:
HUMDRUM/The Mhurs:
Copperview/Matt Rowland Band/Sunday But Summer/All Fall Down:
A Weather/Foundry Field Recordings/Sleepy Kitty: