Local News Rodeo: Bunnygrunt, Union Electric, Sex Robots + Band Break-Ups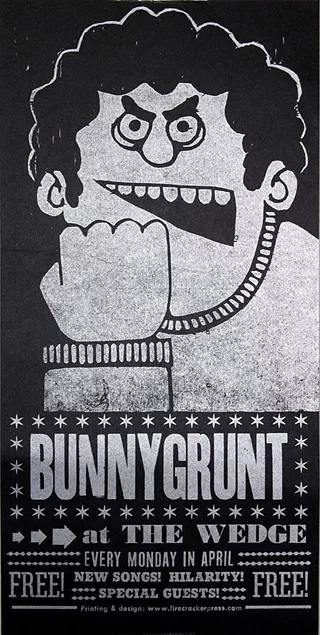 It's time for a local news rodeo! Yee-haw.
Bunnygrunt is having what it's calling a Wedge-i-dency every Monday in April at the -- you guessed it -- Wedge, at the corner of Bates and Virginia. "We're using these shows as a chance to work up some new songs in a low pressure -- drunken -- but still a real show, setting," says B-grunt leader Matt Harnish. "[This week] we debuted our new cover of the MC5's "Shakin' Street" and a new original. Next week hopefully sees another new original. We'll also be dusting off some old songs we haven't played in forever. And random other whatever-ness." Every week's performance also features guests or special enticements: This week's show opener was Bassamp & Dan-o, the new band of Sex Robots/Pubes member Maysam, while April 12 features an appearance by Joe Steinman from Vintage Vinyl (described by Harnish as "a cross between Robyn Hitchcock & Harvey Pekar"), April 19 is a "4-20 Eve" show with "space-jamming from Tony Renner & friends, as well as some heavy stoner fuzz covers from us" and April 26 has Mustard Rob performing and screening movies. Concludes Harnish: "Based on [Monday's] way better than I expected turnout and all around goodness, I'm thinking this is gonna be a real dumb awesome month."
Speaking of the Sex Robots: The south-side pop-punks have finally put the finishing touches on a new album, Nightmoves. Like the band's last self-titled album, Nightmoves is a warm weather album, one full of gritty pop gems suitable for blasting at top volume in the car between some Replacements and early Tom Petty. SR's label

website, Roadhouse Tunes, promises

that the album will see the light of day in the spring, presaging a summer tour and a new EP, The Night Court.
The Union Electric -- which we featured earlier this year -- should have a new 7" out by July. A rough cut of a tune from it, "Thylacine," features horns and a vaguely western twang. Think Calexico out on the open road, buddy-system-style, with the Jesus and Mary Chain. The band also has a new drummer: Mic Boshans, of HUMDRUM and the Floating City.
Have a few band breakups to report as well: Indie genre-shapeshifters Target Market played their final show was last weekend at Off Broadway. And the Helium Tapes are calling it quits after an April 17 show at Off Broadway with the Shondes and Helium Tapes. The latter band released Ghost Wave last year.
Support Local Journalism.
Join the Riverfront Times Press Club

Local journalism is information. Information is power. And we believe everyone deserves access to accurate independent coverage of their community and state. Our readers helped us continue this coverage in 2020, and we are so grateful for the support.

Help us keep this coverage going in 2021. Whether it's a one-time acknowledgement of this article or an ongoing membership pledge, your support goes to local-based reporting from our small but mighty team.

Join the Riverfront Times Club for as little as $5 a month.