What Black Rebel Motorcycle Club is and what it ain't has been a source of clothespin tension since its inception. Its new album Beat the Devil's Tattoo, the band's fifth, reconciles much of that tension by yoking together its effects-laden shoegaze and its blues-based rock -- both leer and sneer -- into something like a seamless document.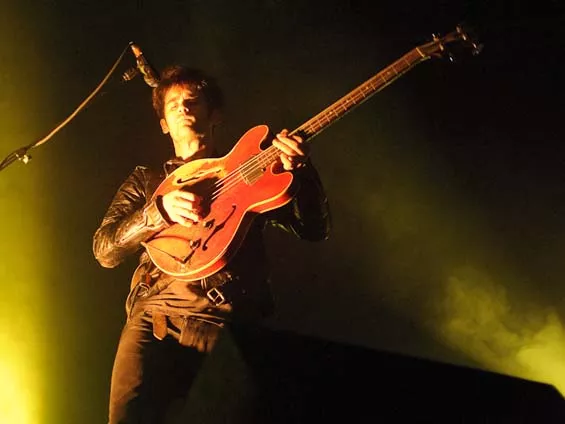 Photo: Jason Stoff
Robert Levon Been of Black Rebel Motorcycle Club.
Last night at the Pageant, the band aired out much of that album over two hours, all the while taking care to churn bowels and to throb heads. But the show itself never really amounted to a statement of purpose. Having a song catalogue so varied in its velocities can be a tricky thing.
Photo: Jason Stoff
Emma Richardson of Band of Skulls.
Band of Skulls opened the show with some cussed rock n' roll. A trio from England, the band might be best known for "Friends," a low-voltage one-off on the mega-selling New Moon soundtrack. Its set last night, however, was mostly slabs of guitar riffs amid boy-girl vocals, an adhesive combo when done right. Songs like "Death by Diamonds and Pearls" and "I Know What I Am" did it right, even when the girl half got a little lax. "Impossible," the most lacerating song from the band's debut album, closed the set in a sphincter-tightening freak-out. By all appearances, at any rate: many in the universally seated crowd suddenly stood to applaud at the end.
See a full slideshow from last night's concert here.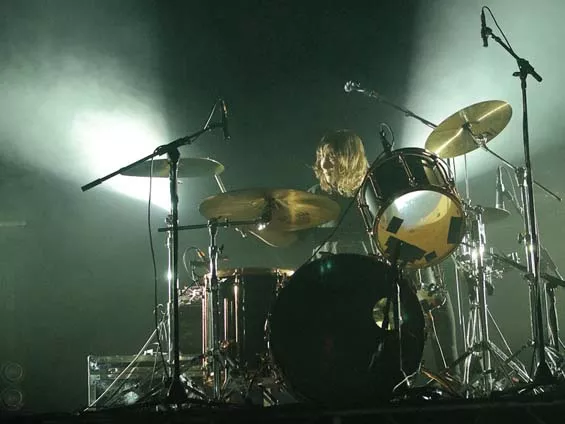 Photo: Jason Stoff
Leah Shapiro of Black Rebel Motorcycle Club.
There were plenty of sphincter-constricting moments for BRMC, too. Many of those moments came by way of the new album: "Bad Blood," for one, was as thyroid-pumping as anything the band has written. Others were vindicating: songs from Howl, a career-pivoting album sometimes dismissed as pseudo-bluesy-gospel balladry, were some of the most swaggering. Both "Ain't No Easy Way" and "Shuffle Your Feet" exerted a noticeable cabin pressure that (I heard) was also present at the acoustic Vintage Vinyl set earlier in the day.
Photo: Jason Stoff
Robert Levon Been of Black Rebel Motorcycle Club.
What BRMC -- guitarist Peter Hayes, bassist Robert Levon Been, new (and excellent) drummer Leah Shapiro -- played from its early work was more schizophrenic. When it hit, like on a reprise version of "Red Eyes and Tears" or on "Spread Your Love," the ziggurats of noise installed an urge to copulate with someone else as soon as humanly possible. When it missed, like on an interminable "Six Barrel Shotgun" or on the ponderous "Shade of Blue," the bloat was not just in the songs -- a certain fathead hubris was at play as well. (No small part was to blame specifically on the strobes and bright-white lighting, as eyeball-pulverizing as you can get without also being seizure-inducing.) And then there was the deadening solo piano performance of "Annabel Lee," introduced only as a "poem by Edgar Allen Poe" by the mouth of the laconic Been.
See a full slideshow from last night's concert here.
Therein lay the problem. Cohesion sacrificed to variety, concision starved to protracted noodling, momentum squandered to slower songs that thudded. BRMC better make another five albums. It also better figure out, now here in mid-career, what it wants its live show to be.