The RFT was denied reviewer tickets and a photo pass for John Mayer's show at the Scottrade Center last night. Why? No clue -- depending on the artist performing, sometimes these things just happen; you can't get too worked up over it. So instead, because Mayer's Twitter account is legendary, I perused the tweets of those in attendance and plucked some pearls of wisdom. As of this writing, by the way, he hadn't said a word about St. Louis on Twitter -- save for a note about slow Internet forcing him to "rotary dial his tweets."
Apparently, preparation for the show started early yesterday: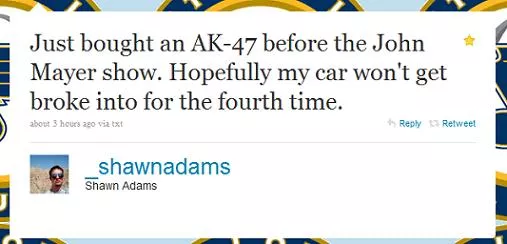 He wasn't the only one getting ready:
Opener Michael Franti & Spearhead -- whose leader hit Southtown Yoga earlier in the day -- drew mixed reactions from the crowd: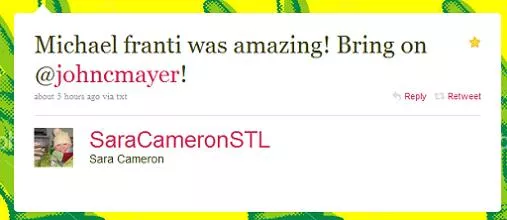 After he ended, anticipation for Mayer was almost unbearable. Seriously -- unbearable.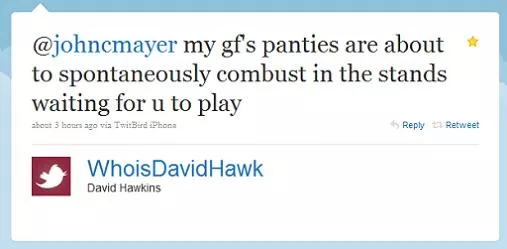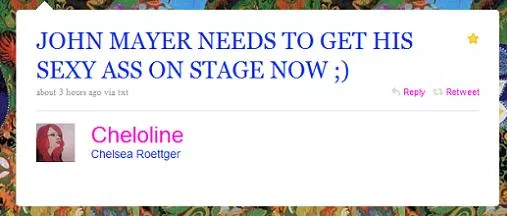 And so with a burp, Mayer emerged from behind a net-decorated stage, and started with "Heartbreak Warfare," from last year's Battle Studies. The show featured a Mayer beat-boxing session, him playing a guitar with a drumstick and plenty of heart-melting gazes; songs such as "Slow Dancing in a Burning Room" and "Daughters" made an impact. The last song, "Gravity," especially impressed some people -- perhaps because it involved many cellphones lit up? -- while an appearance of Heavier Things album cut "Wheel" thrilled others. Mayer also covered the Police's "Message in a Bottle" and threw in a Fleetwood Mac snippet. To one fan, when Mayer sings he "looks like Tom Hanks and Coco from Saturday Night Live had a baby" (which was later amended to "Shit, was it coco or kiwi? I can't remember. The chris kattan monkey character. I think someone is smoking weed near here"). The crowd at the Scottrade Center made quite an impression on some in attendance: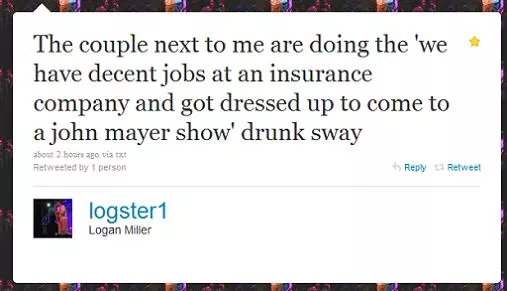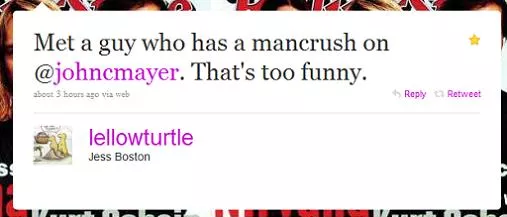 Either way, they weren't shy when it came to bringing signs.(Some even got high from nearby sign-drawers.)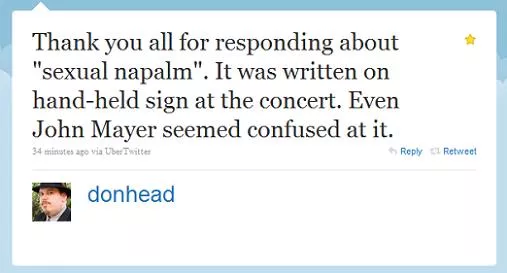 The latter sign -- which is a reference to Mayer's recent comments about Jessica Simpson's bedroom prowess -- apparently caught his eye. According to many, he commented on it from the stage: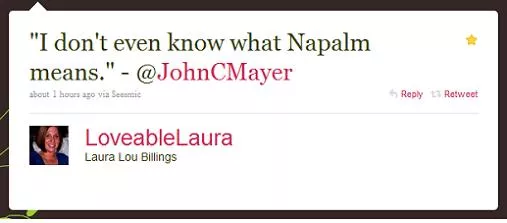 Wonder if he also caught this lady's eye?
Overall consensus was that Mayer was various shades of amazing. (To one fan, the concert was even better than Skid Row.) More specifically: The show was several hours of foreplay to some -- and something much different to others: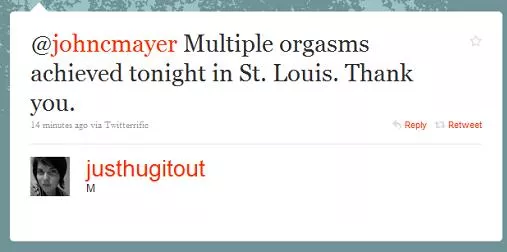 I couldn't have said it better myself.