Big Star's shadow is looming large at this year's SXSW.
The text that Alex Chilton had died came through just before midnight on the first full day of South By Southwest 2010 in Austin. I was on my way to the sleeze-and-cheese-and-bathroom-cologne club Prague to see the anti-Alex, Billy Bragg, at his 1 a.m. Strummerville and Jail Guitar Doors showcase. Chilton was to appear at SXSW on Saturday at a Big Star "reunion," a show, to be honest, that was not high on my dance card. Out in the street, I read the news and blurted out "Jesus Christ."
On cue, a stoned and stupid 18-year-old jumped in front of me and said, "You called?"
"Alex Chilton is dead. Have you heard of him?" Blank and fried eyes glared at me. "You should download Big Star some time."
"What kind of music?" he asked, almost genuinely.
"Rock and roll." I left it at that.
Dana Plonka
Billy Bragg at SXSW
The cerulean sky over Austin on Day 1 is as much a ritual to be savored as the pedi-cabs, panhandling hippies ("Free hugs and high fives!" read the cardboard signs), generator-powered buskers, zombified street-corner goth kids, philandering corporate weasels, zipcode-wide intoxication, pandemics of unnecessary cell phone use, Gordian knots of downtown traffic, fully-realized St. Paddy's day sluts and their wannabe pimps, emaciated Euro-rockers, lonely indie kids in a semi-eternal Levi's Fader Fort wristband queue, and ten thousand discarded paper pizza plates on Sixth Street.
The weather really is killing it this year.
I arrived a day early, Tuesday the 16th to be exact, to navigate the badge and convention center b.s., snag a Levi's Fader Fort press pass, pore over party schedules which read like unedited hypertext Dead Sea Scrolls. Plus I wanted to reconnect with an old friend, Ray Wylie Hubbard, who has a new record out this year and would actually be making a few South By appearances. Tuesday night found me in Gruene, Texas, 40 miles south of Austin, home of the legendary honky tonk Gruene Hall, and the site of Ray Wyle's live, Americana radio show Roots and Branches. His guest this week was the young Chicago songwriter Joe Pug. Part of a crowd of 50 or so folk-o-philes, I sat in the Tavern on the Gruene, mesmerized by Pug's pealing guitar and stream-of-political-soul lyrics. He's a natural. If you're anywhere near Austin reading this, add him to your must-see spreadsheet.
If I had only read the papers more closely, I would have realized that this same Tuesday evening, Drive-By Truckers, slated for SXSW, were playing at Gruene Hall. I drove by clueless, and took my chances at the Pure Volume and Paste Party, featuring Jakob Dylan with Neko Case and Kelly Hogan (you read that correctly). At parties like this, a press RSVP and a pack of cigarettes will get you at the end of a three-block-long line. Doomed, I turned instead to the annual Beauty Bar Art Disaster Party, another bust, as the free vodka had run out or never was. Promise of a late-night Pomegranates set wasn't enough to dispel the bitter after taste of having driven by DBTs. I resigned to make it an early Tuesday night. Wednesday began with a garden-variety assignment of interviewing Cheap Trick at the Four Seasons. Ho hum. Sissy Spacek was in the lobby with me, but I couldn't quite get the nerve to invite her up to the CT press room. The interview with the most under-rated rock gods still walking the earth went swell. (RFT readers will find it here once my tape recorder cools off.)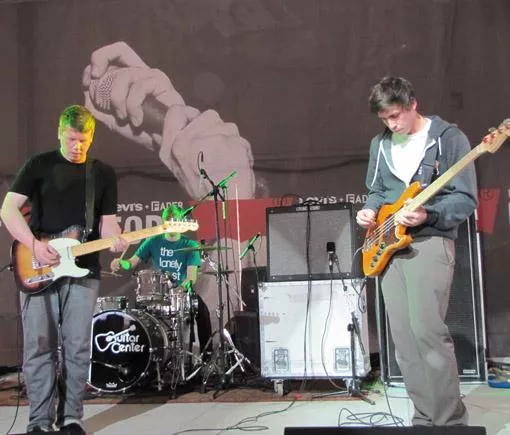 Dana Plonka
We Were Promised Jetpacks at the Levi's Fader Fort, 3/17/10
The Levi's Fader Fort is one of the bigger, most-hyped Unofficial SXSW Day Parties, but it never sucked me in till this year. Located east of I-35 along the Metro train tracks on the outskirts of downtown, it's a narrow band of huts and shacks and tents and open bars without any lines in the early afternoon. As mega-branded marketing events go, it's sick. Glasgow, Scotland's We Were Promised Jet Packs were the featured attraction under the big tent. The band ripped through a seamless, Brit-rocked-out set, pausing only to howl, "Fuck you! Asshole!" at a heckler who repeated, "We were promised what?!?" The band is inventing nothing; they don't need to with that much sweat and guitar-wave commitment.
Next up was beach-combing rockers Real Estate at Red 7 downtown. Buzz doesn't get much more mellow and surprisingly polished, nor more lovely. The New Jersey band suspended, sustained and smoothly sent out drum fills, a steady eddy of sound that reminded me of early Pink Floyd on pot brownies. That fine set, though, was easily topped by Jason Collett backed up by the band Zeus at Peckerheads (one of many Sixth Street bars that seems to change names every other year). Collett's 2010 album, Rat a Tat Tat, trumps even the best of his work with Broken Social Scene, though you wouldn't have guessed it from the bored kids crowded around the second floor stage. With an R&B-ready rhythm section, nifty Wurlitzer and Rhodes fills, and his own understated but still stately delivery (he's graying a bit at the side burns), he's got all cylinders firing, and even honored a request for "Hangover Days."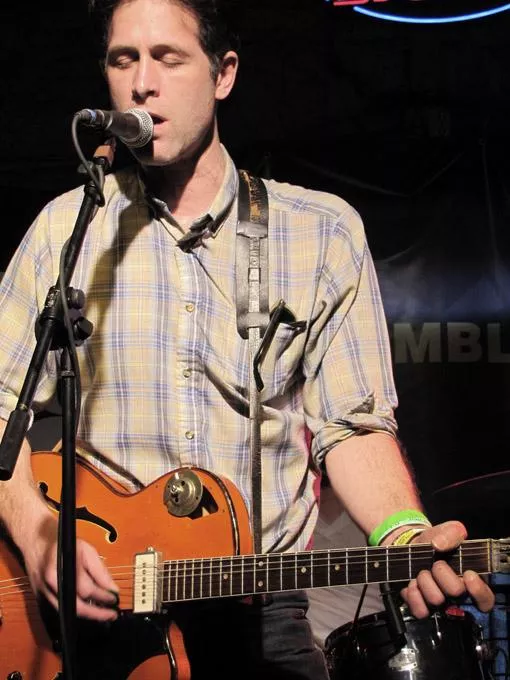 Dana Plonka
Jason Collett at SXSW, 3/17/10
For my first official showcase of South By Southwest 2010 I chose the St. David Episcopal Church and Miranda Lee Richards. The former member of Brian Jonestown Massacre hasn't been through St. Louis in maybe nine years (correct me if I'm wrong; that's what Miranda recalls), but her 2009 album Light of X and her first solo album The Herethereafter are as pure as neo-psych-folk-adult-contemporary-pop get. This night she appeared with just guitar, harmonica and a sideman on 12-string and cigar box slide, a grittier presentation than I would have guessed. In the sanctuary, she sounded like nothing so much as a dreamier Patty Griffin, and when she closed out the night with two songs on the Steinway baby grand, not even the fools shooting with flash could distract her or the small crowd from the breathtaking beauty of her songs. That will be the set to beat this year.
Dana Plonka
Miranda Lee Richards, 3/17/10
Based on a tip from former RFT Music Editor and friend Rene Spencer Saller, I headed to Emo's for the Unthanks, from Newcastle, England, who were appearing on the Rough Trade showcase. With cello, violin, stand-up bass, keys and Northeast England clog-dancing, what could possible go wrong? Nothing, ultimately, as the sisters Rachel and Becky harmonized perfectly, though the set could have used a break from the dirge-like tempos.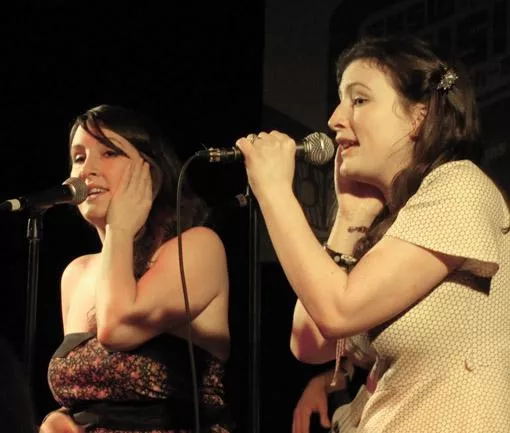 Dana Plonka
The Unthanks at SXSW
I made it back to Sixth Street for another UK band, Fanfarlo, and also caught the final three songs of Denmark's Choir of Young Believers, who sounded as illusory as Beach House or the aforementioned Real Estate, but far less distinct in song-form and rhythms. Plus: Bonus meltdown and Danish cursing from stage when the band's sound guy was yanked from the board and the set cut short. The Galaxy Room's sponsor, KCRW in Santa Monica, did its best damage control, which only further delayed the arrival of Fanfarlo, who ultimately conveyed believable joy in their poppy-semi-freak-folk mini-hootenany approach. I would have stayed till the end of the set, but the Broken Bells were ringing 4 blocks away at Stubb's.
The new project led by James Mercer of the Shins and DJ Danger Mouse of Gnarls Barkley and notorious mashups is micro-electronic-pop-rock, almost too unassuming and easygoing to be noticed. The Stubb's set was louder and freer that I'd expected, with sweet horns and Danger Mouse skittering between sampler, drums, guitar and keys. Mercer sung with more clarity and verve than he often does with the Shins, and though the capacity crowd yakked through the set (they were waiting on hometown heroes Spoon), I felt there was actually some crossover potential in the early Talking Heads hooks and compressed tidiness of the arrangements. The night ended at the aforementioned Prague, a venue far too small for Mr. Bragg, or even opener Get Cape. Wear Cape. Fly. (a British one-man band with a MacBook Pro and decent acoustic guitar chops). The crush around the stage threatened to undermine Bragg's vision of international solidarity, but everyone sang along to opener "Help Save the Youth of America," "Greetings to the New Brunette" and "Milk Man of Human Kindness." Bragg went old school for this set, just electric guitar and Fender amp, and of course lots of bantering, counter-heckling, and political rabble rousing.
Dana Plonka
Get Cape. Wear Cape. Fly at SXSW, 3/17/10
When rock stars get on the soapbox no one is impressed and nothing gets changed, but Bragg is different. He's got a life of political activism and tangible results behind his speeches. He sang a gorgeous "Raglan Road" in honor of St. Patrick's Day and dedicated two Woody Guthrie songs "Ingrid Bergman" and "Way Over Yonder in a Minor Key" to the memory of Alex Chilton and British world music DJ Charlie Gillett, who also passed away on March 17. Bragg turned in a 70-minute set of hits and non-hits before the club turned up the lights. The final sing and clap along of "There Is Power in the Union" was the right tonic to a night that may have been marred by sad news, but which still embodied the chaotic, unevenly developed, genuine community of rock and roll music.