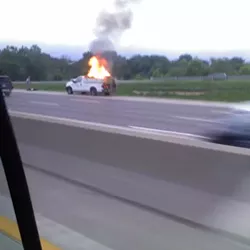 Why is this the cover art? Nobody knows.
Phaseone, the
RFT
's
Best Producer of 2010
, has been getting all kinds of Internet lovin' for his new mixtape "The Realest Shit I Ever Wrote."
The fifteen-track, 29-minute compilation was featured on
Pitchfork's Forkcast
earlier this week and
Jeff Weiss
, for my money the best hip-hop critic writing today, described the record thusly:
"[It has] the free-floating feel of a great after-hours at 3 a.m. that specializes in beat music, foreign beers, and strong stimulants. The sort of spot that you need a password to enter and expect to meet people from Luxembourg who attempt to sell you an Portugese orphan and four sticks of hash for under $100. The only better deal you'll get than that is this mix."

That pretty much sums it up perfectly. The selections are eclectic to say the least, with cuts from underground heads like Curren$y and James Pants alongside J Dilla beats and songs from Aphex Twin and The Talking Heads.
Full tracklisting and download link after the jump.
Tracklist:
Slowdive: "Miranda"
Curren$y: "I'm Just Dope"
Aphex Twin: "Fingerbib"
Nite Jewel: "Want You Back (Phaseone Remix)"
Lukid: "Hair Of The Dog" T
alking Heads: "Listening Wind"
Tricky: "Bad Dream"
Polanski: "Punked Out"
J Dilla: "Oxtopus Boom Boom"
FaltyDL: "Made Me Feel So Right"
James Pants: "Shower Party"
Fleetwood Mac: "Isn't It Midnight"
Teebs: "Humming Birds"
Actress vs. Zomby: "AaZz 2"
Phaseone: "Sandra
MP3 (via Pitchfork):
Phaseone -
The Realest Shit I Ever Wrote.