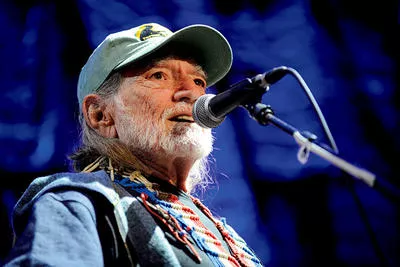 Todd Owyoung
Willie Nelson at Farm Aid, 10/4/09, the Verizon Wireless Amphitheater. Read that review.
Before Willie Nelson and Family took the stage last night at the Pageant, one integral member of the band sat alone, illuminated by a single spotlight. It was Trigger, Willie's stalwart 1969 Martin classical guitar, beaten and bared in its gaping-hole glory. Trigger has been with Willie for more than 40 years, and it's no longer a surprise that the guitar, like the man, just keeps going. Also not a surprise that last night Willie delivered a typically crowd-pleasing set to a full and genial house, carrying on under the American icon status he's held for decades.
While Willie Nelson may be a counterculture outlaw, he doesn't buck the popular opinion of his loyal fans: He plays the songs they adore and expect to hear. While I was fine that Willie played no tracks from his last album American Classic, a set of jazzy standards that lacked his earthy spark, I was hoping to hear a sample from his upcoming album Country Music, to be released on April 20. But the setlist was pure Willie, with 26 songs and two medleys clocking in at just under 90 minutes, and it deviated little from the set he played last summer on the small stadium tour. Even the way the band tore through three big hits straight out the gate - before setting in on their true rhythm - seems to have become standard.
By the time the band switched into "Crazy" - the next breath after "Funny How Time Slips Away" - Willie and the rest seemed warmed up and got steadily looser as the show went on. He began shredding, and his voice, along with his signature guitar tone, rose to the forefront - unique, ageless, wry and wistful in equal parts. Man and instrument often seemed in conversation, as on "Angel Flying Too Close to the Ground," (the first slowed-down moment thirteen songs in), when the lonely guitar filled in the spaces, seeming like it was trying to explain the things its player left unsaid.
Willie's voice can ring out as plaintive as a harmonica, and harp player Mickey Raphael's exceptional performance last night cemented this link in my mind. Sometimes the harmonica sounded like a train whistle, sometimes like a song's inner monologue, and on one particular song, like an accordion on an Italian street corner.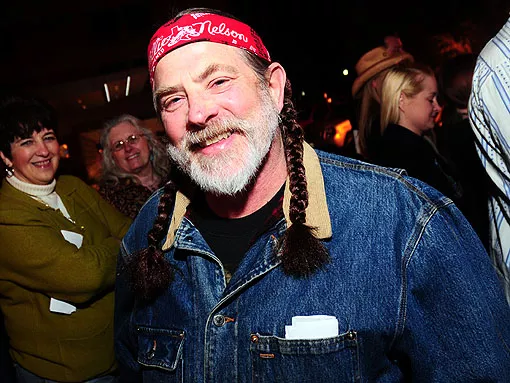 That song was the immortal "Always On My Mind," which would have been easy to phone in from a far-off planet. Instead it was the song of the night that Willie imbued with slow and considered tenderness, as though he were listening to the words himself. Behind me sat a middle-aged couple who drove up from Cape Girardeau, a mix of easy-going sweetness and blue humor. After telling us that their 30-year anniversary was approaching, the husband made blustery jokes about PT's strip club while the wife rolled her eyes. In the middle of this song, he whispered I love you's to his wife, and she whispered them back.
For Willie fans like them, it doesn't matter that they've heard it before. It doesn't matter that the show was non-smoking, per the band's request. It only matters that Willie is free and healthy enough to get everyone together to do it again. And for those affectionate few hoping to glimpse an auburn-and-gray braid after the show, it isn't too much to ask to wait out back between two tour buses, laughing, shivering and sucking in (bio) diesel fumes. It's only natural. Critic's Notebook: Local openers Shooting with Annie busted out a banjo and a one-man horn section to round out their take on modern bar room alt-country-rock.
Setlist: Whiskey River Still Is Still Movin' To Me Beer For My Horses Shoeshine Man Funny How Time Slips Away/Crazy/Night Life Down Yonder If You've Got the Money I've Got the Time Blue Eyes Crying in the Rain Mamas, Don't Let Your Babies Grow Up to Be Cowboys Good-Hearted Woman ("Let's play one for Waylon!") Angel Flying Too Close to the Ground On the Road Again Always On My Mind Georgia I Ain't Superman Nobody's Fault But Mine (Jambalaya) On the Bayou (Hank Wiliams cover) Healing Hands of Time Bloody Mary Morning Rainy Day Blues It's Been Rough and Rocky Travelin' Will the Circle Be Unbroken/I'll Fly Away I Gotta Get Drunk You Asked Me To I Been to Georgia on a Fast Train I Saw the Light