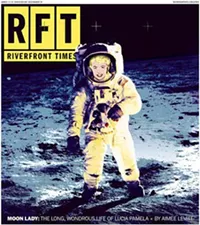 Mere words cannot describe the music of Lucia Pamela, star of
this week's feature story
. Maybe it's because of her unique artistic vision. Maybe it's because her one album,
Into Outer Space with Lucia Pamela
, was recorded on the moon. (This is what she always claimed, and really, there's no reason to doubt her.)
Whatever the case, we at
Riverfront Times
cannot let our story about Lucia Pamela pass into the archives without sharing some of her music with you, our dear readers. All MP3s are posted courtesy of Erik Lindgren at
Arf! Arf! Records
, which produced and still
sells the 1992 CD reissue of Into Outer Space
.
MP3: Lucia Pamela, "Moontown"MP3: Lucia Pamela, "Walking on the Moon"
Sadly, Lucia Pamela never recorded anything after
Into Outer Space
. But her spirit lives on:
Stereolab
wrote a song about her, "International Colouring Contest," which appeared on 1994's
Mars Audiac Quintet. (Video below.)
Stereolab vocalist Laetitia Sadier recently told the
RFT
, via e-mail: "There was something radically optimistic about her, that imagination was strongest of all and would conquer all, which was really inspiring."
Pamela was just one of many practitioners of what is known as outsider music. The blog at WFMU, the New Jersey radio station where outsider music scholar
Irwin Chusid
toils as a DJ, also has a very fine
repository
of outsider work, including the legendary
song-poems
and a Japanese interpretation of the Beach Boys called
Pot Sounds
.