[Update, 4/7/10, 9 a.m.: The LouFest lineup was announced this morning! Find it here!]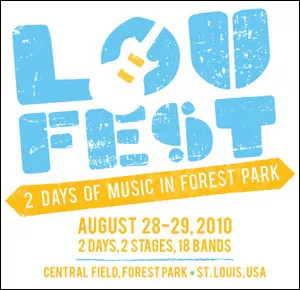 On Saturday, August 28, and Sunday, August 29, an all-ages, eco-friendly music festival will be debuting in Forest Park. Dubbed LouFest, the two-day event will feature music from noon to ten p.m. each day on two stages in Central Field, the location where events such as Balloon Glow and the Beer Festival are held. (The RFT is a media sponsor of the event.)
Eighteen bands in all will be performing, with the initial acts scheduled to be announced next Monday, March 15. Although local bands will be part of the festivities, LouFest's model is the annual Austin City Limits festival, says organizer Brian Cohen.
"We're going to have bands from the pop world, [and in the genres of] folk, alt-country, bluegrass," he says. "What's going to distinguish us from some of the other great events in town - Twangfest, the RFT showcase, PLAY:stl [Fest] - is we're really going to have a national focus.
"We're kind of the new kids on the block, and we want to make sure that we're not taking anyone's territory that is already well-established and already being produced very well. We want to be a new thing that comes into town - and something that helps the whole music scene be that much more substantial."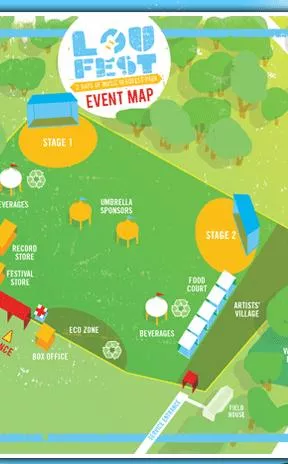 loufest.com
A proposed map of the event.
Tickets will be $38 per day and $64 for the entire weekend, with no extra service charges added on to these prices. In addition to music, Cohen says there will be a Kids Zone with "fun and educational stuff" -- examples include the Science Center, ArtDimensions and the Folk School of St. Louis -- an Eco Zone "to highlight environmental things that are going on around town" and concessions from local restaurants. ("It's not going to be a carnival-food atmosphere," Cohen stresses.)
In terms of LouFest capacity, Cohen declines to disclose specifics, saying only "we definitely want to make it a comfortable event, and we're not going to over-sell it. There's going to be plenty of room to enjoy it as a green, outdoor park situation, without everybody being crammed in together." Although the event has really taken shape in the past nine months, Cohen says that LouFest is a long time coming.
"It's an idea I've been playing with for a couple of years," he says. "I've been in St. Louis about six years, mostly in the film world. About a couple of years ago, it seemed like St. Louis needed a really premier national festival, like you would find in Chicago or Austin or Memphis, some of the bigger markets. About a year ago, it seemed like I was finally in a place to be able to pull it off."
Cohen is having help: LouFest is being booked by Contemporary Productions, while Ironman Sound Industries is handling the site production and St. Louis Green is taking care of sustainability.
In the future, he hopes that LouFest will expand its scope and reach, so it becomes "a destination festival like a Lollapalooza or an ACL, Coachella."
We'll have more information the line-up next week. You can become a fan of LouFest on Facebook or follow it on Twitter.