"Didn't I get robbed in St. Louis?" Stephin Merritt asked halfway through the Magnetic Fields' Pageant show. "I don't remember you getting robbed," manager/keyboardist Claudia Gonson responded. "I only remember that we made xeroxes."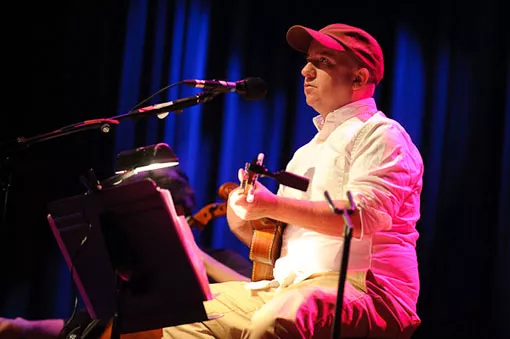 The Magnetic Fields last played the Pageant in 2004. At the time, they had just released i, its first post-69 Love Songs album and its Nonesuch debut. At the time, Merritt seemed to be dealing with a common artistic issue: How do you follow up your grandest statement? 69 Love Songs was a sprawling, epochal triple-CD that deconstructed the love song genre while offering dozens of great ones. It was also Merritt's best seller to date, and made him the internationally acclaimed songwriter he deserved to be.
See a full slideshow from last night's Magnetic Fields show here.
Still, following a project that ambitious is no easy task. For Merritt, the answer came in scoring films, writing theater scores (collected on the Showtunes CD) and reviving his Gothic Archies side project for a collaboration with Lemony Snicket author Daniel Handler. This probably revived his creativity, but for awhile, the Magnetic Fields seemed to be on the back burner; 2004's i had plenty of good tunes on it, but seemed a bit flat and bored in retrospect. However, 2008's Distortion and the new Realism are welcome returns to form. Realism, in particular, is certainly the most solid Magnetic Fields album since 69 Love Songs; it includes some of his most quotable lyrics to date, and a lonely, arid feel that brings to mind 1994's The Charm of The Highway Strip. Combined with a forthcoming documentary film, Strange Powers, it appears that the Magnetic Fields are once again Merritt's top priority.
Its sold-out Pageant show featured the core band of Merritt, Gonson, violist Sam Davol and guitarist John Woo, augmented by vocalist/autoharpist Shirley Simms. Merritt claims to hate touring and performing, but he's developed the kind of repartee and self-confidence that can only come with two decades of playing live. He actually seems more relaxed onstage than ever. Sitting on a stool on one side of the stage, sheet music open, he resembled the band's musical director rather than its leader, and it's a role that suits him well. On many tracks Simms and Gonson took lead vocals on many songs, enabling Merritt to just strum his ukulele. He and Gonson cracked inside jokes to each other, as usual; tonight's theme seemed to be vampires.
Photo: Todd Owyoung
The set list for last night's The Magnetic Fields show at the Pageant. See a full slideshow here.
The Magnetic Fields have often played marathon shows in the past; its 1990s New York club gigs often went on for two hours without a break. For this show, however, it divided the night into two thirteen-song sets with a twenty-minute intermission. This allowed time for lots of deep cuts, including tracks from every Magnetic Fields album (including three from The Charm of The Highway Strip, perhaps my personal favorite), both 6ths albums ("Looking for Love in The Hall of Mirrors" from Wasps' Nests and "You You You You You" from Hyacinths and Thistles), and a couple of solo songs.
However, the emphasis on slower and sadder songs was ultimately to the band's detriment. Because Merritt suffers from hyperacusis, an inner ear condition that renders certain sonic frequencies painful, the live arrangements were much quieter and sparser than the recorded versions. (You could actually see him cover his left ear in pain when the audience applauded.) Sometimes this resulted in a fresh approach to a familiar favorite. "100,000 Fireflies" took on a shuffle beat, while "You Must Be Out of Your Mind" benefited from Simms' and Gonson's countryish harmony vocals. But halfway through the second set, it was easy for one's attention span to begin dragging. Nonetheless, a local Magnetic Fields show is a rare treat indeed. Much of the set was just great - so stately as to resemble a chamber music ensemble - and the audience was as respectful and appreciative as I've ever seen in St. Louis. It's great that they've found an audience here, and hopefully they'll be back.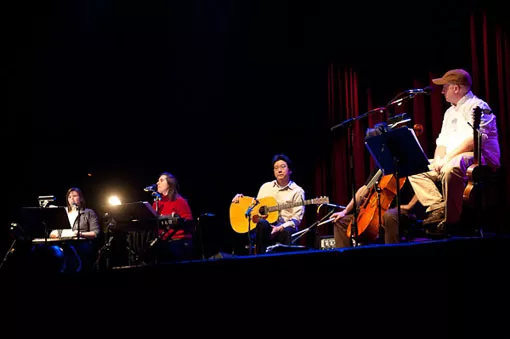 Set 1: 1) Kiss Me Like You Mean It 2) You Must Be Out of Your Mind 3) The Luckiest Guy on the Lower East Side 4) We Are Having A Hootenanny 5) Walk A Lonely Road 6) Shipwrecked 7) When Will You Love Me Again? 8) All I Want To Know 9) I Don't Know What To Say 10) You You You You You 11) Suddenly There Is A TIdal Wave 12) I Have the Moon 13) Looking for Love in the Hall of Mirrors
Set 2: 1) Xylophone Track 2) Interlude 3) Long Vermont Roads 4) The Nun's Litany 5) I'm Sorry I Love You 6) Don't Look Away 7) The Little Hebrew Girl 8) The Flowers She Sent and The Flowers She Said She Sent 9) Better Things 10) Fear of Trains 11) The Dolls' Tea Party 12) Always Already Gone 13) 100,000 Fireflies
Encore: 1) I Die 2) From A Sinking Boat