We're all for free enterprise that honors music, so we were excited when Pitchfork reported on the Sky Blue Sandwich Company Ltd. in Toronto, Canada. The company's named not only the store, but everything on the menu after songs by Wilco.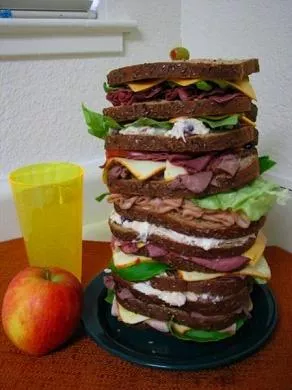 But there are some problems. For starters, shouldn't someone in Jeff Tweedy's St. Louis stomping grounds have come up with this idea a long time ago? With this kind of neglect, it's no wonder the band rarely plays here. [Ed. note: We're being facetious on that last part.]
And second, there are plenty of good pun opportunities gone to waste. Sure, the shop does a good job of using the songs to describe the actual sandwiches. The Kingpin, for example, is "...the bigwig of all hot sandwiches. Succulent, slow roasted pulled pork marinated in a sweet and tangy bar-b-q sauce and served on toasted white bread," while the Mermaid Avenue is a salmon salad.
If you're going to open a theme restaurant, at least have the decency to whack your clients over the head with it at every turn.
And so here we present to you: five Wilco-themed sandwiches lacking from Sky Blue Sky Sandwich Company Ltd.'s menu.
Forget the Flour: This gluten-free, low-carb special wraps half a pound of bacon and half a pound of twangy sharp cheddar cheese in a box full of lettuce. Served with a garnish of pink carnations, red roses and yellow daffodils.
Summer Sausage Teeth: A supper to eat alone. Slices of Hickory Farms summer sausage, sliced thin and served on saltines with yellow mustard and slivers of raw white onion. You'll feel lucky to have it here, in this kitchen, in this chair. Candy floss included to remove sinewy sausage bits from teeth.
Pot Kettle Blackened Chicken Po'boy: We take a big cast iron pot, heat it until it glows orange, add Cajun spice-dusted chicken breast, and burn the holy hell out of it until it's so obvious it's become oblivious to itself. Served on a butter knot with Comback Sauce. Later.
Spiders (Kidsmoked Salmon): An onion bagel, cream cheese, capers, red onions and lox, made from bull black Nova Scotia salmon. Instead of a traditional sandwich stack, our chef personally throws each ingredient onto a plate, smears it, spins, it, twists it, tangles it, takes a few minutes for the flashback to subside, then stomps it flat for at least nine minutes.
Country Ribs Disappeared: Pork shoulder ribs are cooked low and slow to an internal temperature of 200 degrees until they render into invisibility on a slice of barely-there Wonder bread. Perfect for the hungry weekend news crew anchorman. It's worse than you fear.
Everything comes with a side of Impossible German Potato Salad. Cherry Pieholden Suite or Milkshake Drugs for dessert. And don't forget to wash it all down with a Lagunitas Wilco Tango Foxtrot brown ale. That one, at least, is real.