Alice in Chains has done the unthinkable. The Seattle band lost its original lead singer, Layne Staley, to a drug overdose in 2002, regrouped with a new vocalist, William DuVall, recorded a new album, Black Gives Way to Blue -- and hasn't tarnished its legacy. That was clear at a smoke-hazed Pageant last night, when the band powered through a strong, engaging 100-minute-plus set.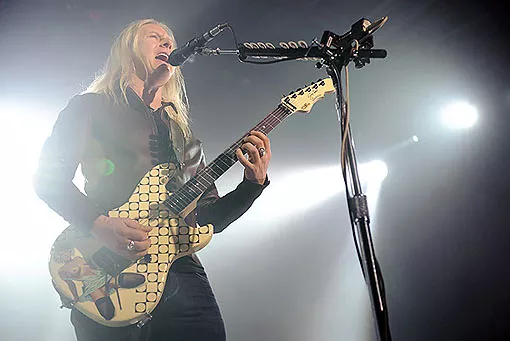 The sold-out crowd cheered in anticipation as a replica of a beating human heart - the same figure shown on Blue's album cover - was projected onto a translucent curtain, before fading away in favor of silhouettes of the band. As the curtain fell, AIC launched into "All Secrets Known," Blue's lead-off track. Vocalist/guitarist Jerry Cantrell -- who resembled a member of Nelson thanks to long, platinum-blonde hair -- stood center stage, flanked by wild-haired bassist Mike Inez and DuVall. But Cantrell's voodoo vocal drone meshed perfectly with the new singer's harmonies, their voices a perfect complement to the sludgy, prog-lite tune.
Cantrell's presence has much to do with AIC's longevity - after all, his ominous vocal tones and guitar solos are integral to the band. He displayed these talents early and often, first unleashing a wicked solo on "It Ain't Like That" and then immediately tearing off the granite riffs of "Again." A monstrous, gnarled version of the rock hit "Check My Brain" followed; it's yet another song to feature the snake-charmer-hypnosis harmonies from Cantrell and DuVall.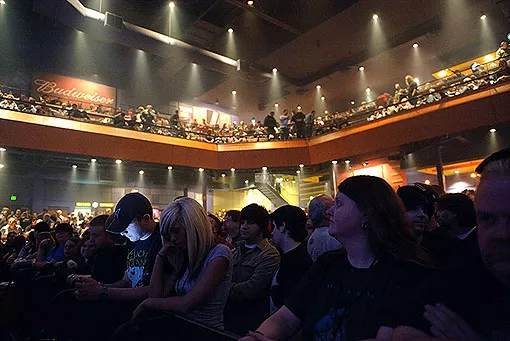 Yet the rhythm section of Inez and drummer Sean Kinney deserves just as much kudos. Neither flashy nor overstated, the pair is just steady - capable of handling AIC's tempo shifts and nuanced stylistic morphs with ease. Exhibit A: The insane, one-two face-punch of Dirt's lightning strike "Them Bones" and grungy trudge "Dam That River," which satisfied both the headbangers and dudes throwing touchdown arms.
Besides bringing energy and charisma to the stage, DuVall adds a blues-soul vocal edge to the band's songs. This both elevates ("Rain When I Die") and reinforces ("Your Decision") AIC's psychedelic or funk-rock tendencies. (And he even hit the screaming high notes on the sludgy testosterone surge "Man in the Box" and on a ferocious take of the guttural "Would?") But DuVall is more than just a replacement singer: His bluesy guitar on "Got Me Wrong" added a nice Santana-like edge to the tune.
Amp problems halfway through the set killed momentum for a spell. Although the thrash-metal chug "We Die Young" killed, the songs it was sandwiched between, "Got Me Wrong" and "Last of My Kind," were a bit shaky. (Later, new song "Acid Bubble," introduced by DuVall as "another long fucking heavy metal opus," unfortunately lived up to its billing.) AIC redeemed itself with the acoustic-leaning Jar of Flies cut "Nutshell," which featured Cantrell strolling around the stage like a wandering shaman. And the set-ending version of the "Rooster" was as reliable as it was predictable - in other words, a distortion fest that crescendos to transcendence.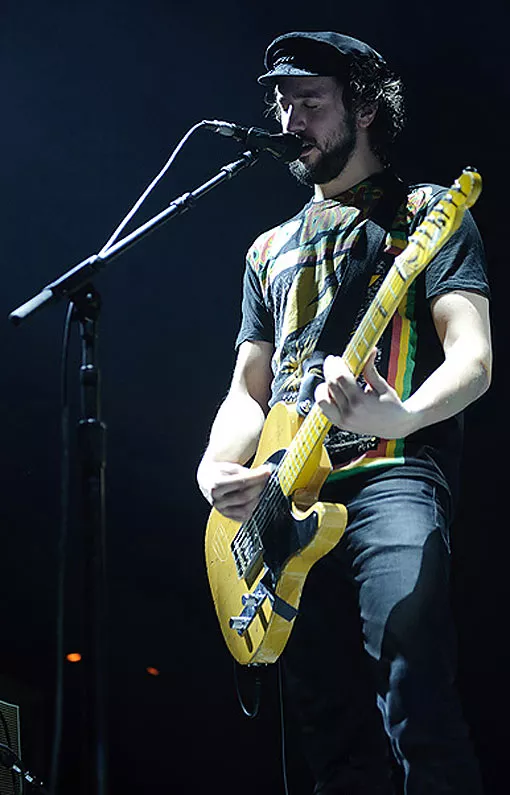 Openers Creature with the Atom Brain thrashed around for 30 minutes on a mostly dark stage. Resembling Failure, Queens of the Stone Age or Mark Lanegan - the latter of whom has contributed vocals to several CWTAB songs -- the Belgian rock act specialized in gothic-stoner rock and doomy post-punk, as demonstrated by the epic, bewitching drone "Transylvania." Put these guys in front of, say, Black Rebel Motorcycle Club or a hipster-metal act - or, hell, one-time tour mate the Jesus and Mary Chain -- and they'll be blog darlings. However, at times they seemed a little lost on the big stage - and misplaced in front of a crowd primed for a metal-leaning act.
Setlist: "All Secrets Known" "It Ain't Like That" "Again" "Check My Brain" "Them Bones" "Dam That River" "Rain When I Die" "Your Decision" "Got Me Wrong" "We Die Young" "Last Of My Kind" "Nutshell" "Sickman" "Lesson Learned" "Acid Bubble" "Angry Chair" "Man in the Box"
Encore: "Would?" "Rooster"
Critic's Notebook: This setlist was a tad bit shorter than those at recent AIC shows. It lacked a song before "Would?" in the encore in the encore and "No Excuses."
By the Way: This show functioned as the eighteenth birthday show (!) for The Point (105.7 FM). They're legal now. Go buy 'em some cigarettes, porn and a lottery ticket.