In September 2009, Elise Sunderhuse of O'Fallon, Missouri, died in a car accident. Her friends and family turned to Facebook for support, and also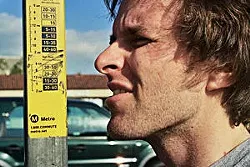 Emily Yoshida
Chad Matheny of Emperor X, looking for his next project.
reached out to local bands to try to put together a memorial concert. What emerged is the April 12 show at the Firebird with Terror Pigeon Dance Revolt, The Show is the Rainbow, the Shakes and Emperor X.
The latter project's founder/sole member, Chad Matheny, is spearheading the night. He's making a memorial EP about the events, which is due to be released here. And so this April show will function as a "tape release show" -- in fact, the first twenty people receive a free tape and digital download -- and as a tribute to Sunderhuse's life. In addition, Matheny will donate half of what he makes at the door to her family. Tickets are $8 and are on sale now.