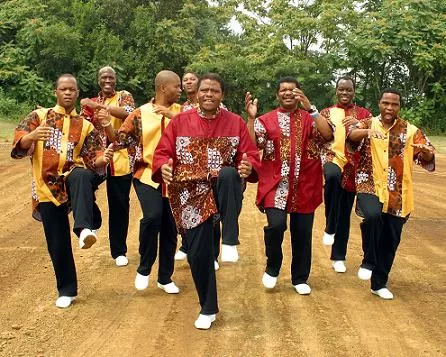 Several inches of snow hushed the city last night night, but the rhythms and harmonies of many voices bounced off the walls inside the Sheldon Concert Hall. Without radio play, typical chart-topping hits, stage production or even instruments, Ladysmith Black Mambazo drew a sold-out house eager to hear the group's traditional South African choral singing.
First, a little history: Ladysmith Black Mambazo is a world-famous male a cappella group, formed in South Africa almost 50 years ago. The group sings isicathamiya (is-cot-a-ME-Ya), a form of traditional Zulu vocal music originated by laborers in the diamond mines. The term isicathamiya roughly means "Tip Toe Guys," referring to the workers who combined traditional vocal harmonies of mbube and dancing to create an expressive yet muted music so as not to disturb mine camp guards.
The group formed in 1964 after former factory worker Joseph Shabalala had auspicious dreams. Pulling the original lineup from brothers and cousins, the group has had about 30 different members and released more than 30 albums since its formation. Though it enjoyed success in South Africa for decades, it was in 1986 that Ladysmith Black Mambazo skyrocketed to international attention due to its collaboration on Paul Simon's landmark album Graceland. Thirteen Grammy nominations and three wins later, including the latest in 2009, Mambazo retains its status as a treasured national symbol in S.A. and enduring favorite in the genre of "world music."
The eight members filled the intimate stage, standing in a straight line behind eight separate microphones. Shabalala is the music master, the professor, the visionary, and at age 69, he is still the group's leader. Standing in front of the other eight, he leads the call-and-response, his distinctive high alto rising above the hushed currents of baritone, bass and tenor. Early hit "Nomathemba," performed second, illustrated how a Mambazo song begins as a cohesive harmony, dissolves into parts and then re-forms. Shabalala's voice is a ringing rattle which directs the progression, shuffling over the polyrhythmic lower layers, punctuating the growing sound with throaty growls, coos, breathy bursts and trills. I have no clue how he created half the sounds I heard.
Mambazo performed six songs before intermission, two of which included some words in English. With or without the occasional explanation -- "This song says, 'I miss the place I come from'" -- lyrical comprehension didn't seem crucial to getting the emotional gist of the music. To keep things light, group members threw in elements of physical humor: pulling faces, bumping into and teasing each other or diverging from the choreography by knocking off booty-shaking or Vanilla Ice-style dance moves.
After intermission, Mambazo made four songs last another hour, adding fun elements of crowd participation. The audience was loose and ready to laugh, enthusiastic to repeat after the vocalists and sing along. The set culminated in Shabalala picking audience members to join the stage and dance. Zealous show-goers, including Beatle Bob in Mardi Gras beads, needed no invitation and jumped onstage to high-kick with Mambazo. While for some (including me) the term "world music" may ooze connotations of snobby, self-important sociology courses -- and though the audience was brimming with white-haired turtlenecks-and-sportscoats -- Mambazo kept the night light, by infusing the entire performance with humor and goodwill. Four of Shabalala's sons are in the group, and when two of them took the lead at different points, their silky, more modern voices and good-natured deadpan made one think Mambazo would continue in capable hands when the elder Shabalala retires.
The only Graceland song performed was "Homeless," (though Shabalala also co-wrote "Diamonds on the Soles of Her Shoes"), during which a younger son noted, "We have to take care of one another." Mambazo says its mission is to share South African culture and the group's soothing, undulating vocal music and natural performing style reinforce its message of unity.
Through the crowd's second standing ovation, I felt refreshed, surprised and uplifted, though I understood few of the words that had been sung. Joseph Shabalala lingered at the microphone after his guys had gone, and the Sheldon, from its wooden planks to its stained glass, reverberated with words I could at least try to understand: "Peace. Love. Harmony. Good night."