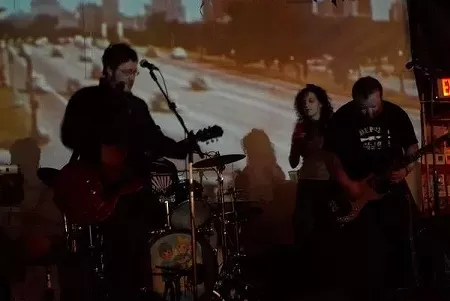 How do you get Public Image Limited/Pigface/Damage Manual member Martin Atkins and Spacemen 3 drummer Rosco to work with you? As Tone Rodent discovered, just ask. The long-running -- and loud -- local shoegaze/noise act recently recorded some new music with both men, who are known for being post-punk and psych-noise innovators (respectively). We caught up with vocalist/guitarist Adam Watkins and got the skinny...
AZ: How did this come about? How did you guys come into contact with each other? Adam Watkins: Well, I guess about two, two-and-a-half years ago, I came into contact with Sterling Roswell a.k.a. Rosco through a series of emails from several people twice removed about trying to set up a tour with a guy from Spacemen 3. Having an extremely soft spot for Spacemen 3 and all of the offshoots, I found out which member, and I thought, "Well, I'll go straight to the source." So I emailed him.
We chatted a few times and then started putting a tour together. The tour fell through and the St. Louis date became a one-day mini-festival at Off Broadway called the Strolling Cones Cock and Bull Sonic Circus. We continued to talk and actually started bouncing some ideas off one another. I went to England and we hung out, played records, ate fried chicken, went to a TV Smith show at a Boys Club the Clash used to play, buying pints of Guinness for Shane MacGowan. We recorded a Sound Art piece that features his late friend Sky "Sunlight" Saxon of the Seeds, amongst others -- which incidentally is in the Sound Art show (Re)sound at Webster University opening Friday, February 5. And we made plans to work on a project, [but] we didn't specify at the time that it would be Tone Rodent.
As [Tone Rodent was] going through some lineup changes, we were still writing new songs, but we had a backlog of tunes we wanted to get down so we could move on. So we tried out a series of drummers and added Jeff Robtoy on guitar and the dynamic changed and these songs had new life and energy, but still no drummer. So at our alternate practice space, The Bleeding Deacon, Mark Early, Liz Wolfson, Matty Coonfield and myself jokingly said, "Why not ask Rosco!?"
So I did, I asked him if he wanted to join the band and do the drums and mix and produce the new Tone Rodent material. He responded very quickly and said he'd love to and send him the songs. We went into fellow Tone Rodent Peter Dycus' Shine Studio and practiced to click tracks and finalized BPM's and recorded the songs with Patrick Hunt at the board. We made a few notes and gave Rosco complete control and mailed the tracks to London.
How many songs did you do with Rosco? We recorded six songs in total -- well, five songs and a completely alternate version of one, so six in all.
What are these songs for -- a new EP, a new LP? That's a good question. We'll make that decision when all of the tracks are done. On another note, Martin Atkins from PiL, The Damage Manual and Pigface is also remixing reworking and drumming on all of the same tracks. We've talked about doing a split with one half "Tone Rodent featuring..." or "versus" Sterling Roswell and one half "Tone Rodent featuring..." or "versus" Martin Atkins. We'll see, [there's] nothing in stone, [we're] just letting them do their bits and then we get to sort through it. It's hard having a drummer in a different country! We can't play a show in our own town right now, but we can tour England! So we're open to any financial backing on that one.
Oh and we gave Martin the same basic notes -- here's the BPMs and the tracks, can't wait to hear it! Martin's collaboration came about as he contacted me a few years ago to do some research and artwork for his book Tour: Smart, which I became a contributor. In those discussions we talked about about Tone Rodent and I asked him to do some drums and remixing, and he said yes! When is the music seeing the light of day? Another one we don't have a solid answer to. I'm going back to London in March and there is some "interest" over there at the moment (knock on wood) and we're hoping to have the tracks finished before then and we'll see. It would be great to get some attention of the locals, as it were -- we've been around for ten years now!
Where did you guys record your parts? We did our parts at Shine Studio here in St. Louis, Rosco is doing his in London and Martin is doing his in Chicago.
Why did you guy choose to work w/Rosco? What stood out to you? Why not! Spacemen 3 is the biggest influence on Tone Rodent and why I put Tone Rodent together over a decade ago. Rosco's work after Spacemen 3 was stuff I am into as well, two albums with The Darkside and his solo effort, The Psychedelic Ubik, plus feedback, drones, dirges, primal beats, two-note songs, heavy psychdelic shoegaze = pure sonic splendor. People should listen to [Spacemen 3's] Perfect Prescription and Playing With Fire and you'll know why.