So what if a ton of Grammy Awards have already been awarded? (Early winners: Taylor Swift, Phoenix, Jay-Z, Eminem, Kings of Leon, Lady Gaga, etc.) There's still a three-hour TV special featuring performances, special collaborations and *more* awards. Join me here as I attempt to make it through the entire ceremony.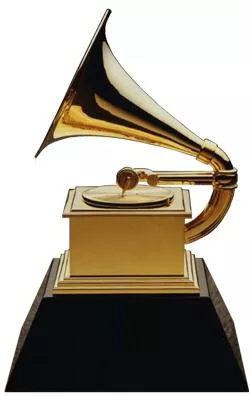 7 p.m. CST: The show's beginning with Lady Gaga. A Broadway-ish number that's like a Janet Jackson Rhythm Nation-ish factory introduces Gaga -- wearing gigantic green sparkly wings/shoulder pads and matching sparkly heels.
7:02 p.m. Oh, and magenta triangles over her eyes. She looks like the cover of Missing Persons' Spring Session M crossed with Tinkerbell from hell. "Poker Face," of course.
7:03 p.m. Awesome, she was just dumped into a "Rejected" pit of fire. And emerged with Elton John on dueling pianos. Dammit, no "Don't Go Breaking My Heart" -- I was hoping. Oh my god, both of them have soot on their faces and hair and matching sparkling glasses. Doing "Speechless."
7:05 p.m. This isn't better than Elton and Axl Rose dueting on MTV in the '90s, unfortunately. Now we're into "Your Song." Elton looks a bit like Max Headroom.
7:06 p.m. I hate to say that it's all downhill from here, but...
7:07 p.m. Host Stephen Colbert on. He just called Jay-Z "Z." He just asked his daughter if he knew who Jeff Beck was.
7:09 p.m. Ha, he just told his daughter to stay away from Katy Perry. She's here with Russell Brand, who looks like he wandered off Planet of the Apes. Otherwise, this opening is not funny. Sad.
7:10 p.m. Aw! He just made fun of Susan Boyle, and said she sent sexy away and called her a "Scottish cat lady in sensible shoes." Ouch! Okay, "Song of the Year" nominees -- which he just pulled out an iPad. Ha!
7:12 p.m. Winner: Beyonce's "Single Ladies."
7:13 p.m. J-Lo introducing Green Day performing a song with the Broadway cast of American Idiot. She's wearing two different dresses? Half ugly curtains, half aluminum foil.
7:14 p.m. What exactly is the target demographic for the Green Day Broadway musical? The kids of Rent-heads? "21 Guns."
7:17 p.m. A cast member is feeling up Mike Dirnt and Billie Joe. This is really weird and awkward.
7:20 p.m. The Shiny Toy Guns car ad with their cover of "Major Tom" is my favorite thing about the broadcast so far.
7:24 p.m. Egregious product placement for the movie When In Rome, and exhortations to vote for a song for Bon Jovi to play. Awkward segue into award for "Best Country Album."
7:26 p.m. Taylor Swift! She looks surprised. I love her blue sparkly dress. She's so overwhelmed! How can you hate her? Awww.
7:28 p.m. Beyonce performing! She's staring in the audience with an army behind her. I think this is Sasha Fierce performing, actually. "If I Were a Boy."
7:29 p.m. Man, I would not fuck with her. She has the confident, sassy thing down. I wonder if Jay-Z gets that look at home?
7:31 p.m. She just grabbed a dude from the audience (plant?) and shoved him back. HOLY SHIT she just busted into Alanis' "You Oughta Know."
7:33 p.m. GO ON GIRL. She's writhing onstage in a corset-ish dress and metaphorically breaking the demure-female glass ceiling with her stilettos.
7:39 p.m. Hey, it's Seal. Introducing Leonard Cohen's Lifetime Achivement Award. And then...seguing right into Pink. What?
7:41 p.m. Hey, Pink, I think your dress is on backwards. Or drape. Or nod to the Virgin Mary. Or whatever looks you're rocking.
7:42 p.m. Oh wait, you're just wearing a body suit with ribbons and doing some Cirque du Soleil moves. I stand corrected. Is this a metaphor for being born?
7:45 p.m. This is some bizarre metaphor for the miracle of life, I think. I know it's supposed to be deep, but it came off as very college thesis.
7:46 p.m. Seriously, the lifetime achievement awards get, like, 20 seconds of recognition? That's lame.
7:47 p.m. Best new artist nominee: Silversun Pickups. Who formed in 2003. Winner, though, is Zac Brown Band. An entire nation collectively goes: Who?
7:52 p.m. My mom's take so far, via text message: "No halo beyonce? Pink can always join circus if she loses."
7:54 p.m. Miley Cyrus -- wearing a wig? a weave? -- introduces the Black Eyed Peas.
7:55 p.m. This is more like: "Imma Be" a member of the Power Rangers.
7:57 p.m. Those robots look just like the cardboard box-with-foil ones I made in elementary school. Do we really need to have that Auto-tune? Live?
7:58 p.m. Okay, now we're ripping off New Order's "True Faith."
8:01 p.m. Props to Twitter user punklawyer for the "bad Comicon outfit" observation for Black Eyed Peas. The Grammys so far is like one long, bad cosplaying session!
8:05 p.m. Aw, Jonas Brothers. Introducing Lady Antebellum. Who appears to be lost in the NES 8-bit game Castlevania.
8:07 p.m. This Lady Antebellum song is really good. And this performance is really understated. I can't believe it. No robots or auto-tune. Just a good song. This is so...novel.
8:09 p.m. Best comedy album. Stephen Colbert's Christmas album!
8:17 p.m. Aw, Ringo Starr: "Thank you, Grammy people, for the warm welcome. And to Norah, for being shorter than me!" Introducing Bobby Darin as lifetime achievement. And now it's Record of the Year.
8:19 p.m. KIngs of Leoo's "Use Somebody" wins record of the year. Their response: "Not gonna lie, we're a little drunk, but we're happy drunk." At least they're honest! My mom's text response: "Huh? Who is this band?"
8:22 p.m. Jamie Foxx is the Paul Revere of auto-tune.
8:25 p.m. Good lord, that was a hot mess. Slash, T-Pain, Jamie Foxx. I don't know what was going on.
8:27 p.m. My mom, via text again: "Isn't it past Justin Bieber's bedtime?"
8:33 p.m. At first I thought they called Katy Perry a rock & roll legend, and then I got scared. Alice Cooper looks like he'd rather be golfing.
8:33 p.m. Green Day wins the award for Best Rock Album. They look mad stoked to be meeting Alice Cooper.
8:37 p.m. Zac Brown Band does "America the Beautiful," then introduces Leon Russell. I have nothing to say, because it's...a performance. My dad agrees with the Green Day win.
8:39 p.m. Zac Brown Band reminds me of the Charlie Daniels Band.
8:45 p.m. Ryan Seacrest introduces Taylor Swift. Taylor's totally rocking the flowing-shirt, hippie-chick-with-guitar look.
8:50 p.m. Stevie's like Taylor Swift's goth stepmother. I just wish their harmonies were a bit more....together. Totally off-key.
8:53 p.m. I would watch a movie featuring Lionel Richie as James Bond.
8:54 p.m. 3-D tribute to Michael Jackson, sans glasses. Carrie Underwood, Celine Dion, Usher, Jennifer Hudson.
8:56 p.m. I don't have 3-D glasses. But so far, this seems like the Dune of 3-D presentations.
8:57 p.m. Smokey Robinson, classing up the joint.
8:58 p.m. I hope somebody got a photo of Beyonce rocking out wearing her 3-D glasses. That needs to be her next album cover.
9:00 p.m. Wow, that MJ tribute was actually really classy and understated. Way to go, Grammys.
9:02 p.m. Something in my eye with MJ's kids spoke. Good lord. Those precious kids.
9:11 p.m. Getting bored. Sorry. Ooh, voting still going on for Bon Jovi's viewer-voted song. That little graphic reminded me of the condiment race at the ballpark.
9:12 p.m. Jennifer Nettles' outfit is the only thing about this Bon Jovi performance that has any link to '80s metal.
9:15 p.m. The mom, via text, says: "Bon Jovi is great." But now they're going to bump "Livin' On a Prayer." Now we're talking.
9:16 p.m. Or not.
9:18 p.m. Jay-Z, Kanye and Rihanna win for "Run This Town." They bring up a cutie wearing Nike Dunks.
9:26 p.m. The Haiti benefit song, introduced by Wyclef Jean. Featuring Andrea Bocelli and Mary J. Blige. "Bridge Over Troubled Water."
9:29 p.m. My Andrea Bocelli-and-Simon-and-Garfunkel-loving mom is buying this song, she says. I say: Go Mary J! Love the dress and hair.
9:32 p.m. I'm hungry. Is this over yet? Need dinner.
9:42 p.m. Adam Sandler announcing Dave Matthews Band. Where's Jimmy Fallon and his great Dave impression?
9:45 p.m. Is this Dave Matthews Band with the Broadway cast of American Idiot as well?
9:45 p.m. Does Dave always dance like he's Michael Flatley in Lord of the Dance? Not a rhetorical question or snark. Genuinely curious.
9:47 p.m. Beyonce is all nervous after winning for "Halo." She even told Jay-Z she loved him! Wow!
9:55 p.m. LL Cool J introducing Maxwell. Excellent. Things just got a little....sultry in here.
9:59 p.m. Maxwell is the real deal. So is Roberta Flack. Wish this performance would have been earlier in the night.
10:00 p.m. Aw, the list of people who died this year. This always makes me sad.
10:01 p.m. Aw, Jay Bennett and Vic Chesnutt are in the list of musicians who died. Sad.
10:02 p.m. Lady Gaga is wearing the Egyptian pyramids a tesselation on her head.
10:06 p.m. Jeff Beck does a nice tribute to Les Paul. With some killer Andrews Sisters-esque singers wearing killer gold dresses.
10:13 p.m. Did my sound go out, or was this the longest censor segment ever aired on the Grammys? Ha ha ha. Thanks, Lil Wayne!
10:15 p.m. Lil Wayne: "---------------------." Eminem, "My pedestal, unstoppable, incredible. -------------------."
10:17 p.m. Taylor Swift was just bumpin' to Drake, Lil Wayne and Eminem. She's real.
10:26 p.m. Album of the year: Taylor Swift's Fearless.
10:28 p.m. Whew, and that's a wrap.