St. Louis Flyer: Anvil Vintage Vinyl In-Store Signing, Thursday, January 28
At 6 p.m. on Thursday, January 28 -- that's the day before its Pageant show -- Vintage Vinyl is hosting a signing with members of Anvil. (Specifically, "Lips," Robb and Glenn Five.) The next night, the band will be performing at the Pageant (Conquest and Gold Tooth are opening), and its documentary will be shown in the Halo Bar at 8 p.m. Bitching flyer below by Boxing Clever.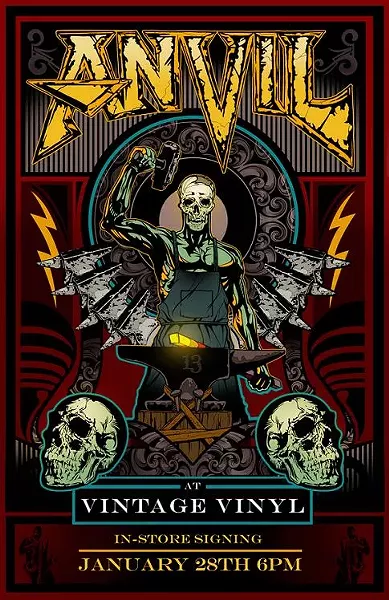 Riverfront Times works for you, and your support is essential.

Our small but mighty local team works tirelessly to bring you high-quality, uncensored news and cultural coverage of St. Louis and beyond.

Unlike many newspapers, ours is free – and we'd like to keep it that way, because we believe, now more than ever, everyone deserves access to accurate, independent coverage of their community.

Whether it's a one-time acknowledgement of this article or an ongoing pledge, your support helps keep St. Louis' true free press free.