Context is everything. Tell someone you're going to see Prince's band circa the New Power Generation, and the night's cred is through the roof. But tell someone you're going to see the same band - but fronted by teenpop heartthrob Nick Jonas -- and suddenly the show has a very different connotation. The knee-jerk inclination for many is to scoff at or dismiss the collaboration. After all, how could this work?
Believe it or not, the pairing did work -- rather well. In fact, having an open mind was the best way to approach last night's very sold-out Nick Jonas and the Administration show at the Pageant. Naturally, piercing screams -- think a plane taking off about twenty feet above you -- greeted the lithe musician, as he stepped onstage a little after 8 p.m. and opened the show with "Last Time Around." Over the next 90 minutes, he worked his way through a few Jonas Brothers tunes, a medley of covers and plenty of new music written during the past year.
Related Content: See a slideshow of Nick Jonas at the Pageant.
The 17-year-old is wise beyond his years, certainly when it comes to music. Highlight "Rose Garden" - which is set to appear on his forthcoming debut with the Administration, Who I Am - was a dark, sophisticated electro-funk jam reminiscent of Michael McDonald's smoother moments. "State of Emergency" also grooved hard, albeit in the Stevie Wonder, steamy-funk style, while another highlight, "Stronger," had a bluesy feel and deep, ridged grooves.
The diversity of the night also impressed. New song "While the World is Spinnin," which Jonas said he recorded in Canada, was an AOR power-pop number in the tradition of old-school Pat Benatar. He sat down at the piano for a couple of inspirational-leaning numbers, "Black Keys/A Little Bit Longer" and "Vespers Goodbye," while the slow-dancing, gospel-tinged "Olive and an Arrow" even felt a little Prince-like.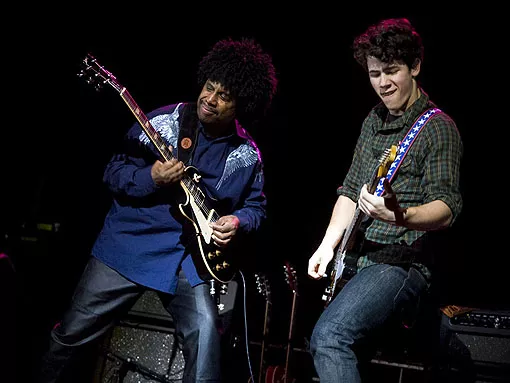 As might be expected, not everything was perfect. Several songs too many had extended outros with reprises, which grew tiresome. Some of the ballads - including a rework of the JoBros cut "Tonight" - were a bit heavy-handed. And a covers medley, while the perfect opportunity to let the overexcited crowd sing along to stuff they knew, seemed oddly out of place. Jonas doesn't need to depend on Owl City ("Fireflies") and Taylor Swift ("You Belong to Me") to excite a crowd, even if his version of Kings of Leon's "Use Somebody" rivaled the original.
The show very much felt like a rehearsal open to the public, in the sense that Jonas and the band were trying out different styles and new material, to see what worked and what didn't. That's a brave thing for him to do: This early in his career, he could easily churn out several more albums of fluffy pop, and continue to rake in the accolades and adoration. But it's clear that Jonas has ambition, drive and the desire to fashion an actual sustainable career beyond Tiger Beat. Why else would he collaborate with such high-caliber musicians?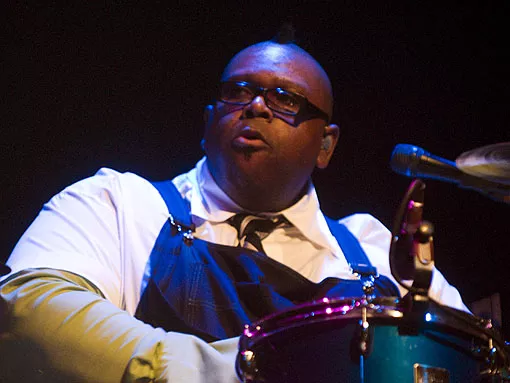 Unsurprisingly, their benevolent talents made all the difference to the new music. Drummer Michael Bland, sporting a tiny Mohawk, greenish-yellow shirt and big blue overalls, made mincemeat of his drums while barely breaking a sweat. Keyboardist Tommy Barbarella stayed near the back of the stage, content to add textures and rhythms there. This left the spotlight open for the true ringleader of the band, left-handed guitarist Sonny Thompson. Sporting leather pants, a big mop of hair and Converse, he kept to the left side of the stage - except when he strutted around jamming with his bandmates or exhibited funky riffs in the spotlight, equal parts Santana blues and Hendrix psych-funk.
Even though an occasional cracked note or a shaky falsetto reminded fans of his age - and his jeans were artfully untucked into untied Converse hi-tops, a charming blend of modern casual and Saved By the Bell-ish retro - nothing about the show felt off. Jonas wasn't intimidated by his bandmates, and he didn't seem out of place at all with the men. In fact, he was clearly enjoying himself - and became more and more comfortable as the show progressed. The turning point, in fact, was a performance of the new song, "Stay." Shedding his guitar - and, to cascading screams, his plaid shirt - he posed like a boy-band Adonis, grabbed the mic and unleashed a slow jam reminiscent of Boyz II Men in their '90s prime. Precise gestures - a hand on his heart, falsetto croons, his head down - exacerbated the song's dramatic undertones. Although tailor-made for the post-Backstreet Boys pop world, "Stay" was a powerful, mature song.
When you stop to think about the teenpop machine - and the associated tabloids, TV shows, merchandising and gossipmongering - it all seems very plastic and out of reach. But Jonas came across as a sincere, genuine performer unaffected by fame and attention. If anything, he seemed entirely approachable. He was just a musician jamming with pals, one who doesn't need backing tracks, costume changes or extraneous stage decorations to put on an entertaining show. His focus was - gasp, shock, horror - all about putting on a solid night of music. How refreshing.
Diane Birch's opening set was short, but sweet. Treating her Fender Rhodes like a pulpit, the bird-like 25-year-old ran through songs from her debut, Bible Belt. The country-tinted music recalled the sweetheart sense of Juice Newton, or a louder Carole King, or even Stevie Nicks, circa Fleetwood Mac's prime. Yet her powerful voice cut through the comparisons with ease, thanks to her crack backing band, one which included a trumpeter among its ranks.
Surprisingly, the girls in the crowd adored her, judging by the loud screams during the performance. Again, it has to do with the context: Book Birch at, say, Twangfest, and she's a hit with the No Depression crowd. But put her in front of a pop audience, and she's that cool, talented, popular girl you aspire to be.
Critic's Notebook: Jonas shouted out Ted Drewes, the City Museum, the Arch - although he said he wouldn't go up in it! - and, in reference to having a day off yesterday, dryly said, "For those of you outside the hotel, it's always nice to see you."
I have never, ever, ever seen a screaming mass of people running after a tour bus -- until tonight, when the Jonas express headed out of the Pageant parking lot, intent on reaching Milwaukee tomorrow. The bus started pulling away from the back parking lot, and a horde of people started yelling and running toward it -- following its path on Rosedale and then onto Delmar. It was one of the most insane things I've ever seen at a show.
Personal Bias: Shout-out to Sable from Chesterfield, the sweet, outgoing girl sitting next to me who came by herself and enjoyed every minute of the show. She loved Nick Jonas and Prince, giving me hope for the future generation.
By the Way: I met Nick Jonas after the show. See this blog entry.
Setlist: "Last Time Around" "Inseparable" "Olive and an Arrow" "State of Emergency" "While the World is Spinnin" Nick's Picks - i.e., covers of songs from Owl City ("Fireflies"), Kings of Leon ("Use Somebody"), Taylor Swift ("You Belong With Me") and others "Black Keys/A Little Bit Longer" "Vespers Goodbye" "Conspiracy Theory" "Signed Sealed and Delivered" "Stay" "Rose Garden" "Stronger" "Tonight"
Encore: "Who I Am"