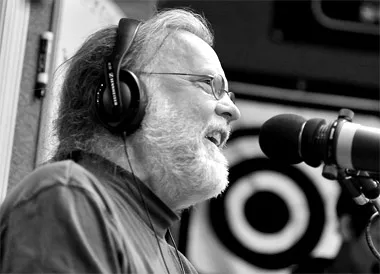 Officially, Larry Weir was the longtime operation manager at KDHX (88.1 FM) and host of the program "Songwriters Showcase," which brought some of the best singer-songwriters to the attention of discerning St. Louisans. Unofficially, he was the station's guiding spirit, a constant, benevolent presence in the studio on Magnolia Avenue.
He died last Wednesday, January 13, at 1 a.m. nearly two weeks after he suffered a traumatic brain injury on New Year's Eve. He was 57.
"It's hard to think of the station without him," says Chuck Lavazzi, a KDHX volunteer who had worked with Weir since the station's inception.

Weir joined the KDHX staff in 1985, before the station was even on the air. A graduate of Southwest High School and Drury University, he'd spent the previous ten years working as a DJ at radio stations in Pine Bluff, Arkansas, and Salem and Dexter, Missouri. "He was the only one on staff with commercial radio experience," remembers Beverly Hacker, the station's co-executive director.
He broadcast the earliest episodes of "Songwriters Showcase" from a radio shack beside the transmission tower at the end of a dirt road in Arnold. Originally, he'd wanted to do a blues show, but decided his expertise lay in songwriters who performed their own work.
"Larry thought it was fun to find people who were really good, who threw a guitar in the back of the car and toured 300 days a year," says Ed Becker, Weir's close friend and, for 21 years, his "Songwriters Showcase" co-host. "He marvelled at how tough their life was and thought they deserved more recognition."
Among the singer-songwriters Weir promoted over the years were Tom Russell, Terry Allen, Guy Clark, Peter Case, Christine Kane, Ellis Paul and James McMurtry. Weir would invite them to appear on "Songwriters Showcase" when they passed through St. Louis. He was a gifted interviewer, able to make his guests feel at ease.
(Click here for a playlist of some of Weir's interviews.)

"He presented so well, his personality was so good-natured, people who never met him felt like they knew him," observes Steve Pick, another KDHX host. Listeners trusted his recommendations and turned out for shows.
"He was so instrumental in introducing so many people to musicians they'd never heard," says Hacker. "Here, people would play the Pageant or Off Broadway while in other towns, they'd play a small bar."
Music and radio were central to Weir's life. He met his wife Kathy at KDHX, where she was a volunteer. Their first date was to a John Prine concert at Westport. Weir wore a blue brocade smoking jacket. "I thought, anyone who would show up on a first date in a smoking jacket is either insane or completely themselves," recalls Kathy Weir. Their marriage, which lasted eighteen years, was an exceptionally happy one.
Weir was a huge Cardinals fan and always on the lookout for a good baseball song. He also played in the Tower Grove Park softball league for more than 20 years. Primarily, Weir was a shortstop, but, says Becker, "he was kind of indispensible because he was in charge of bringing the beer." Friends remember watching him run the bases barefoot and how he would end every game with a cigar.
When Weir went into the hospital this past New Year's Eve after falling down at a party and hitting his head on a chair, Kathy Weir set up a website to keep family and friends apprised of his condition. For nearly two weeks, he lingered in a coma, but it became clear early on that the life he would have, if he woke up, would not be worth living.
"Most of the damage was to the parts of his brain devoted to language and higher reasoning," says Kathy Weir. "Larry never played slot machines. He never gambled on the long chance. He played poker, where he had control. Any other disabilities, we could have dealt with. But he was a radio guy. He liked to talk. I knew what his wishes were."
Since the website went up, hundreds of people have logged in to sign the guest book. Some were friends and members of the KDHX family. Some had never met him, but wrote about how much he and his show meant to them.
"I thought, 'I'm married to a celebrity!'" Kathy Weir marvels. "Larry never acted like one. It was never about him. It was about the music and the artists he was promoting, never about him."
Weir is also survived by his mother, Evelyn Weir, and his sister, Pam Weir, both of St. Louis.
Visitation will be from 2 p.m. to 8 p.m. on Sunday, January 17 at Kutis Funeral Home, 2906 Gravois Road. Funeral services will be 11 a.m. Monday, January 18, also at Kutis, followed by burial at New St. Marcus Cemetery, 7901 Gravois Road. From 1 to 5 p.m. there will be a lunch at Off Broadway, one of Weir's favorite area venues, to celebrate his life. Kathy Weir has requested that all memorial donations go to KDHX or the Greater St. Louis Food Bank.
Below, two of Weir's favorite songs.

Weir's favorite song:
And the song Weir played at the end of every show: