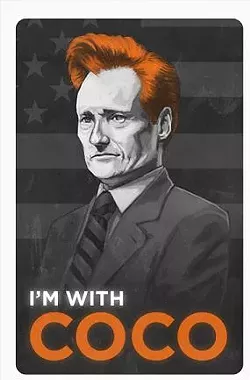 Mike Mitchell/www.sirmikeofmitchell.com
Late night television hasn't been this funny -- or biting -- in years, although the reason for such comedy is bittersweet: NBC has decided to yank Jay Leno's show from the 10 p.m. slot (9 p.m. here in the Lou) and move him back to the post-local-news timeslot currently occupied by Conan O'Brien's incarnation of the Tonight Show. On Tuesday, O'Brien diplomatically stated that he would not follow Leno, citing the sanctity of the Tonight Show brand (among other things).
The Internet as a collective whole has come out in support of O'Brien (see the photo to the right), although the ginger comedian's next move is currently unclear. What is a given? Removing his brand of screwball comedy from the air will make late nights rather boring. On top of that, it's easy to forget how many amazing musical performers Conan has always drawn to his show, from day one. Here are a few of them you may have forgotten.
Elliott Smith, "Miss Misery," from 1998. Although the video quality isn't that great, Smith's melancholic crackles cut to the quick.
*Mudhoney tears through "Judgment, Rage, Retribution and Thyme" on June 19, 1995. Oh shit, guys. This sludge is amazing. *The Arcade Fire performs "Laika," one of the more underrated songs from its debut, Funeral. Look at Win Butler's precious Little Lord Fauntleroy haircut. Aw.
*No Doubt performs "Simple Kind of Life" on April 8, 2000. I was always partial to Gwen Stefani's pink hair. *The Amps, fronted by Kim Deal, performing "Pacer." Is there any lady who's been a more consistent performer/songwriter in the last two decades?
*The Cardigans, "Lovefool." The band's best-known song -- but not its best, for sure; in my opinion, that goes to the recent barnburner "I Need Some Fine Wine, and You, You Need to Be Nicer." *Belle and Sebastian, "I'm Waking Up to Us." The Scottish football team indie-pop troupe whips up some frothy beauty with this 2001 tune.
*Bad Religion, "Struck a Nerve," from 1993. From the album Recipe for Hate.