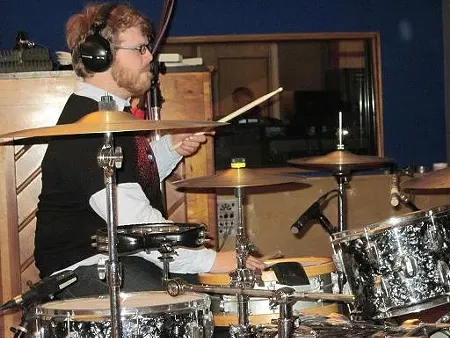 courtesy of drummer/percussionist Daniel Williams
Who: The Campfire Club Recorded where? Firebrand Recording, with additional recording/mixing at Alpha/Omega Recording, Daniel Williams' home studio Recorded With: Engineer Brian Scheffer (Firebrand), Daniel Williams (me [Alpha/Omega]). Produced by the Campfire Club, and anyone with an opinion that wanders through. When: January 1-3. "I think it's safe to say ours is the very first local album recorded in 2010," Williams says. "Maybe the first in the country!" What: "Eighteen damn songs for a new damn album," Williams notes, "but probably only fourteen or fifteen will make the cut."
courtesy of Daniel Williams
Becky Coleman, playing the uke
When due out? "That's a tough one," he says. "We're hoping for June-ish, if we can find someone interested in releasing it. I've got a baby coming soon, so I'm gonna take a break from playing shows for a while. Hopefully the rest of these folks can muster up some cash to get this thing going." Sounds like? "Mourning Midwest Americana fussin' and fightin' with whiskey drunk-kick in the teeth Rock n' Roll," says guitarist/banjo player/harmonica player/vocalist Ryne Watts. Adds Williams: "It's a big stew of an album. You've got your basic four piece band- drums/bass/guitar/vocals, then you add in some mandolin, violin, upright bass, ukulele, slide guitar, washboard and anything else we could get our damn hands on!"
courtesy of Daniel Williams
Ryne Watts of the Campfire Club