In this week's paper, the members of Pale Divine were kind enough to indulge questions about their favorite cover songs -- you see, their second-annual reunion show tonight at the Pageant will feature them doing two sets and tons of old covers. But the band's been quite busy in the last year since we caught up -- as you'll see below!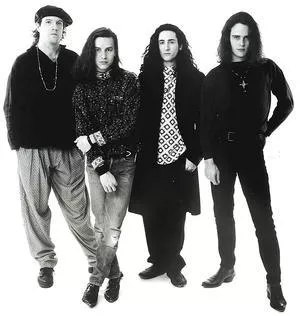 Guitarist Richard Fortus: Over the last year, I toured with Rihanna. Worked on writing, producing and playing on records with Toni Halliday from Curve, Angela McCluskey, Michael Monroe, a band called Saivu from Norway, a Swedish pop singer called Sheri, another Norwegian pop artist named Anina, a country band called Country Bones, Dizzy Reed's first solo record. I also worked on the score for a few movies that will be coming out in 2010, and worked on the score for the 007 Activision game as well as doing the James Bond theme for Guitar Hero (World Tour).
I also worked with Robyn Hitchcock on the score for the movie Women In Trouble. I also began hosting a radio show on Heavy.com called Sumosonic. It's also broadcast on 80 college radio stations across the US. I've been rehearsing with Gn'R and touring with them starting in December. We will begin in Asia and then move on to Canada and then S. America in the new year. With any luck, that tour will carry on for a while.
Drummer Greg Miller: I played some with my good friends in a band I was in, Cuncokshun. They play a lot in St Charles and my wife and I go see them now and again. They let me sit in and pretend to be a drummer again. I mainly play drums at home, work on boring stuff like rudiments and double bass. I have a bunch of electronic gear at home, samplers and drum machines and the like. I like tinkering with that stuff. Most of the time though I am at home with my family, sitting in my office on my PC.
Vocalist Michael Schaerer In the last year, I have continued to perform live across the region full time. I have collaborated with John Holzum of the Well Hungarians in writing some killer country songs. I recorded vocals for Kim Massie's upcoming CD -- really good stuff -- and just generally enjoyed myself.
"Anything" (live, 1993)
Bassist Dan Angenend: Playing the reunion was such a great experience for me and my family. My kids, Christian, Bryn, Aidan and Ethan had a great time getting a chance to be around the show. They were pleased to have all of the backstage passes and special access that they got. My youngest, Ethan, enjoyed sound check so much that he fell asleep just two songs into the show. I think it was all a bit too much for him. Getting a chance to be with the guys again was such a blast. The biggest thing I missed from the old Pale Divine days was the fraternity I felt with Michael, Rich and Greg. I don't have any brothers, so they were the closest thing I've ever had to that. We had a fete event with all of our families, crew and management, a few days after the show that was such a great time. All of our lives have changed so much after all of these years. It was great for me to get a chance to get a view in the window into the lives of my former band mates fifteen years on. They have all done quite well for themselves and I couldn't be happier about it.
After that, it was all back to the business of my normal life. I sell artwork in the furniture industry, so I'm always busy with that, and 2009 was no different than any other. I travel about eight to ten weeks a year for my job, so that keeps me pretty busy. Michael was gracious enough to ask me to join him for a "Storytellers" show at a place called La Gra. We played many songs together at that show from all the different bands we've been in together -- Pale, Rainbow and Michael Schaerer Group. That was good fun.