We reviewed a lot of shows this year -- nearly 100, judging by the number of posts in the "Show Reviews" archive. Deciding which 2009 concerts comprised the creme de la creme wasn't easy, to say the least. However, the following stood out from the pack. What did we miss? What were your favorites this year? (Oh, and don't forget to check out Top Concert Photos of 2009 slideshow!)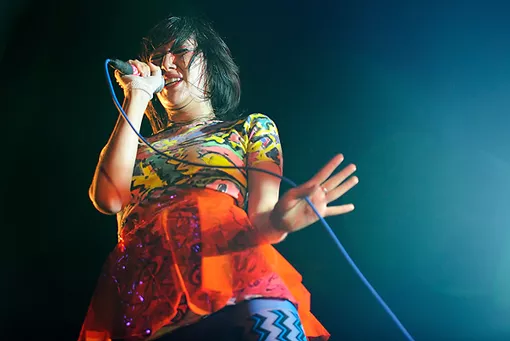 Photo: Todd Owyoung
Karen O. of the Yeah Yeah Yeahs at the Pageant.
Honorable Mentions: *Cursive, The Firebird, April 24 *Yeah Yeah Yeahs, The Pageant, June 2 *Matthew Sweet, Blueberry Hill's Duck Room, June 19 *Bob Dylan/John Mellencamp/Willie Nelson, GCS Ballpark, July 2 *Sheryl Crow, under the Arch, July 11 *Trashcan Sinatras, The Firebird, August 8 *Green Day and Franz Ferdinand, Scottrade Center, August 11 *Matt & Kim at Off Broadway, August 23 *St. Vincent, The Firebird, October 1 *Neko Case, The Pageant, November 5 *Camera Obscura, Off Broadway, December 1 *The Swell Season, The Pageant, December 4
10. The Decemberists, The Pageant, May 31 (review; slideshow)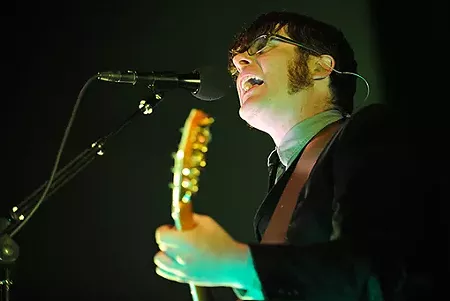 "As might be expected, the Hazards part of the sold-out Pageant show was somewhat over-the-top. Bathed in multicolored light - and shadowed by a bewitching backdrop of crinkly, tree-like stalks - the indie-darling septet progged out, dabbled in metal(!), chugged like arena dinosaurs and explored its pastoral-folk side. At times, the '70s prog- and classic-rock touches were a little much to take; think Ren Fair-cheesy, hippie-dippy and troll-under-the-bridge. (Oh, and a pre-recorded children's choir singing "The Hazards of Love 3," which represented the three dead kids, put the creepy factor off the charts.)" (Annie Zaleski)
9. Bruce Springsteen, Scottrade Center, October 25 (review; slideshow)
"For the second time in fourteen months, Bruce Springsteen and the E Street Band played a non-stop, sweat-soaked, guitar-tossing, request-taking concert at the Scottrade Center. Springsteen's mission was clear: During "Working on a Dream" he claimed that he and the band were in town to "fulfill a solemn vow to rock the house." Few vows have ever been so redeemed. With a super-sized version of the E Street Band (Bruce included, there were often twelve people on stage, including two back-up singers and a trumpet player), the Boss played three hours of old and new tunes, taking no breaks between songs aside from his trademark "Hunh! Two! Three! Fo!" countdown." (Christian Schaeffer) 8. Farm Aid, Verizon Wireless Amphitheater, October 4 (reviews; slideshow)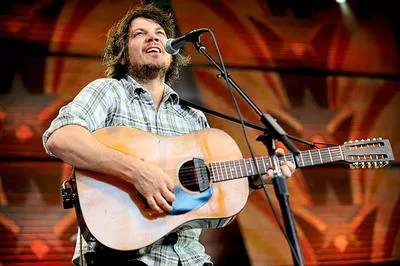 "Fellow RFT writer Christian Schaeffer made a salient observation about Wilco during its Farm Aid set: Seeing the band in a festival setting is an entirely different experience than seeing it in a club. Compared to the band's three-night Pageant stand last year, this was certainly the case. Those shows had no shortage of raucous moments, but yesterday's set was loose and raw - more like the tightest jam session you'll ever see than a well-orchestrated gig." (Christian Schaeffer)
7. The Killers, Fabulous Fox Theatre, May 4 (review)
"Clad head-to-toe in black, [vocalist Brandon] Flowers came across like a carnival barker, a shrewd purveyor of authenticity and soul. (For the record: This happens mostly after he shed the jacket that looked like a flock of pigeons committed suicide on its shoulders.) Indefatigable and optimistic, the Thin White Duke-thin Flowers stalked the stage like a preacher drunk on fire, brimstone and power. He punched the air in time to drums, stood on speakers and saluted the crowd, kneeled on the floor after being overcome by emotion and single-handedly stole the spotlight." (Annie Zaleski) 6. Phish, Fabulous Fox Theatre, June 16 (review; slideshow)
"It took about three hours for Phish's show last night at the Fabulous Fox Theatre to reach transcendence. This occurred at the precise moment the quartet started its triptych of songs known as Mike's Groove -- i.e., "Mike's Song," "I Am Hydrogen" and "Weekapaug Groove." As the Stevie Wonder-styled funk backdrop and bassist Mike Gordon's lead vocal turn sent the sold-out crowd into a body-shaking frenzy, something in the music shifted -- imperceptibly at first, but then more obviously as the song continued. After dancing around it for much of the show thus far, the Vermont quartet had finally hit its stride." (Annie Zaleski)
5. Coldplay, Verizon Wireless Amphitheater, July 24 (review; slideshow)
"At the Verizon Wireless Amphitheater, Coldplay delivered exactly the type of set you would want from it - and then some. That's not snark, either: For nearly two hours, the British quartet unleashed hit after hit after hit with little self-indulgence and plenty of spectacle. In fact, the entire show was geared toward its fans. A tan, fit Chris Martin made sure to spend some time singing on the wings of the stage, making the cougars ladies in those sections squeal." (Annie Zaleski) 4. Girl Talk, The Pageant, January 8 ( review; slideshow)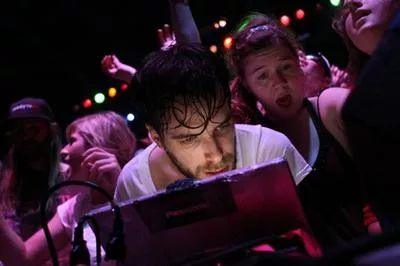 "All the while, Gillis mashed together music from different eras as if he was mismatching plaids, stripes and polka dots. He layered Khia's filthy "My Neck, My Back" over Dexy's Midnight Runners' "Come on Eileen." Kelis' sassy "Milkshake" strutted over the immortal riffs from White Zombie's "Thunder Kiss '65." MGMT's "Kids" tangoed with Kid Sister's "Pro Nails," which in turn bled into Tag Team's "Whoomp! There It Is" - which itself ended up layered over a triumphant-sounding Big Country's "In a Big Country." (Annie Zaleski)
3. Live on the Levee, various dates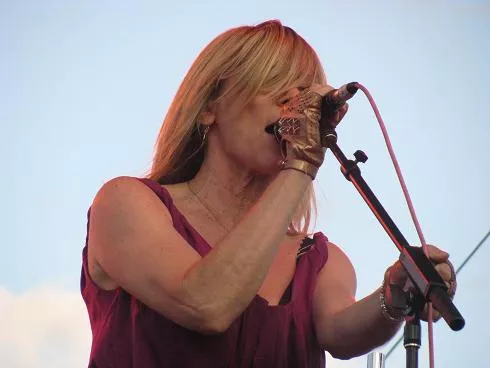 This year's crop of free shows by the Arch -- including Guster, Sonic Youth and Lupe Fiasco -- drew thousands of people downtown.
2. AC/DC, Scottrade Center, January 13 (review; slideshow)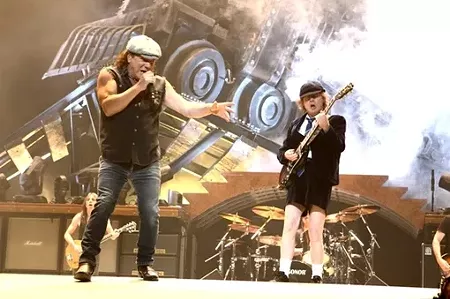 "AC/DC arguably perfected hard rock, but such a generic term seems almost insulting to use -- especially because the band so earnestly honors and assimilates the deep boogie of the blues. (New tune "Big Jack," in fact, recalled the Stones' "Honky Tonk Woman.") But the band's songs feel preserved in amber, as sleazy and full of vigor as the day they were recorded. " (Annie Zaleski)
1. Leonard Cohen, Fabulous Fox Theatre, November 7 (review)