Just before Dillinger Escape Plan took the stage at Pop's on Saturday night, an ominous, low rumble emanated from the PA, rattling the entire venue and its contents with the force of a jet engine. The droning prelude was so enveloping that when the New Jersey mathcore vets launched into its first song, the sound coming from the stage was almost weak in comparison. But the intensity crescendo (not to mention the decibel level) soon left nothing to be desired. The quintet spun, jumped and whirled its way through an air-tight set of gems -- from recent, more straightforward material to older, more complex compositions.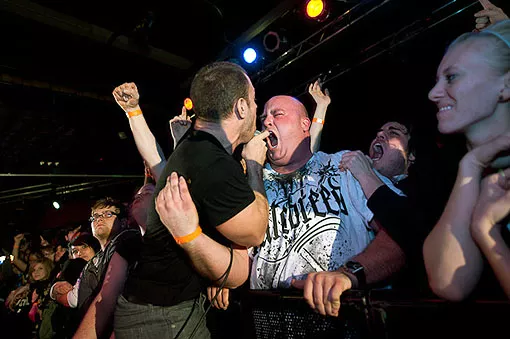 This range, rage and intensity won over the audience early in the set. "Sugar Coated Sour," from the 1999 experimental mathcore masterpiece Calculating Infinity, was ripe with spastic fury and worked the crowd into a fist-pumping frenzy. But what made these explosions of energy work so well was placing them alongside straight grooves, as found on 2007's Ire Works. That album's "Milk Lizard," with its sleazy strut and chunky rhythm guitars, was the perfect antithesis to the mathy material, and kept the appreciative crowd held at attention for the entire set. DEP's newest member, 24-year-old drummer Billy Rymer, had no trouble tackling any part of the band's diverse, technical back catalog.
See a slideshow from last night's Dillinger Escape Plan and Thursday show at Pop's.
Vocalist Greg Puciato's muscular frame held the mic with a death grip. He stood on top of the stage monitors and released his gravelly chants. Guitarist, mastermind and lone original member, guitarist Ben Weinman, flailed about the stage, spinning his axe around with reckless abandon and attempting increasingly dangerous climbing stunts as the band approached the end of its set.
In fact, it almost seemed as if the two were competing a little bit for attention. By the last song, Weinman was perched first atop the PA and then squarely stood on bassist Liam Wilson's towering rig (with a crew-member scambling over to keep the whole thing from disasterously tumbling over). Puciato, not to be outdone, ended up hanging upside down from the ceiling-bolted lighting truss directly above the sea of fist-pumping fans. The display felt fairly genuine -- if not somewhat nerve-wracking -- and it seemed that the crowd appreciated the effort, even if this kind of stunt can't help but come off a little bit contrived.
Regardless of the level of authenticity in DEP's acrobatics, headliners Thursday definitely had to show up to follow such an inspired set. But it seemed that vocalist Geoff Rickly and company were up to the challenge: Their set blasted off with two cuts from 2003's critically acclaimed War All the Time. Rickly's voice was strong and gritty, morphing easily between blood-curdling screams and more delicate melodic parts. Although he's one of those singers that is always "almost" on pitch he seems to get away with it because of the emotive quality of his voice and the conviction with which he delivers the lyrics.
Older cuts such as "Paris in Flames" (from 2001's Full Collapse) even sounded fresh. Credit goes to drummer Tucker Rule and fill-in bassist Lukas Previn, who held down tight rhythm section grooves that allowed guitar riffs and keyboard ambience to slither around each other a bit more loosely, without the band losing intensity as a whole.
By the time the band launched into crowd favorite "Signals Over the Air," Rickly held the head-bobbing audience at full-attention as they chanted along with the song's tortured refrain "When you say my name..." with raucous fervor. Rickly, who has been known to have problems with the endurance of his voice sounded strong (though at times pitchy) throughout the main set and into the band's one-song encore of "Jet Black New Year."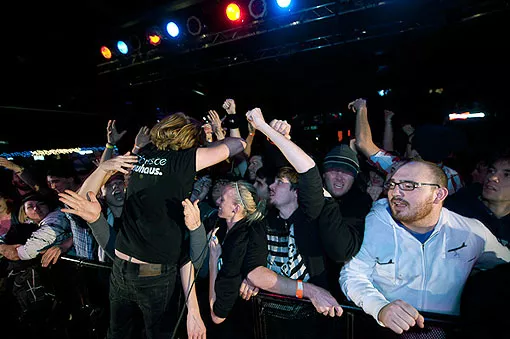 All in all, it was a strong set by a very appreciative, veteran band playing to a very appreciative, aging audience. It's hard to believe that a band like Thursday has been around for over ten years, but it seems that they have no intention of letting up now -- and with the energetic spirit displayed at least on this particular night, it really doesn't seem like they have any reason to stop.
Thursday's setlist:
1. For the Workforce, Drowning 2. Between Rupture and Rapture 3. The Other Side of the Crash/Over and Out (Of Control) 4. Paris in Flames 5. Understanding in a Car Crash 6. Resuscitation of a Dead Man 7. Subway Funeral 8. The Equation 9. Division St. 10. Circuits of Fever 11. Beyond the Visible Spectrum 12. Signals Over the Air 13. Love Has Led Us Astray __________________ 14. Jet Black New Year