Star Wars in Concert
, the symphonic tribute to the six George Lucas films, wraps up its U.S. dates Sunday in Nashville. Last night, the tour stopped in St. Louis at the Scottrade Center. Photographer
Stew Smith
roved the concourse looking for super fans -- and while he didn't find as many as he had hoped (and no
slave Leias
were spotted, despite predictions from a
Star Wars In Concert
press flack), he did find die-hards in their best
Star Wars
garb. Earlier this week we
interviewed Anthony Daniels
, who played C-3PO in the films and emceed the concert last night.
See photos from Star Wars in Concert last night.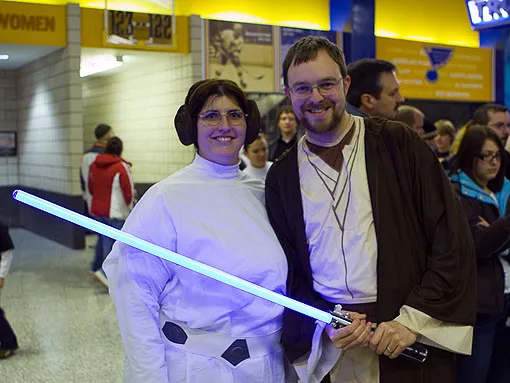 Photo: Stew Smith
A Stormtrooper from the 501st and Darth Vader himself were making there way through the crowd and posing for pictures with young fans. See more photos from last night.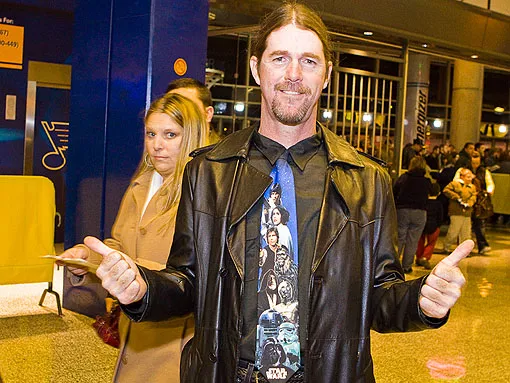 Photo: Stew Smith
Bobby, of Manchester, sports the classic Star Wars tie.

Support Local Journalism.
Join the Riverfront Times Press Club

Local journalism is information. Information is power. And we believe everyone deserves access to accurate independent coverage of their community and state. Our readers helped us continue this coverage in 2020, and we are so grateful for the support.

Help us keep this coverage going in 2021. Whether it's a one-time acknowledgement of this article or an ongoing membership pledge, your support goes to local-based reporting from our small but mighty team.

Join the Riverfront Times Club for as little as $5 a month.

Euclid Media Group, LLC

Read Our Sister Publications

Marketing Services