Japandroids do a lot with a little. Last night at the Billiken Club, singer/guitarist Brian King and singer/drummer David Prowse--just two affable fellas, neither equipped with show-off skills--para-tagged lo-fi pop and fuzzy punk in a way that muscled up their likeable debut, Post-Nothing. The pair played fast and it played with vigor. Most important, of course, Japandroids played - its songs beg to be performed by musicians who can do slam-bang all evening without once lapsing in energy. To see Prowse's spastic womps and King's air-guitar heroics (and he was playing guitar) is to understand why the music was made in the first place. This was an understanding made intelligible, too, by the small, but dedicated, band of mosh-pitters who materialized during "Rockers East Vancouver" and every song thereafter.
It was minimal maximalism all night. Indeed, from the anthemic "Wet Hair" to the cover of Big Black's "Racer X," it was one long stretch of judder--walls of guitar built atop a foundation of cymbal crashes--that would have qualified as inventive shoegaze twenty years ago. Shrouded in such a cloud of loud, however, the songs were deprived of the granulated distinctions present on their Post-Nothing versions, and stripped of what little verbal resonance they had to begin with. At certain points, the music sounded like eels fighting in a storm drain.
As things run, though, it was a show that gloried in the economy of repetition and the sobriety of tuneful racket. The songs were created and performed from a primal place, which kept the show elemental and raw, and ultimately worth it. Just as much for Japandroids as it is for its audience, lyrics are a poor substitute for ineffable fury and bone-deep desire. Lyrics just give shape to your holler. What matters is enthusiasm and velocity, finding meaning in distortion and getting lost in groove.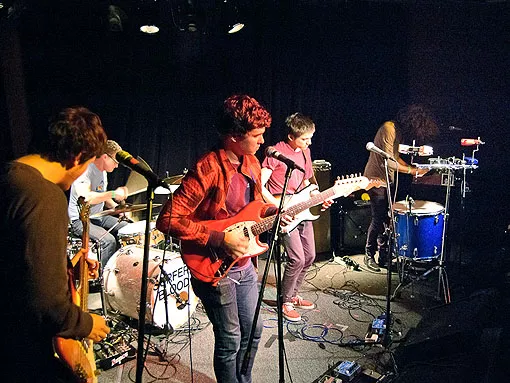 Openers Surfer Blood, who arrived last night still glowing from their recent beatification at the CMJ Music Marathon, were less primal. The young Florida quintet performed an exemplum of solicitous indie rock full of confectionary arrangements, punchy choruses and African-flecked guitar. One of those songs, "Take It Easy," is as near a description of the band's genteel manner -- polite, deferential, wearers of boat shoes -- as it was the easy proficiency with which the band played.