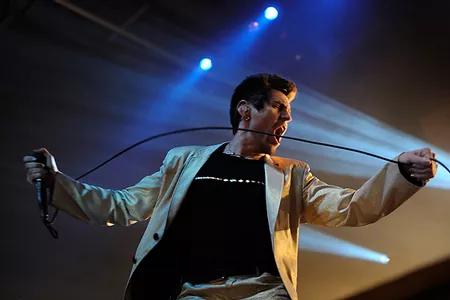 It's too easy to take AFI for granted. The Bay Area hardcore-turned-take-your-pick-of-genres band is such a strong live act -- and makes such smart music -- that it's easy to forget that nobody else out there sounds like it.
But the quartet reaffirmed its brilliance at last night's crowded show at the Pageant, with a dynamic set. Bathed in deep blue night, bassist Hunter Burgan strode onstage, teasing the audience with some eerie rumbling before the rest of the band exploded into the gothic-Nintendo "Torch Song." Wasting no time, AFI then launched into manicured-punk fan favorites "Girl's Not Grey" and "The Leaving Song, Pt. 2.," which spawned massive sing-alongs and set the energetic tone for the night.
See more photos from last night's show
Besides a large golden backdrop which said "AFI," the only stage accoutrements were three platforms at the front of the stage, on which vocalist Davey Havok, Burgan and guitarist Jade Puget stood throughout the night. All three used them to great effect: Havok often crouched on the middle one like a theatrical, mannered sage, for instance, while Burgan stood on his with his legs spread apart rocking it, like he was on a piece of playground equipment.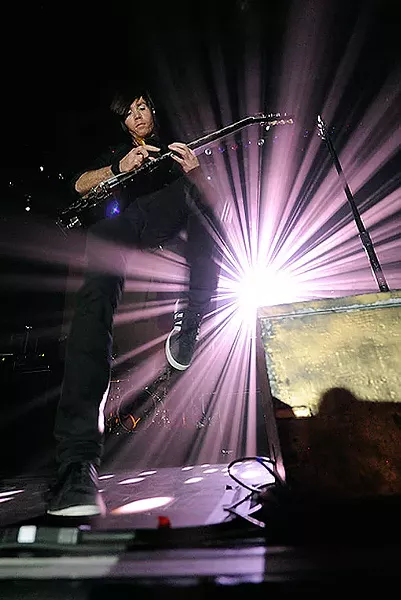 Movement was a vital part of AFI's set. The band is absolutely kinetic and lively, starting with underrated, muscular drummer Adam Carson. Puget plays as if he's an actor in an old-time silent movie, his movements quick, precise and sped-up. Burgan, meanwhile, is like a stealth super-hero - wearing black pants, he leapt and ran all over the stage, pausing only to add solid background vocals to "Love Like Winter" and other tunes.
"This song is real old," Havok said at one point. "Really, really old. Really old." He wasn't kidding: The band dusted off the electroshock-zap "Ny-Quil," from 1995's Answer That and Stay Fashionable, to the delight of old-school fans. The encore began with another chestnut: a moody, fantastic version of the Art of Drowning cut "6 to 8." When other bands reach into their (sometimes embarrassing or cringe-worthy) past catalog, it sounds forced. But AFI's family photographs sounded fine - mainly because its sound has evolved so naturally and organically.
Exhibit A: Crash Love, its new album. Newer, '80s-influenced songs "End Transmission" and "Too Shy to Scream" - whose drums clicked and galloped like an Adam Ant song - fit in with the older songs, while the stripped-back rock single "Medicate" snapped like a rubber-band. Other highlights included Decemberunderground's roller-coaster-no-brakes scream-punk "Kill Caustic," and Sing the Sorrow's "Death of Seasons," which veered from twitching proto-industrial to wicked hardcore.
Plus, Havok's voice - roughly, a combination of a screaming hawk, the Cult's Ian Astbury and Robert Smith's fey yelps - can handle the sharper, Gilman Street parts of AFI's catalog. But when he and Puget teamed up for the rhythm section-less, Cure-like "The Leaving Song," the diverse talents of both (Puget's ability to be nuanced and bash out huge riffs, Havok's ability to sing with melody and emotion) underscored why AFI has outlasted so many other bands.
Depending on your perspective, openers Gallows was either brilliant or a trainwreck. The moms in front of me did not seem amused by the British band - not when vocalist Frank Carter spat out, "Fuck Oklahoma!" not when he asked the parents to clap their hands and singled out someone who didn't by having the entire crowd turn to her and go, "Fuck you!" and especially not when he then mentioned something about said woman's husband "fucking her in the ass" after they went home.
But the British punk band proved itself worthy, despite disjointed set pacing which meant that it never gained true momentum. After spending the first song onstage, Carter jumped into the middle of the standing-room-only pit. He then proceeded to stay there for most of the set, barking out his parts while his band mates stayed onstage.
His presence there seemed to confuse many of the fans. A few were completely into the punk-house-show atmosphere; many seemed bored. But songs such as "London is the Reason" were a gravel rainstorm of metallic-punk riffs, jackhammer drums and snotty, accent-inflected ire. (Think McLusky, for a modern comparison.) And a galloping circle pit even broke out at Carter's exhortation.
The redheaded vocalist's banter was jovial and often hilariously inappropriate. He asked someone in the crowd if they had Tourette's, described another song as being about priests who touch little children and later - when another song trailed off into feedback - said, "Children, this is feedback. One day you'll start a band..." and encouraged those in the audience to do so. One song was dedicated to Catholics, Christians, Mormons, Muslims -- with the punchline, "When you die, your body is just going to rot in the ground!" -- and he earned rousing cheers when he dedicated "I Dread the Night" to straight-edge kids, drunks, drug addicts, recovering drug addicts and "being part of the human race and learning from my mistakes."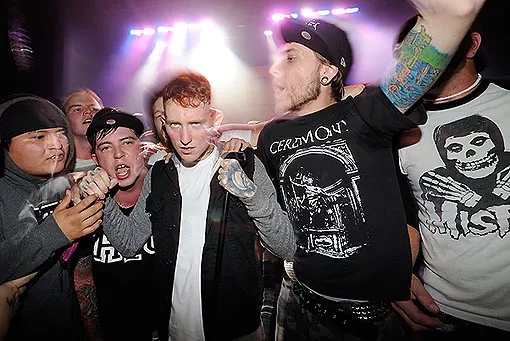 Carter eventually worked his way back to the stage to end the set -- and despite ending the 45-minute set with one final raised middle finger, the crowd seemed to have warmed to Gallows by the set's end.
AFI setlist: "Torch Song" "Girl's Not Grey" "The Leaving Song, Pt. 2" "Too Shy to Scream" "Ever and a Day" "Kill Caustic" "End Transmission" "Ny-Quil" "Beautiful Thieves" "Dancing Through Sunday" "Cold Hands" "The Leaving Song" "On the Arrow" "Death of Seasons" "Medicate" "Love Like Winter"
Encore: "6 to 8" "Miss Murder" "Silver and Cold"
Critic's Notebook: I thought Gallows was brilliant performance art. That might have been the most unorthodox opening show I've ever seen at the Pageant. Loved it.
Random Question: Wikipedia claims AFI played Pointfest in 1997. Is that true?
By the way: Mad props to the baby-faced boy in the Led Zeppelin T-shirt screaming along to every word. Ask your mom to buy you the Cure's The Head on the Door, okay?