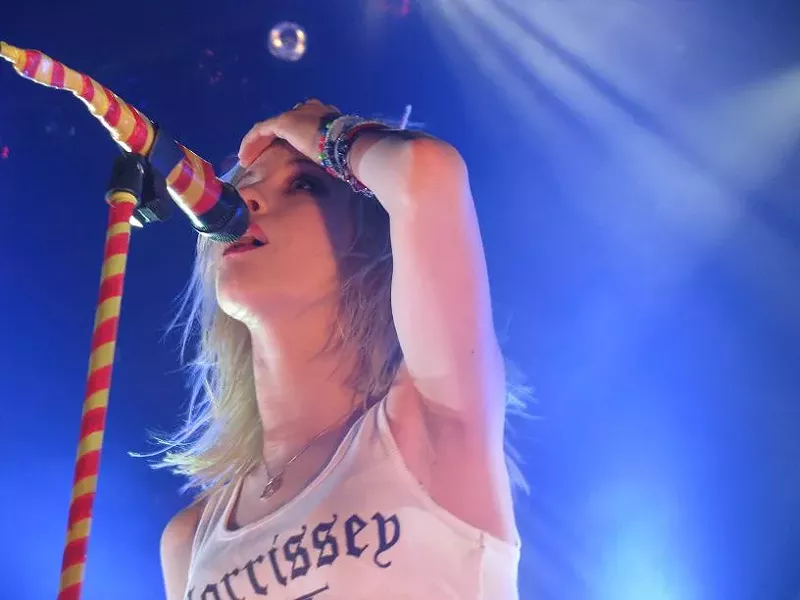 Annie Zaleski
Hayley Williams of Paramore. Entire set here.
By the second song of opening act Paper Route's set, it was clear that last night's Paramore show at the Pageant was going to be extremely loud and very in your face. The Nashville act (which is friends with the headliners) enveloped the near sellout crowd with its highly stylized blend of slick, ambient pop, echo-laden guitar effects work and danceable hooks. (Think Tears for Fears' studio-pop precision mixed with the spaced-out vibe of Massive Attack or M83 with the thickly layered percussion breakdowns of indie-rockers like Arcade Fire.) The band's sound was enormous, but the flawless and emotive dual lead vocals from J.T. Daly and Andy Smith always lofted over the top. In the end, Paper Route held the audience's attention like few opening acts ever manage to do.
When Paramore took the stage, the energy level in the room rose. The quintet made its presence felt in a big way, with a bombastic tour intro that featured a double-drum attack that literally sounded and felt like the Pageant's sound system was poised to burst. But when spunky vocalist Hayley Williams, sporting a tousled blond mop of blue-streaked hair, strutted out to take hold of her candy-cane-striped microphone stand, the crowd erupted into even more of a frenzy.
Annie Zaleski
Paramore bassist Jeremy Davis
This was no accident or fluke - in fact, it has everything to do with young Williams' natural ability to command the attention of a crowd. Her powerhouse voice captivates and her charismatic stage presence does the rest. Whether head-banging while leaning haphazardly on her mic stand as she did on the breakdown of the soundtrack favorite "I Caught Myself" or conducting the audience sing-alongs from atop a two-foot tall road box ("That's What You Get"), Williams was in total command from the start, even if her voice took a few songs to get completely warmed up.
The singer has been struggling with sickness and voice fatigue this fall and the first few songs of the set were a ramp up to her belting out with fully super-charged fury. But her bandmates' impressive musicianship, complementary playing and amped-up, muscular energy easily compensated for any of Williams' shortcomings. Zac Farro's drumming was airtight and heavy-handed ("Emergency," "Decode") but could also be very tasteful and dynamic ("I Caught Myself," "Turn It Off").
Annie Zaleski
Paramore in action
The band's oldest songs were picked sparingly ("Emergency," "Conspiracy") and were appreciated by the fanatic, sing-along audience. Yet they highlighted just how far the young quintet has come as songwriters and performers. The selections from the band's latest album, brand new eyes, sparkled with energetic spirit and eclectic influences and the crowd seemed just as familiar with them as they did the older material.
Annie Zaleski
Drummer Zac Farro, bassist Davis
Last night's show felt like one of those rare opportunities to see a band poised to do really great things and transcend its peers. The members of Paramore are so young, yet they realize their strengths and aren't afraid to branch out and make the music they want to make.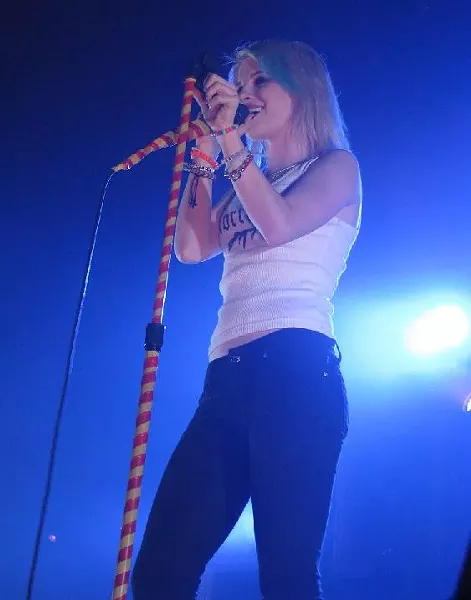 Annie Zaleski
Hayley Williams of Paramore
Setlist: Brand New Eyes Tour Intro Ignorance I Caught Myself That's What You Get Looking Up Emergency Crushcrushcrush Turn It Off Here We Go Again Careful Conspiracy Where the Lines Overlap Decode
Encore: Misguided Ghosts Misery Business Brick By Boring Brick